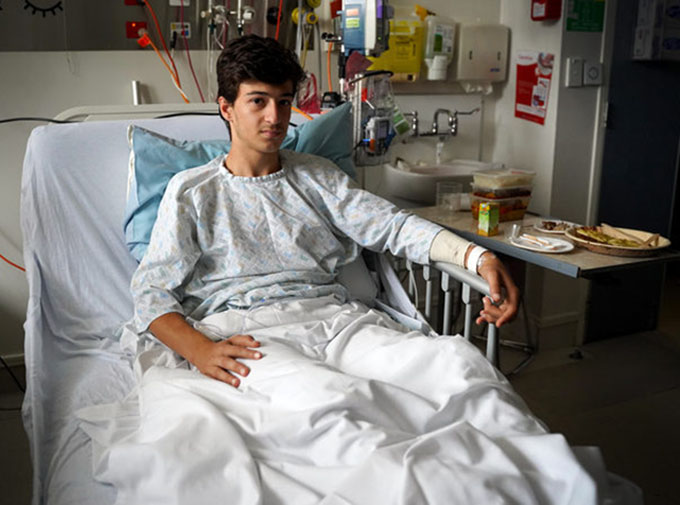 Zaed Mustafa's father and brother were killed during the Christchurch terror attacks. Image: Diego Opatowski/RNZ
By Katy Gosset of RNZ
A Syrian-born woman whose husband and son were killed in Friday's terror attacks says her family was told New Zealand was the safest country in the world.
For Salwa Mustafa, a slim woman in a pale silver hijab, said New Zealand promised a new life for her three children.
"When we were asking about New Zealand … they said, 'Oh, it is the most safest country in the world, the most wonderful country that you can go.' You will start a very wonderful life there but it wasn't."
On Friday her husband, Khalid, and 16-year-old son, Hamza, were shot while worshipping at Al Noor Mosque on Deans Ave. Her second son Zaid, 13, remains in Christchurch Hospital recovering from his own gunshot wounds.
Sitting on a bed at the hospital where she has been keeping a vigil, she did not want her face shown but she recalled how she first heard of Friday's horrific attacks when she took a call from Hamza.
"He said, 'Mum, there is someone in the mosque shooting us and my brother is [shot] in the leg,'" she said.
She heard running and shooting but kept speaking to him.
Complete quiet …
"'Hamza, Hamza, tell me what's happening, Hamza?' And there was complete quiet. I couldn't hear anything."
She stayed on the line for 22 minutes until someone else picked up his phone.
"And he told me, 'Sorry, your son can't breathe. I think he's dead.' "
She and friends waited outside the mosque for an hour until a friend took her to the hospital where she found her husband with gunshot wounds to his head, neck leg and arm.
"They took me to the room and he was laying there [shot], taking his last breaths."
"I sat beside him, maybe half an hour, maybe more, I can't remember, watching him dying."
It wasn't what the family expected when they first considered travelling to New Zealand
Her husband had been a farrier in their native Syria, "a very good farrier, a famous farrier" and "a good man".
Trained horses
He also trained horses and it was these skills that contributed to the family move to New Zealand. After five years as refugees in Jordan, authorities offered the prospect of a new life.
"They said, 'Would you like to go to travel to New Zealand as refugees there? New Zealand chose us to come here…to die here."
Her son, Hamza, was also a talented horse rider, a polite, well-loved young man who celebrated his 16th birthday just two days before the attacks.
A piece of his birthday cake was still in her fridge, Salwa Mustafa said.
Now, with an injured son, another dependent child and no relatives in New Zealand, she needs help.
"Maybe if the government [will] allow my family to visit me to support me in these circumstances because I'm alone here."
Like many others, she also wanted answers as to how someone could acquire so many guns and harm so many.
"How he owned so many guns and entered the mosque without anyone [being suspicious of him]. How [did] he did this thing. . . how is that?"
This article is republished under the Pacific Media Centre's content partnership with Radio New Zealand.

Article by AsiaPacificReport.nz