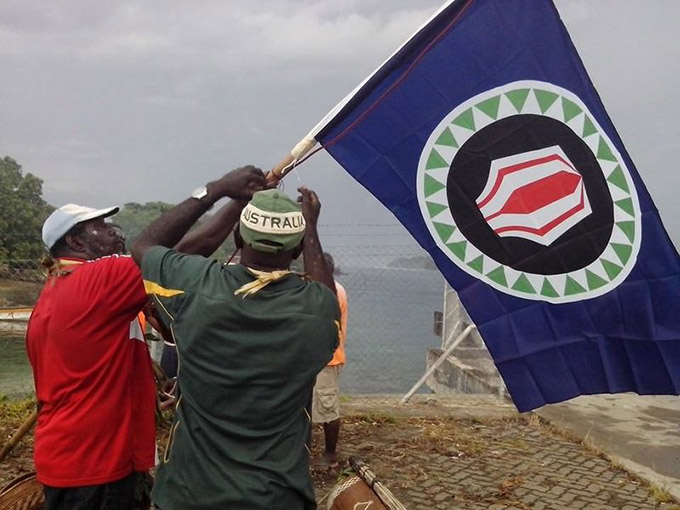 Australian mining entrepreneur accused of being "disrespectful" over a demand for wholesale and draconian changes to the mining law. Image: PNG Attitude/PC
Pacific Media Centre Newsdesk
Landowners throughout Bougainville were today calling on President John Momis for protection from a "callous opportunist."
The landowners said that the customary laws of Bougainville and the basic human rights of landowners cannot be ignored.
A secret presentation, by an Australian, Jeff McGlinn, which was marked "strictly confidential, not for distribution" has just become public.
It evidences the unconscionable demand to strip landowners of all their rights under the Bougainville Mining Act.
McGlinn's demand for these wholesale and draconian changes, is so that he can secure a complete monopoly over all large scale mines on Bougainville, including Panguna, without following the due processes of law, including the mandated Free Prior and Informed Consent of Landowners.
Panguna landowner Philip Miriori, chair of the Osikaiyang Landowners Association, said: "The McGlinn draft Bills, which would strip landowners of all their rights, were actually drafted by McGlinn's lawyers. It is completely unacceptable.
"We cannot allow foreigners to draft our laws, tearing up our entire Bougainville Mining Act, and all its safeguards, just so that he and his small group of insiders, including ex PNG Defence personnel can profit personally from our lands and our struggle."
Lawrence Daveona said: "The landowners of Bougainville call on President Momis to protect them, by immediately withdrawing these deeply offensive McGlinn drafted Bills.
Bougainville conflict
"There has been no prior opportunity for consultation. Anyone who has bothered to even read a little of the history of Bougainville, would understand that the Bougainville conflict was a plea for better mining practices and the recognition of the rights of customary landowners."
Miriori said it would be difficult to think of something more deeply disrespectful and insensitive to landowners and the community generally than the demands of McGlinn.
"This comes at the very time the community is focused on continuing to build peace and reconciliation in the lead up to the referendum on independence.
"Unreasonable, unconscionable and unconstitutional. If passed they will be challenged and Panguna is delayed indefinitely. Nobody wins – in fact we all lose.
"The general feeling about the amendment, from the 500 people who attended, was that no one agreed with it and those present were asking the ABG members to do away with the amendment immediately."

Article by AsiaPacificReport.nz