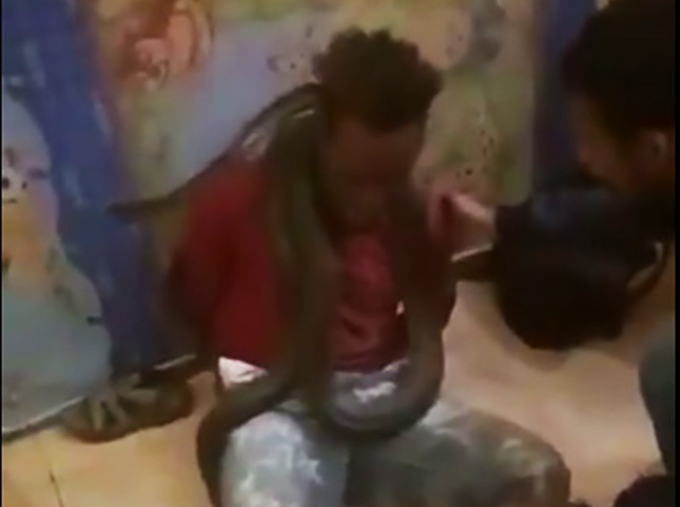 A still from a video showing Indonesian police interrogating a man suspected of theft in Wamena, Papua. Image: Jakarta Post
Pacific Media Watch Newsdesk
Indonesian police have apologised for wrapping a snake around an indigenous Papuan they suspected of theft, reports The Jakarta Post.
A video of the incident, which took place while the police were interrogating the suspect, has been circulating on social media.
The officers involved in the incident are currently being investigated for ethical violations, said police spokesman Ahmad Mustofa Kamal.
"We apologise for that incident," he said in a statement on Friday quoted by kompas.com.
Jannus P. Siregar, who heads the Papua Police's internal affairs division (Propam), said the officers were using the snake to intimidate the suspect so that he would confess to the crime.
The incident reportedly took place in Wamena, Jayawijaya.
Jayawijaya Police chief Adjutant Senior Commander Tonny Ananda Swadaya promised that his men would work professionally.
Netizen criticism
"We have taken action against the officers who did the misconduct. We are moving them to other places," he said.
The video has sparked criticism from netizens.
Human rights lawyer Veronica Koman wrote on her Twitter account @VeronicaKoman that the suspect should be presumed innocent until proven otherwise and should not be tortured to force an admission to a crime, regardless of whether the charges leveled against him were true.
"Given the context of the persecution in Papua, this torture has features of racism," she wrote.
Some locals, however, appeared to support the police's actions.
Hengki Heselo, a leader in Jayawijaya regency, said the community supported the police's stern measures to curb crime, including the use of snakes to threaten suspected criminals.
"We have felt the effects of recent police actions. The number of drunk people who carry machetes is decreasing," he said quoted by kompas.com.

Article by AsiaPacificReport.nz