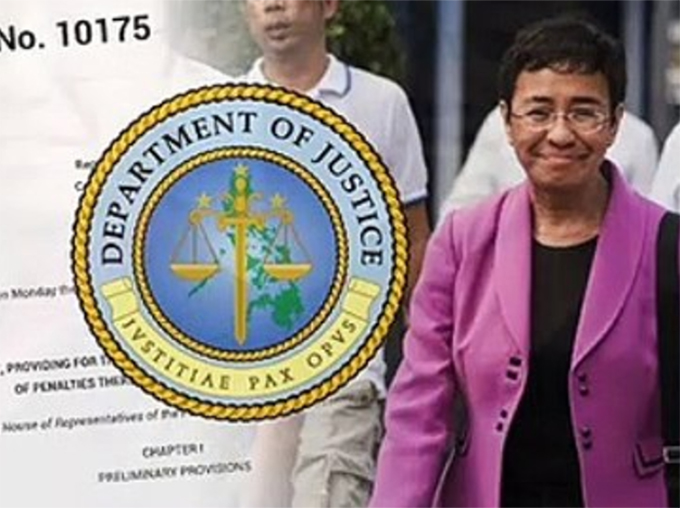 "This indictment is evidence that the law has been weaponised – the NBI's own lawyers recommended the case be thrown out," says Rappler CEO Maria Ressa. Image: Rappler
Pacific Media Watch Newsdesk
Reporters Without Borders (RSF) has condemned the latest "absurd charges" that the Philippine Justice Department is planning to bring against the news website Rappler – this time libel charges in connection with an article posted in 2012 – and has called for the case to be dismissed.
The Justice Department has announced that Rappler, its editor and CEO Maria Ressa, and one of its former reporters, Reynaldo Santos Jr., are to be charged over a 2012 article about alleged ties between businessmen Wilfredo Keng and the then president of the country's Supreme Court.
The charges, which carry a possible 12-year jail sentence, are based on the complaint that Keng brought five years later, in October 2017, under a cyber-crime law that was enacted several months after the article's publication.
READ MORE: DOJ to indict Rappler for cyber libel
The National Bureau of Investigation
dismissed the complaint in February 2018
because the law was not retroactive and because of a one-year moratorium on filing complaints, but
reversed its decision
the following month.
The Justice Department is reviving the case on the grounds that a principle of "continuous publication" can be applied to websites.
'Grotesque persecution'
"The judicial harassment used by President Rodrigo Duterte's administration to persecute Rappler's journalists is becoming grotesque," said Daniel Bastard, head of RSF's Asia-Pacific desk.
"It would be almost laughable if it weren't for the terrible judicial precedent that this decision would set, if upheld. We urge the court that handles this case to show independence and wisdom by dismissing it once and for all."
The authorities have been systematically targeting Rappler for more than a year with the aim of intimidating its journalists. Four charges of tax evasion and failing to file income tax returns were brought against Rappler and Ressa in November.
A fifth, "completely spurious", charge was brought in December, said RSF.
In January 2018, the Securities and Exchange Commission (SEC) announced that it was revoking Rappler's licence on the grounds that it had violated a ban on foreign ownership of media outlets, spuriously claiming that, by issuing Philippine Depositary Receipts to raise funds, it had sold some of its stock to foreign investors.
RSF referred this "unacceptable attack on media independence" to various international bodies.
In response to Rappler's appeal against the SEC decision, a court ruled in July that the website should be allowed "reasonable time" to resolve any dispute about its financial structure.
The Rappler reporter assigned to covering the Malacañang presidential palace was meanwhile denied entry to the palace in February 2018 on Duterte's personal orders.
The Philippines is ranked 133rd out of 180 countries in RSF's 2018 World Press Freedom Index.
The Pacific Media Centre collaborates with Reporters Without Borders.

Article by AsiaPacificReport.nz