Flooding of ricefields and villager homes beside the causeway between Vinzons and Labo in Camarines Norte, Bicol region, during Typhoon Usman on 29 December 2018. Video: Café Pacific
By David Robie

It was nerve wracking, and at times really scary. The wind howled and bowled over grown trees, the rain fell in a continuous deluge, and electricity was cut for the best part of three days.
Vinzons, a small town of about 44,000 people in a remote corner of mountainous Bicol in the Philippines, was "marooned".
The ricefields to the north and west and south of the town were flooded, the Labo River had broken its banks and the Pacific Ocean was encroaching to the east.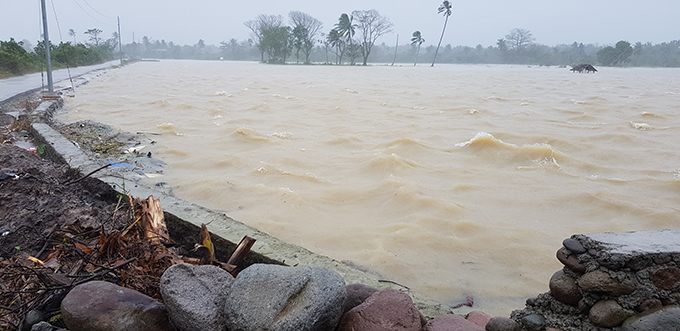 Once was a rice field … a flooded area beside the Labo causeway, swollen by the Labo River and looking like the open sea. Image: David Robie/PMC
Our Christmas present – Typhoon Usman – had turned us into a virtual island.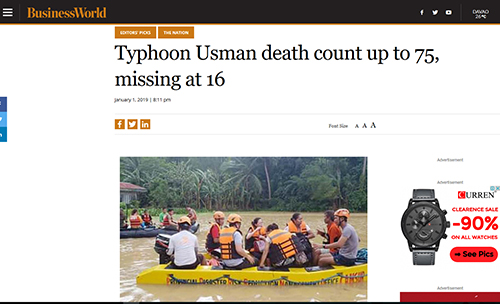 Typhoon Usman … daily media reports of death and destruction, but Vinzons was largely cut off for communications.
People turned up my wife's sister's home with horror stories. Flooded in the middle of the night. Awakened by floodwaters lapping at their bedside. Waist deep in water.
And the fears of electrocution were very real.
Rumours were rife of deaths in the Vinzons district.

The 360 km road from Manila to Vinzons through the rugged Bicol mountains. Map: Google
Communications blackout
But it was hard to get accurate and verified information with a communications blackout. Internet was down. No television and cellphone reception difficult.
Our planned trip to the impressive Mayon volcano, 206 km southwards past Naga was cancelled. We would never have made it.

Flooding at the bridge to Magcawayan school … after the waters had dropped. Video: Café Pacific
What was really happening? I called in at the local community radio station, Radyo Katabang 107.7FM, tucked away in a rooftop shack.
However, it was Christmas time and although the radio was on an emergency generator, the skeleton staff were relying on networked programming from Manila, 360 km away on the Pan-Philippine Highway – itself blocked by massive road slips.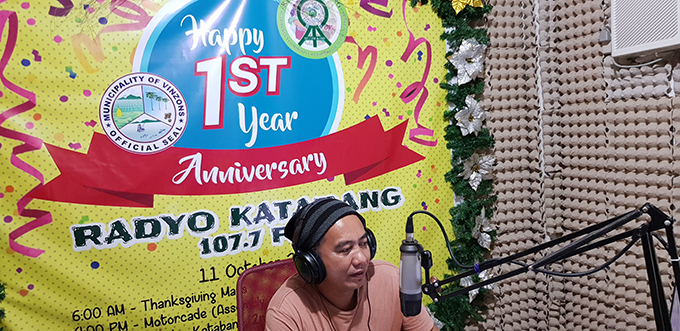 Technician Michael Sarical holds the fort at community Radio Katabang. Image: David Robie/PMC
I drove around with my wife's lawyer nephew in a "Judiciary"-plated four-wheel-drive vehicle to get a sense of the devastation in the district.
A small military detachment – a truck and soldiers – arrived to guard the emergency rice supplies and other foodstuffs as they were being dispensed by volunteers at the Vinzons Town Hall.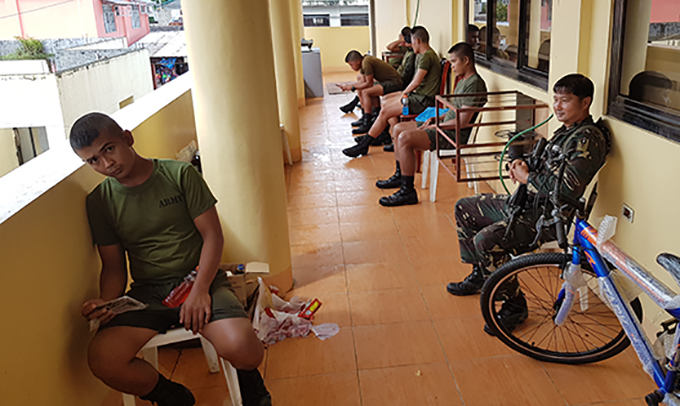 Soldiers awaiting orders at the Vinzons Town Hall. Image: David Robie/PMC
By December 30, the typhoon – now downgraded to a "tropical depression" (still very depressing, actually) – had eased and children were out in droves playing in the flooded streets in spite of the risks.

"Fun" on the flooded Vinzons streets. Video: Café Pacific
Plugged into news
And we were now plugged into the newscasts again. It wasn't quite as bad as we had thought – only one death in Vinzons (out of a total of 122 across Bicol, the island of Samar and the Central Visayas).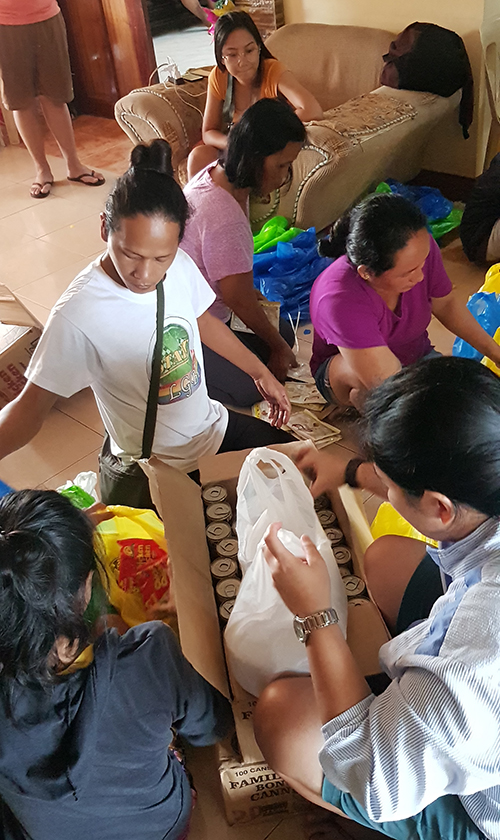 Volunteers at the Vinzons Town Hall prepare relief food packs for evacuees. Image: David Robie/PMC
At least 57 of the dead were from Camarines Sur province, mostly from a landslide in the town of Sagnay, reports the Philippine Daily Inquirer.
At least 18 of the dead were from Albay, 15 from Camarines Norte (our province), eight from Sorsogon and seven from Masbate.
Of the 23 missing people – presumed dead, 20 were from Camarines Sur, and three from Tiwi, Albay.
Bicol relief officials also said nearly 31,000 people had sought shelter in six evacuation centres.
One Municipal Social Welfare Development (MSWD) official I spoke to in Vinzons, Irine Cribe del Rio, said a total of 641 families (2185 people), had been sheltered during the storm, mostly at Vinzons Elementary School.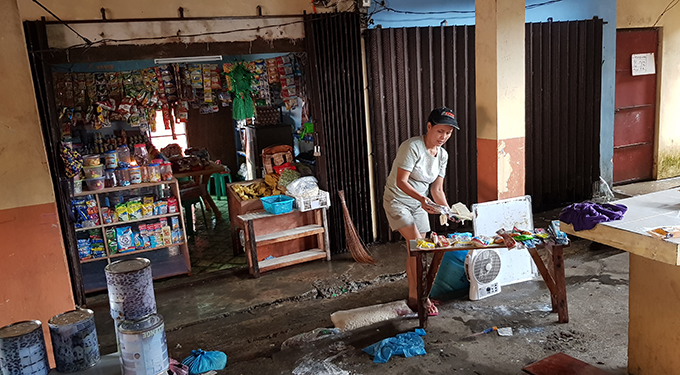 Clean-up time in a Vinzons market shop. Image: David Robie/PMC
Crops devastated
Although they went back to their homes – if still standing – their freshly planted rice fields and livelihoods were devastated.
An average of 20 typhoons and storms lash the Philippines each year, killing hundreds of people and leaving millions in near-perpetual poverty, reports The Guardian.
The most powerful was Super Typhoon Haiyan which left more than 7360 people dead or missing across the central Philippines in 2013.
Yet, remarkably, in spite of the hardships the community is full of smiles and laughter.
David Robie and his wife, Del, were on holiday in the Vinzons town of Bicol when the typhoon struck. They assist a local school through a support project.


Article by AsiaPacificReport.nz