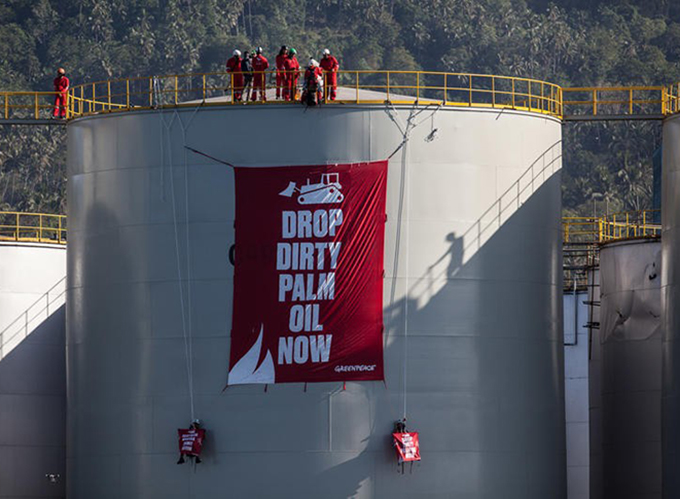 Greenpeace activists unfurl a banner reading "Drop Dirty Palm Oil Now" at a Wilmar International palm oil refinery in Bitung, North Sulawesi, in September. Image: Jurnasyanto Sukarno/Greenpeace Indonesia
By Ivany Atina Arbi in Jakarta
Six Greenpeace activists have reportedly been detained by the captain of the tanker Stolt Tenacity for staging a rally against global forests destruction, particularly in Indonesia, the world's largest producer of palm oil, and in Papua New Guinea.
The ship was transporting crude palm oil, owned by the world's biggest palm oil trader Wilmar International, from a refinery in Dumai in Riau to Europe.
According to a statement released by Greenpeace Indonesia at the weekend, six Greenpeace activists from Indonesia, Germany, Britain, France, Canada and the United States staged the peaceful rally in the Cadiz Bay near Spain.
READ AND WATCH MORE: Greenpeace protesters detained after boarding palm oil tanker off Spain + video
They managed to unfurl banners that read "Save Our Rainforest" and "Drop Dirty Palm Oil" on board the tanker before being detained by its captain.
"We have informed the tanker's captain through VHF marine radio channels about the peaceful and antiviolence action […] and asked him to free the activists and let them continue the peaceful rally," said Greenpeace campaigner Hannah Martin.
She added that Wilmar was the main supplier of palm oil to food giant Mondelez. Based on Greenpeace's recent investigation, palm oil suppliers to Mondelez had allegedly destroyed roughly 70,000 hectares of forests across Southeast Asia in the past two years. Mondelez is the producer of Oreo cookies, among others.
Greenpeace, therefore, urged Mondelez to stop its trading with Wilmar until the later managed to produce palm oil without destroying forests.
Sustainability criteria
Mondelez has dismissed such allegations, saying the company had been prioritising suppliers that meet sustainability criteria that allow retailers and customers to trace their products back to the mill.
"We're asking our direct suppliers to call on their upstream suppliers to map and monitor the plantations where oil palm is grown, so we can drive further traceability. We're also excluding 12 companies from our supply chain as a result of breaches," the company said in a statement last week, refusing to reveal the 12 companies.
Wilmar had earlier urged Greenpeace to take "collaborative action" with the company if it wanted to improve the palm oil industry.
In its statement concerning Greenpeace's similar rally in September in Wilmar's refinery in Bitung, North Sulawesi, Wilmar said the protest was a criminal act of trespassing and vandalism as well as a safety risk to the activists as well as Wilmar staff.
"No organisation is above the law and we urge Greenpeace to adopt a collaborative mindset and work with the palm oil industry to take genuine and positive action."
Wilmar also disputed Greenpeace's claims about the companies it sourced palm oil from.
"It must be clarified that, out of the 25 companies listed, Wilmar is buying from 13 supplier groups, not 18 as alleged in the report," the company said, adding that 11 of the 13 companies have been put on Wilmar's grievance list.
"Greenpeace's allegation that Wilmar is failing at monitoring our supply chain is based on a willful lack of understanding of our work on the ground."
Ivany Atina Arbi is a Jakarta Post journalist.

Article by AsiaPacificReport.nz