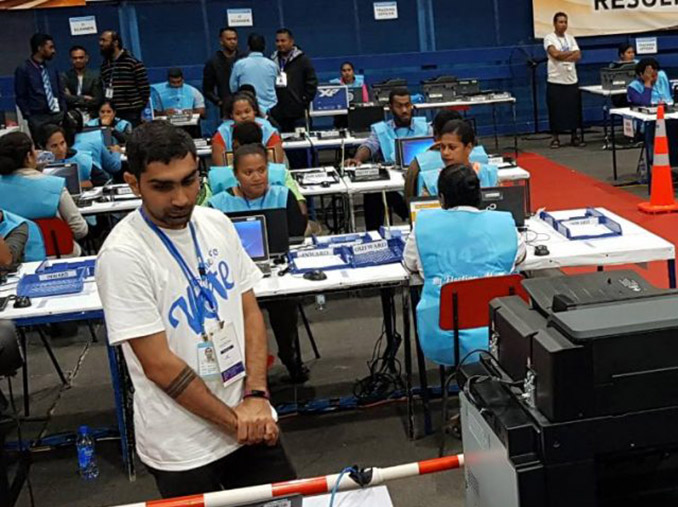 Fiji general election votes are still being counted and finalised at the National Results Centre in Suva. Image: Mereoni Mili/Wansolwara File
By Wansolwara Staff
The ruling FijiFirst party has taken a narrow lead in the Fiji general election final results today ahead of the opposition Social Democratic Liberal Party (SODELPA) after 1401 of 2173 stations were counted.
As of 5am today and with 772 stations yet to be counted, FijiFirst has so far topped the results by party with 131,629 votes compared with SODELPA's 115,150 votes.
The National Federation Party (NFP) trails in third place with 19,312 votes followed by Unity Fiji with 4239, Humanity Opportunity Prosperity Equality (HOPE) Party with 1725 votes and Fiji Labour Party with 1664 votes so far.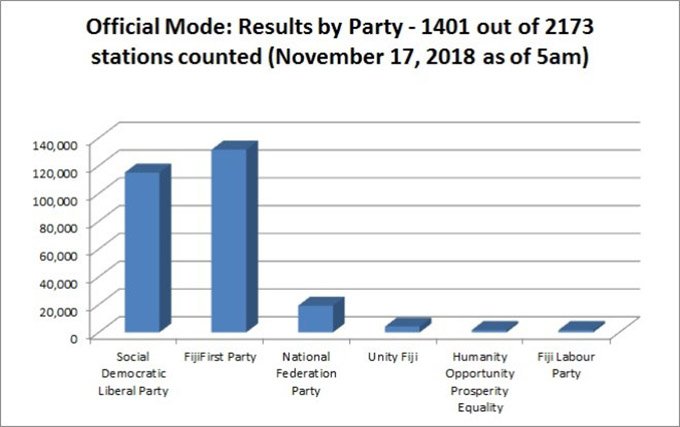 Final Fiji election progress results as at 5am today. Source: FEO
FijiFirst leader Voreqe Bainimarama has maintained a strong lead ahead of SODELPA's Sitiveni Rabuka in the official results by candidates, raking in 97,352 votes so far compared with Rabuka's 47,764 votes.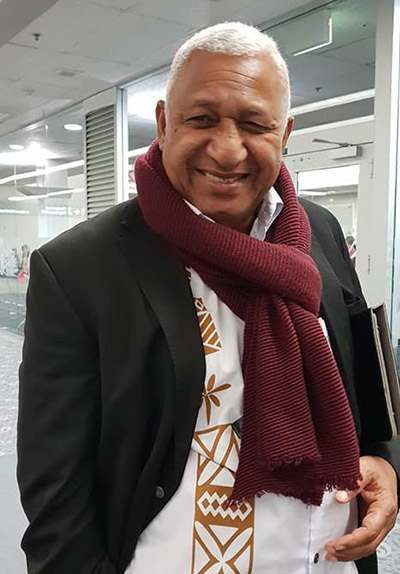 All smiles … caretaker Prime Minister Voreqe Bainimarama in lead in final progress results in the Fiji election today. Image: Sri Krishnamurthi/PMC
Aiyaz Sayed-Khaiyum is in third place with 9840 votes followed by Biman Prasad on 6975 and Lynda Tabuya with 5170 votes.
Alipate Nagata has placed in the top 10 results by candidates with 4117 votes ahead of Niko Nawaikula with 3820, Ro Teimumu Kepa with 3571 votes and Mosese Bulitavu with 3561 votes so far.
Some notable changes so far with the final results include an increase in the number of stations being counted.
Provisional results and early counts from the final results were from 2170 stations. However, the Supervisor of Elections, Mohammed Saneem, has since clarified that there are now 2173 polling stations after the inclusion of three more polling stations to account for the postal ballots.
Voting today
Wansolwara's Laisenia Nasiga reports that registered voters who cast their votes on polling day (Wednesday, November 14) at the 22 polling venues that were later adjourned as a result of bad weather will still have to vote today.
According to Supervisor of Elections Mohammed Saneem, 7498 people were expected to cast their votes at these 22 polling venues.
"If a voter's finger contains indelible ink, they will still be allowed entry into the polling venue to mark their ballot paper. The voter will then have to ink another finger," Saneem told a press briefing in Suva yesterday.
"Any voter who has already voted at these locations will be allowed to vote again. All votes that were received from these places on Election Day will be cancelled. They will not be counted.
"We will be using freshly printed ballot papers as well as new ballot boxes to facilitate elections at these venues and voters can come and vote between the hours of 7.30am to 6pm."
The final election result is expected tomorrow.
This article is republished under the content sharing arrangement of USP's Wansolwara student journalism newspaper and AUT's Pacific Media Centre.

Article by AsiaPacificReport.nz