<![CDATA[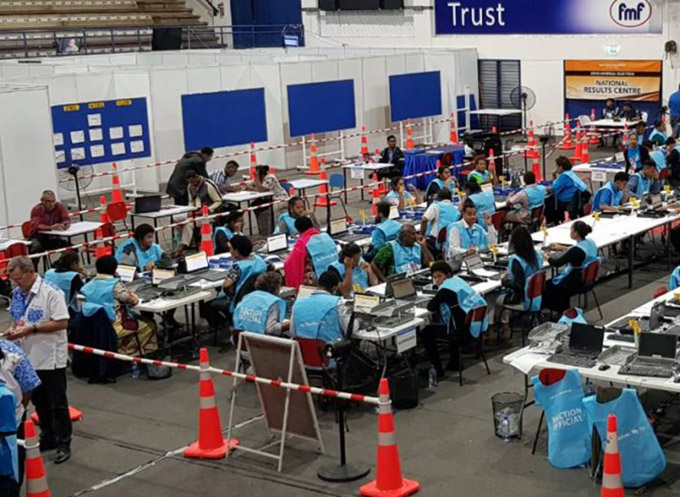 Official results continue to trickle in from Fiji's National Results Centre in Suva today. Image: Eliki Drugunalevu/Wansolwara
By Wansolwara Staff
Official poll results for the Fiji 2018 general election are trickling in slowly as the Social Democratic Liberal Party leads the race by party after 527 of 2170 stations were counted.
SODELPA raked in 44,501 votes so far by party as of 6.27am today.
It was followed by FijiFirst with 37,469, National Federation Party with 5897, Unity Fiji with 1494, Humanity Opportunity Prosperity Equality with 552 and Fiji Labour Party trailling with 452 votes so far.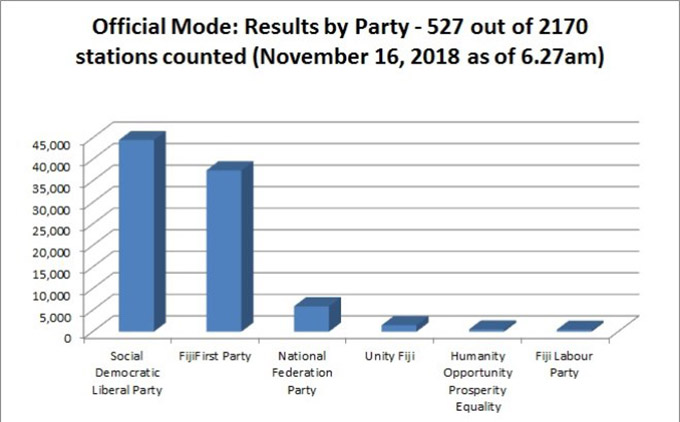 The party vote after 527 polling stations had been counted. Source: FEO
Leading the official results by candidates, FijiFirst leader Josaia Voreqe Bainimarama has maintained the top spot with 28,033 votes so far, followed by SODELPA leader Sitiveni Rabuka with 18,356 votes, Aiyaz Sayed-Khaiyum with 2598, Lynda Tabuya with 2530 votes and NFP leader Biman Prasad with 2269 votes from the 527 stations counted so far.
Anare Jale follows closely behind with 2173 votes, Ro Teimumu Kepa on 1516 votes, Alipate Nagata with 1385 votes and Ratu Suliano Matanitobua with 1365 votes. Simione Rasova sits on 1124 votes, followed by Niko Nawaikula with 1073 votes and Peceli Vosanibola with 1020 votes so far, ahead of Mere Samisoni's 1007.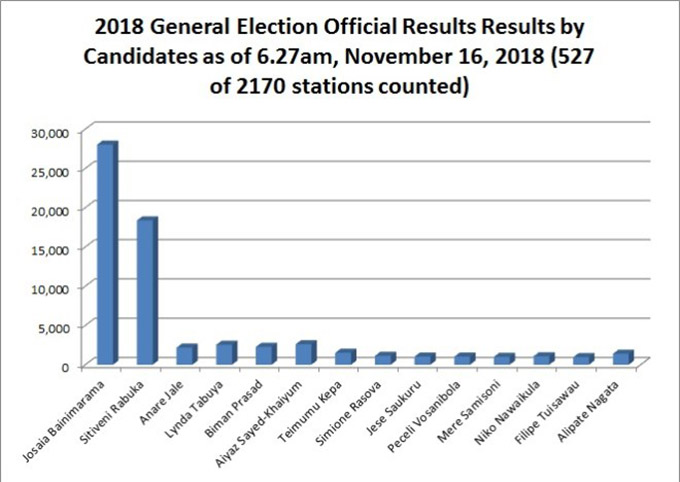 The politicians vote are 527 polling stations had been counted. Source: FEO
Supervisor of Elections Mohammed Saneem said they had started to release the final results tally on to the FEO App, which is compatible with mobile smartphones and can be downloaded from Google Play or Apple Store.
"There seems to be a misconception that this is a recount. Please note, it is not a recount but results that have now been physically transmitted to us from the polling places in protocol of results," he said.
Data entry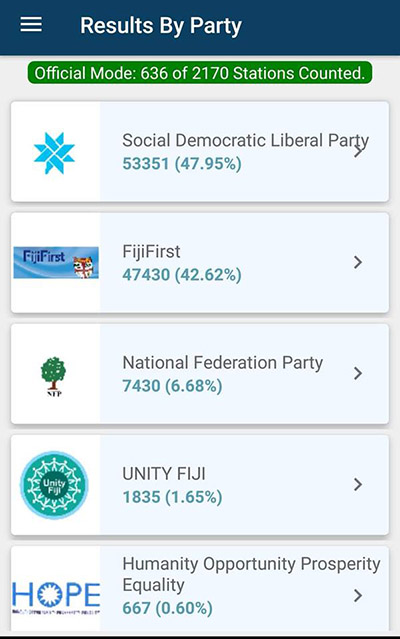 After 636 polling stations had been completed. Source: FEO
"This data-entry process will continue until we have completed data entry from all the locations. So it is not a recount, it is data-entry starting from zero once again.
"There seems to be a misconception that the 584 venues would have to be recounted. No they will not be recounted. After 584 venues that were not included in the provisional results, there are three poll stations we are still counting, probably 360 or so venues that are yet to be counted, that is why the data this morning [yesterday] could not have all the information.
"Some 220 plus polling stations that did not transmit the results to us via mobile phone because some of those areas were in low-connectivity areas, and in some areas the staff directly transmitted the printout signed copy of the count results instead of calling us to let us know."
Saneem said they would continue to update the FEO App with final results once counts were verified.
This article is republished under the content sharing arrangement of USP's Wansolwara student journalism newspaper and AUT's Pacific Media Centre.

Article by AsiaPacificReport.nz
]]>