<![CDATA[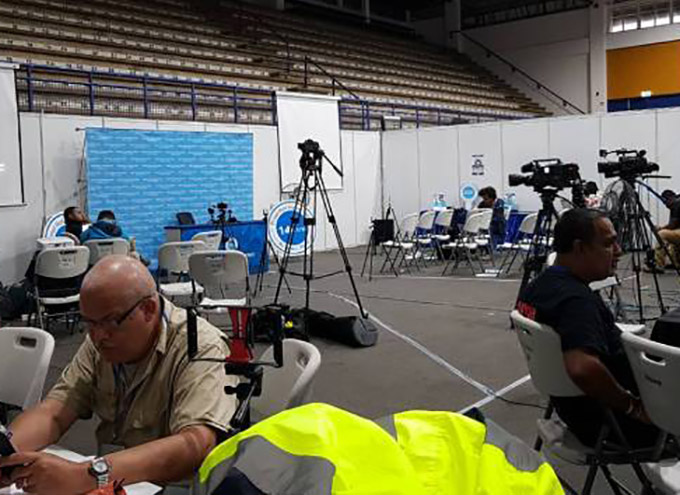 Media representatives on standby at Fiji's National Results Centre in Suva. Image: Eliki Drugunalevu/Wansolwara
By Wansolwara Staff
The Fiji general election campaign blackout period is expected to end at 6pm tomorrow after the final votes are cast by 7498 voters at 22 polling venues that had to close on election day as a result of bad weather.
Final results tabulation was continuing today.
Initially, heavy rain and strong winds made 23 polling venues inaccessible to voters, prompting the Fijian Elections Office and Electoral Commission to announce the adjournment of voting in those affected areas on November 14.
READ MORE: Counting continues after Fiji poll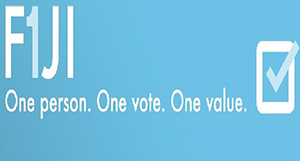 The closure of those 23 polling venues meant 7852 voters were unable to cast their ballots at the time.
As of yesterday, Supervisor of Elections Mohammed Saneem said there were now 7498 voters yet to cast their votes at 22 polling venues.
He said any breaches to the Electoral Act regarding the blackout period would be reported to the Fiji Independent Commission Against Corruption.
Saneem also clarified that the release of provisional results could potentially influence the decision of voters who have yet to cast their votes.
However, he said the release of the provisional results also showed how transparent the election process was.
Saneem also addressed concerns about voters whose day of worship fell on Saturday, the day set for the polling to commence for the adjourned polling venues, saying they were looking into this issue.
In response to a statement released by four political parties, namely Social Democratic Liberal Party, Fiji Labour Party, National Federation Party and United Fiji Party, claiming the tabulation process was not transparent as political party agents and candidates were not shown the documents from which the provisional results were posted on the National Results Tally, Saneem said those parties misunderstood the tabulation process.
"When they came for the (election) training we told them that tabulation on the provisional results would be done by mobile calls by our officials from the fields. In order to verify the process, we will be doing the data entry here and the parties can follow through from the field themselves," Saneem said.
"The final result is where the parties are given the photocopies of the documents used for data entry.
"A printout is also given to them post-entry of the results. The provisional results, we've always said, would be phone call results entered directly into the system and updated as required by law so I think it is all a failure to understand the electoral process."
Saneem said they could not speculate a specific time for the completion of counting but assured the public they "will do it as early as possible".
This article is republished under the content sharing arrangement of USP's Wansolwara student journalism newspaper and AUT's Pacific Media Centre.

Article by AsiaPacificReport.nz
]]>