<![CDATA[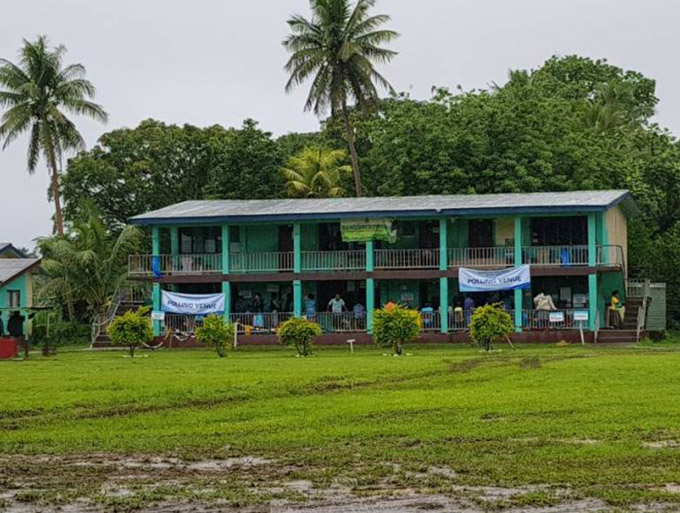 Fiji voters turning up in the rain to cast their votes at Nabitu District School in Tailevu on Viti Levu today. Image: Mereoni Mili/Wansolwara
By Wansolwara staff
A total of 7852 voters at more than 20 polling stations will cast their votes at a later date after the Electoral Commission – in consultation with the Fijian Elections Office – today closed 23 polling venues effective immediately as a result of bad weather.
In a statement, Supervisor of Elections Mohammed Saneem said the FEO received information from presiding officers hat there were some polling stations and venues no longer accessible for voters.
"The FEO tried to wait it out a little to see if the rain would stop and waters would recede but it appears that the waters are rising as I speak, and it has therefore become necessary for me as the Supervisor of Elections to consider adjourning polling at these locations," he said.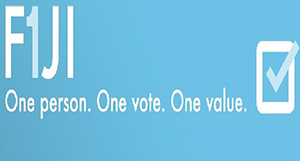 He said the decision was made in accordance with Section 47(2) and consultation with the Electoral Commission under Section 47(3).
Saneem said polling at those locations would commence at a later date, which was feasible for polling.
This would be announced by the Electoral Commission in consultation with the FEO.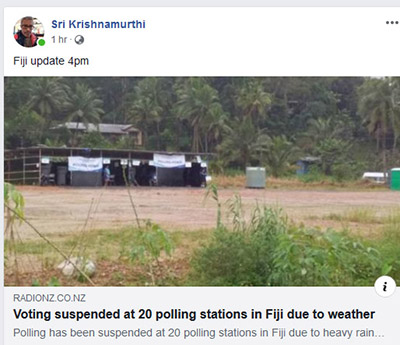 Earlier report – voting suspended in 20 Fiji polling venues. Image: Sri Krishnamurthi FB/PMC
The affected areas include Delakado FEO Shed, Natadradave FEO shed, Nasinu community hall, Turagabeci Primary School, Lodoni Primary School, Naivicula District School, Korotale Mandir hall, Raiwasa community hall, Namuaniwaqa Primary School, Mataso Primary School, Rewasasa community hall, Nausori Technical School, Visama Sanatan Dharam Primary School, Naqeledamu Village School, Nukutocia Village shed, Naisoqo Settlement FEO ground shed, Shantikettan Primary School, Naviniivisau community hall, Krishna Janaradhan School, Logani community hall, Matacaucau community hall, Nausori community hall and Gram Sangathan School.
"Any vote cast at the polling station will be cancelled and polling at the affected polling station will take place on the soonest feasible date to be determined and approved by the Electoral Commission," Saneem said.
"From now until the close of polling, we may have a few more polling stations that will require adjournment because the accessibility levels are reducing and we will be convening media conferences to announce this."
This article is republished under the content sharing arrangement between the Wansolwara student journalism newspaper of the University of the South Pacific and AUT's Pacific Media Centre.

Article by AsiaPacificReport.nz
]]>