<![CDATA[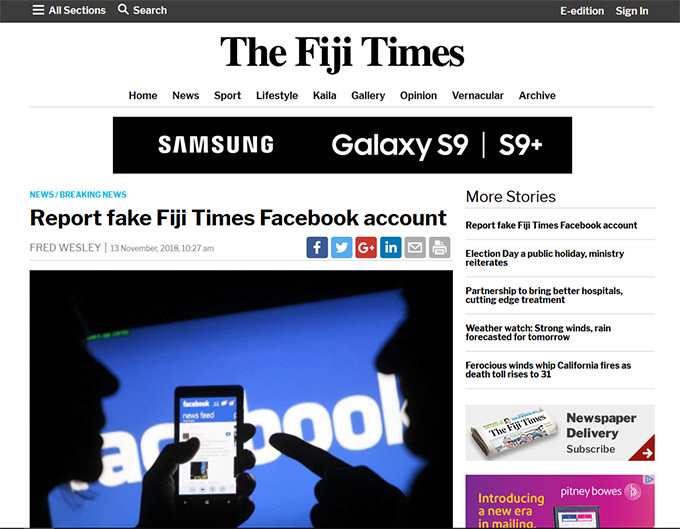 Fiji Times appeals to readers on its website today to report the fake page to Facebook. Image: PMC
Pacific Media Watch Newsdesk
The Fiji Times has appealed to readers to report a fake Facebook account purporting to be the official page of the daily newspaper.
In a message posted on the newspaper's website today, editor-in-chief Fred Wesley says: "We need your support to report this FAKE page https://web.facebook.com/Fiji-Times-254313332110085/ to Facebook so it can be removed."
The fake page ran a false news item claiming that opposition SODELPA leader Sitiveni Rabuka had been barred from contesting tomorrow's general election. In fact, a High Court ruling yesterday cleared Rabuka to contest the election to the jubilation of a crowd waiting outside the Suva courtroom.
The fake news item said:
"The Social Liberal Democratic Party (SODELPA) leader Sitiveni Rabuka has been disqualified from running for the 2018 Fijian General Elections.
"All votes cast for Rabuka's number will not be counted now …"
The official Facebook account of the newspaper can be accessed on this link: https://web.facebook.com/fijitimesonline/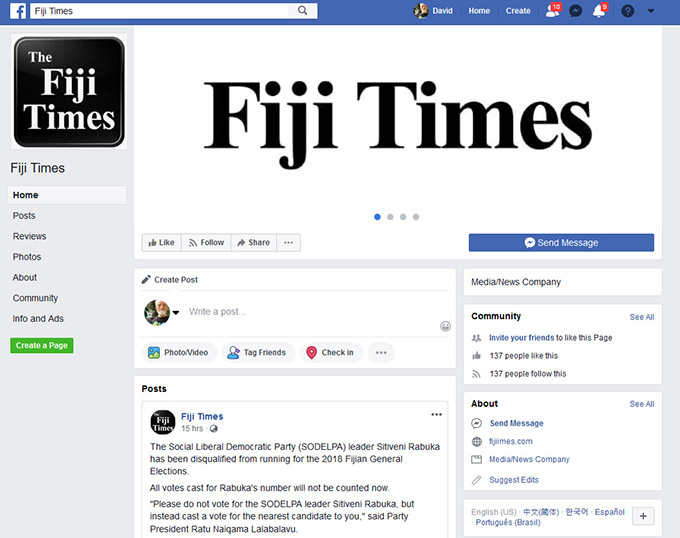 The Fake Fiji Times FB page. Image: PMC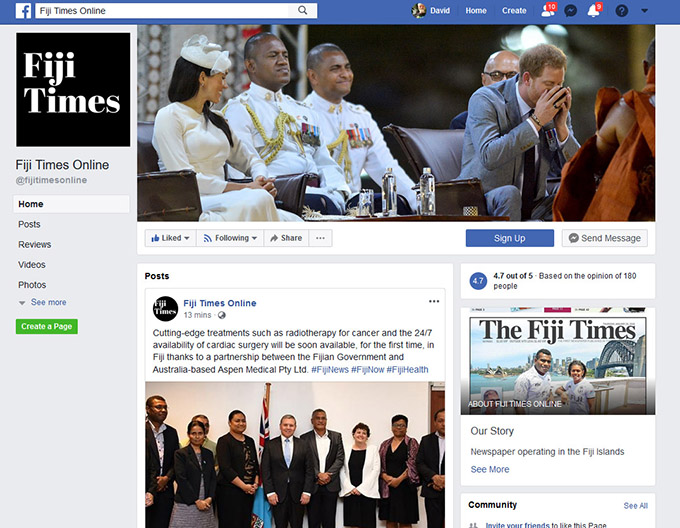 The
true Fiji Times FB page
. Image: PMC
False news warning
Radio NZ Pacific reports that election authorities in Fiji are warning about false news stories in the run-up to tomorrow's election.
They were telling people to report any so-called fake news.
Social media users have found fake media sites with items about visa-free access to Australia and a ban on celebrating Diwali.
Ashwin Raj, of Fiji's media authority, said there was so much fake news that audiences found it hard to decide which was fact or fiction.
Raj said people should report fake news.
A two-day campaign blackout started at midnight on Sunday, but the complaints to the elections office said some material remained on banners and car stickers.
Offenders risk the chance of a hefty fine and up to 10 years in jail.

Article by AsiaPacificReport.nz
]]>