<![CDATA[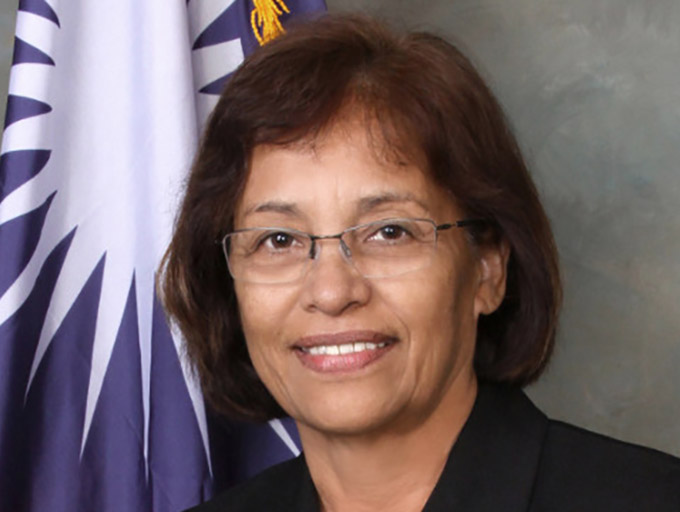 Marshall Islands President Dr Hilda Heine … survived challenge to her government's policies. Image: SPC
By Giff Johnson in Majuro for RNZ Pacific
Marshall Islands President Hilda Heine has survived a vote of no confidence with parliament, the Nitijela, split evenly 16-16
The movers of the motion needed 17 votes to topple Dr Heine. The vote was held yesterday with 32 of the 33 members present, as one was off-island for medical treatment.
Heine, Finance Minister Brenson Wase and Foreign Minister John Silk led 45 minutes of government response to the five issues outlined by the motion movers, with Dr Heine saying the vote was really a "referendum about our own politics."
Wase said the criticism of the government for moving ahead with a digital currency plan had been overtaken by events, with numerous countries in the Pacific following the Marshall Islands by announcing plans for their own digital currencies and requesting support from the International Monetary Fund (IMF).
He said delays in releasing the Marshall Islands' "SOV" currency were so the country could meet the requirements of the US, European Union and others.
Silk said the international recognition accorded Heine and her government showed the opposition's contention that the government had ruined the nation's reputation internationally was wrong.
He cited donors doubling their annual grants and the country's chairmanship of various global climate groups.
Lack of transparency
Opposition Senators Casten Nemra, Bruce Bilimon and Alfred Alfred, Jr. fired back, hammering the government on lack of transparency in handling theft of money from its national trust fund in 2017 and saying the government had taken away people's right to vote by eliminating postal absentee balloting for islanders living offshore.
The parliament chamber was packed with a standing-room only crowd to view the debate and the vote that followed.
Immediately after the results were confirmed, Speaker Kenneth Kedi, who had backed the no confidence move, congratulated Dr Heine and her Cabinet, and then, following a motion to recess, declared Nitijela to be in recess.
Giff Johnson is editor of the Marshall Islands Journal and correspondent for RNZ Pacific. This article is republished under the Pacific Media Centre's content partnership with Radio New Zealand.

Article by AsiaPacificReport.nz
]]>