<![CDATA[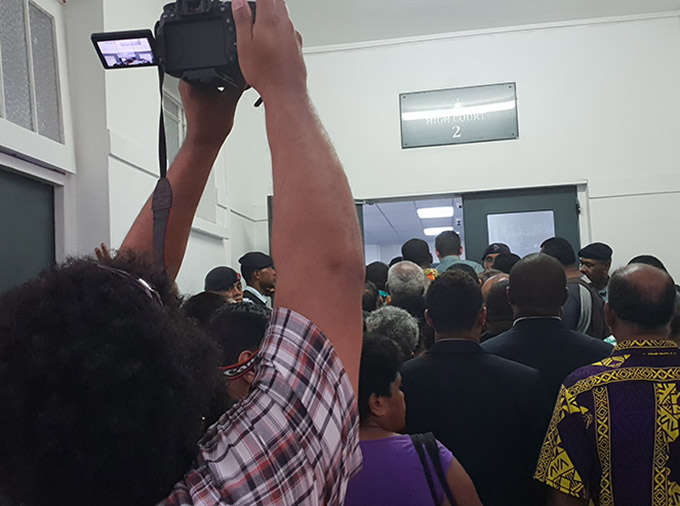 A media scrum at the Fiji High Court 2 today for the anti-corruption agency FICAC's unsuccessful appeal against the acquittal of SODELPA leader Sitiveni Rabuka on a false declaration of assets charge. Image: Sri Krishnamurthi/PMC
By Sri Krishnamurthi in Suva
In a dramatic afternoon, more than 1000 people sang Fijian songs of jubilation as Chief-Justice Anthony Gates dismissed the appeal by the Fiji Independent Commission Against Corruption (FICAC) against former Prime Minister Sitiveni Rabuka.
In a jam-packed High Court 2, Chief Justice Gates said the magistrate was correct to dismiss the original charges of not guilty of providing a false declaration of assets under electoral rules.
The FICAC took its appeal to the High Court as was its legal right.
Chief Justice Gates said that had Rabuka been found guilty, he would have had the right to appeal his case in the High Court too.
In his 36-page ruling, Chief Justice Gates said the magistrate had been correct in his findings that the prosecution had not been able to prove its case beyond reasonable doubt.
He said that the interview conducted by FICAC with Rabuka left many answers unprobed or unclarified.
He went on to say such interviews should always be conducted on the basis that reliance may have to be made solely on that procedure.
Acquitted last month
Rabuka was acquitted of the charges last month but FICAC had appealed that decision, taking its case to the High Court.
The hearing lasted more than an hour, after which Rabuka emerged to the cheers of joy from his supporters wearing a white shirt over which he draped a red scarf, all the time smiling but looking relieved.
Now that he is a free man he can stand as a candidate in the Fiji general election as the leader of SODELPA, the second largest political party after the ruling FijiFirst Party.
Voting is on Wednesday.
Vandhana Bhan from Radio Tarana, who got close to Rabuka's white SUV, asked him the age-old question "how are you feeling?"
Rabuka replied, "great and getting better."
She asked Rabuka if he had anything to say to the people? "Thank you to all of them for their prayers," he said before being whisked away.
Sri Krishnamurthi is a journalist and Postgraduate Diploma in Communication Studies student at Auckland University of Technology. He is attached to the University of the South Pacific's Journalism Programme, filing for USP's Wansolwara News and the AUT Pacific Media Centre's Asia Pacific Report.

Article by AsiaPacificReport.nz
]]>