<![CDATA[
David Robie, who reported from New Caledonia during the 1980s for Islands Business magazine, New Zealand Times and other media, returned to the French Pacific possession to observe last weekend's historic referendum. He was also on board the Rainbow Warrior, the Greenpeace environmental ship that was bombed by French secret agents during the height of "les évènements". He reflects in the first of two articles.
By David Robie in Nouméa
Thirty four years ago, on 18 November 1984, Kanak pro-independence leader Éloi Machoro split a ballot box in half at Canala on the East Coast of New Caledonia. His supporters burned ballot papers in the opening salvo in an "active boycott" of French territorial elections.
I was there bearing witness and photos of the protest became symbolic around the world for the Kanak claim to self-determination and sovereignty.
The following month, on 5 December 1984, 10 unarmed Kanak activists were brutally murdered by mixed-race settlers in an ambush as they drove home through the forest from Hienghène to the village of Tiendanite. I was at the funeral, one of the most harrowing moments of my life.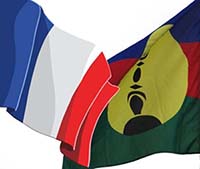 NEW CALEDONIA INDEPENDENCE VOTE: WHAT NEXT?
The following year I was on board the Rainbow Warrior for more than 10 weeks on a humanitarian voyage to the Marshall Islands to help Rongelap islanders suffering from the legacy of nuclear testing. The ship was bombed by French secret agents on 10 July 1985, killing Portuguese-Dutch photojournalist Fernando Pereira.
As clashes and tension worsened over the next three years in New Caledonia, a group of young Kanak militants led by student activist Alphonse Dianou on 22 April 1988 nervously killed four gendarmes while taking 27 others hostage.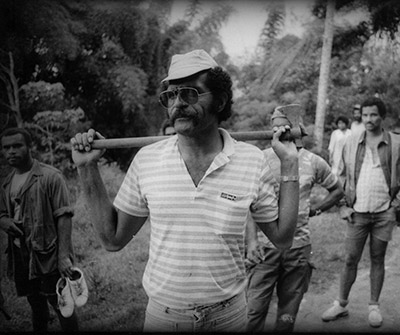 Kanak "security" leader during the 1984 election active boycott. His action with the axe in splitting open a ballot box at Canala led to a series of events culminating in his assassination by French security forces in 1985. Image: David Robie/PMC
A cave siege followed with security forces storming the hideout on 5 May 1988 and killing all the hostage-takers in what is known as the Ouvéa massacre.
The peace negotiations after the Ouvéa tragedy led to the Matignon Accord signed by anti-independence leader Jacques Lafleur and Kanak and Socialist National Liberation Front (FLNKS) president Jean-Marie Tjibaou and the initial framework that led to the historic independence referendum in New Caledonia last Sunday.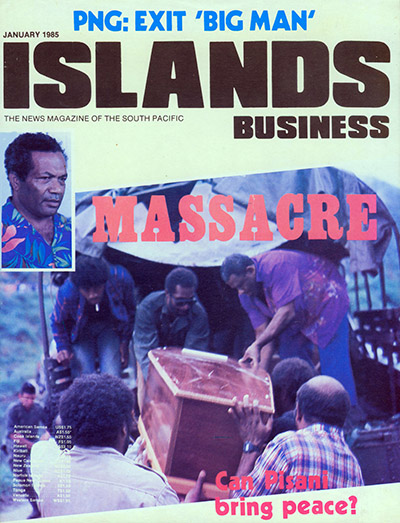 January 1985 cover of Islands Business magazine (Fiji) after the Hienghène massacre. Cover images: David Robie/PMC
However, cultural philosopher and visionary Tjibaou and his deputy Yeiwene Yeiwene were in turn assassinated by Djubelly Wea in a further tragedy on 4 May 1989. I had shared a hotel room with the assassin at a conference in Manila just a few months earlier.
Slight unease
Returning to New Caledonia for this historic vote virtually three decades later, my earlier experiences – outlined in two of my books Blood On Their Banner (1989) and Don't Spoil My Beautiful Face (2014) – gave me slight feelings of unease.
There has been 3o years of relative peace and social justice has definitely improved during that time – even if nowhere enough for the indigenous Kanak people – and there has been significant progress in terms of self-government and economic development.
But what would happen if this vote proved negative and growing aspirations of the Kanaks for a new nation of Kanaky New Caledonia were again denied. On the face of it, it seemed impossible for independence to triumph given the demographic realities.
The rioting and the barricades on the main road near the tribal area of St Louis on the outskirts of Nouméa on Monday were a taste of what might have been with frustrated youth if it had spiralled out of control.

SBS Pacific reporter Stefan Armbruster (left) and SBS French executive producer Christophe Mallet preparing a live news feed from the Noumea's Hotel de Ville. Video: David Robie/PMC
While some local journalists on the ground were cautious, saying the referendum was hard to call with probably a 50/50 or 60/40 outcome, some anti-independence leaders had been brazenly declaring the election a done deal with a 70/30 outcome.
The conservative politicians have ended up with egg on their face. The pro-independence FLNKS and its ally Palika-UNI did a superb job in mobilising their supporters, especially the young.
Final results confounded the pundits. The "no" slipped to a 56.4 percent vote while the "yes" vote wrested a credible 43.6 percent share of the vote with a record 80.6 percent turnout.
Interesting statistics
Closer analysis of the figures produced some interesting statistics.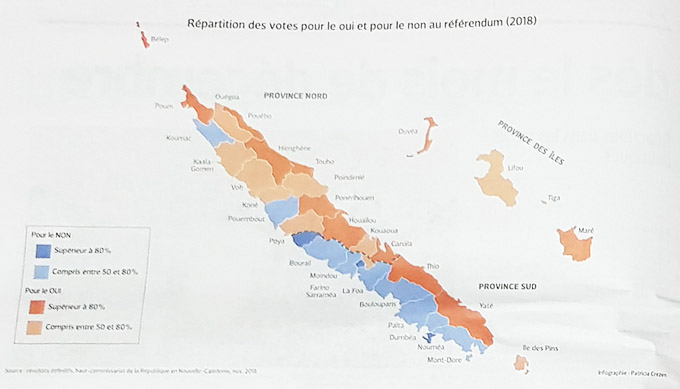 How they voted: Map showing the results and the breakdown of "yes" (shades of red) and "no" (blue) votes in the 35 communes of New Caledonia. Source: French High Commission/Les Nouvelles Caledoniennes
The cleavage of the territory into the "white" Southern" province and Nouméa, and the "brown" Northern and Loyalties provinces remained (see Part 2 tomorrow) but the stark divisions of the past appeared to be blurring in some places, reflecting an emerging common ground across ethnic divides.
The white South with the bulk of the European population and the core of the territory's wealth polled a 73.7 percent no vote with 26.29 percent yes vote, a growing pro-independence movement.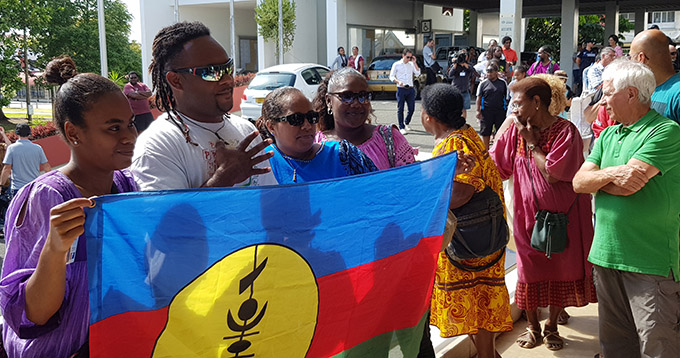 Kanak voters in the "white" stronghold of Noumea vote at the Hotel de Ville – the city hall – polling centre. Image: David Robie/PMC
In contrast, in the North province where the FLNKS-ruled local government has consolidated its position. There was a 75.83 percent yes vote and 24.17 percent against.
In the Loyalty Islands, the vote was 82.18 percent yes and 17.82 percent no.
In Canala, where Machoro smashed open the ballot box, the vote was 94.27 percent yes and in Hienghène where the Tjibaou massacre happened (the leader lost two of his brothers in that ambush before he was assassinated) the yes was marginally higher at 94.75 percent.
However, the highest yes vote was in the tiny Belep islands off the northern tip of Grande Terre island. With barely 920 eligible voters, there was almost a 95 percent yes vote.

New Caledonian Independence Referendum Commission President Francis Lamy presenting the official result of the vote to media. Video: David Robie/PMC
'Liberty, fraternity for all'
French President Emmanuel Macron welcomed the vote by New Caledonians to remain French, pledging that the republic would ensure 'liberty, equality and fraternity" for all.
"The only loser is the temptation of contempt, division, violence and fear; the only winner is the process of peace and the spirit of dialogue," Macron said in a state television address from Paris.

French Prime Minister Édouard Philippe arriving at the High Commission in Noumea. Video: David Robie/PMC
French Prime Minister Édouard Philippe flew to Nouméa from Vietnam on Monday for a day of meetings with political leaders, customary chiefs and voting commission officials to take stock of the referendum.
After meeting a range of leaders during the day and flying to Koné to meet President Paul Néaoutyine of the pro-independence stronghold Northern province, Philippe made a televised address from Premiere (the local affiliate of France TV) to the territory on Monday night.
Praising the people of New Caledonia for the peaceful conduct of the referendum, he called for a "meeting of the signatories" next month to consider the next step.
Prime Minister Philippe indicated that a fresh approach was now needed with a greater emphasis on social and economic development than political structures and to address "inequalities".
The prime minister had lunch with students at the University of New Caledonia. Following his TV address and an evening "pool" interview with media, he flew back to Paris on Monday night.
'Listening to us'
"Édouard Philippe was here to listen to us," said FLNKS president Roch Wamytan. "Despite the opposition crowing that they were going to dominate 70/30, we have spoken of dialogue and negotiation."
Anti-independence Rassemblement leader Pierre Frogier said the referendum result "anchors New Caledonia in France" and there was no need for further votes.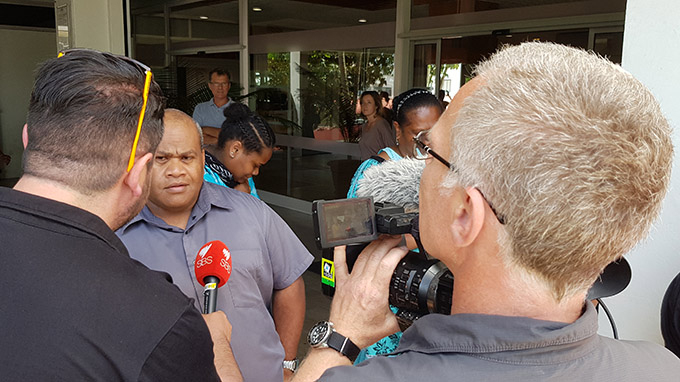 SBS French executive producer Christophe Mallet (left) and Pacific reporter Stefan Armbruster interview voters at Noumea's Hotel de Ville. Image: David Robie/PMC
On referendum day, I travelled around with the SBS crew from Australia, reporter Stefan Armbruster and executive producer Christophe Mallet of SBS French radio. I was keen to get a sense of the reportage and I have the utmost respect for Armbruster's reporting, particularly from a "diversity" perspective.
They endeavoured to get a "balanced" view of the voting mood by starting off at Nouméa's Hotel de Ville in the heartland of "white" New Caledonia. They interviewed the first voter and also spoke to a range of voters with different stories to tell.
I was also impressed with their live crosses for both television and radio absorbing a sense of atmosphere and colour.
Leaving the town hall, we visited a new "decentralised" polling station for the Loyalty Island voters with a remarkably long queue for Lifou voters.
Law change
A law change was required in France earlier this year to enable the Nouméa -based islanders to vote without having to pay expensive airfares to get to their home islands.
"This is an incredible privilege for us to be here," said French-born Mallet, who has lived in Australia for 16 years.
A voter, Boris Ajapuhnya, told Mallet in an SBS French interview this was their golden chance, for the Kanak people to express their wish in an historic vote.
"The moment is right now," he said.
While the indépendantistes might have lost this vote, they did much better than expected. With up to two more referendums to come in 2012 and 2022, they are in a healthy negotiating position with a chance to win independence in the end.

Article by AsiaPacificReport.nz
]]>