<![CDATA[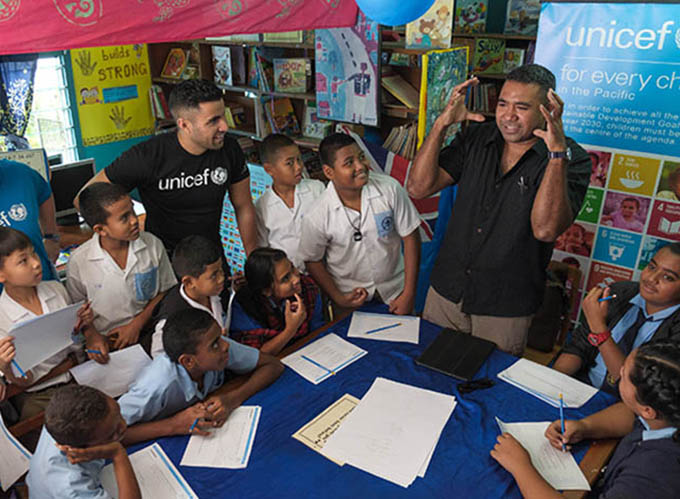 Students at Holy Trinity Primary School in Suva, Fiji, presented their superheroes designed during a workshop held on Monday. Image: UNICEF
Pacific Media Centre Newsdesk
Advocacy groups have called on children and young people to defeat the "ultimate supervillain" – silence – to help end violence in and around schools.
The Holy Trinity Primary School students' superheroes will be entered in this global competition organised by UNICEF and Comics Uniting Nations.
During the workshop at Holy Trinity Primary School, UNICEF Pacific ambassador Pita Taufatofua said: "Every child in Fiji, in the Pacific islands and throughout the world, has the right to go to school and feel safe.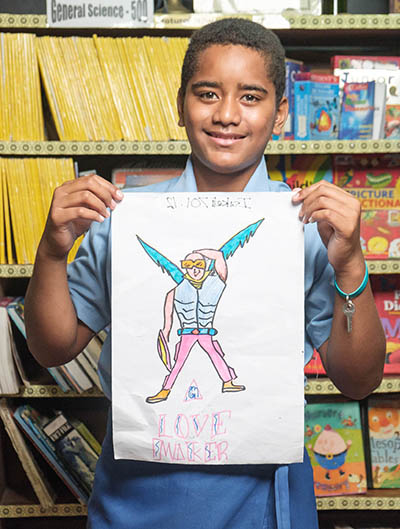 "Superhero" Love Walker. Image: UNICEF
"Let's talk about the kind of superpowers that your superhero might have that will help every child feel safe in school."
The students also had the chance to work with Tui Ledua, from Kanalevu Animation and Illustration.
"How will we create a superhero to prevent bullying?" Ledua told the students.
He responded to the students' ideas on the characteristics his superhero should have and brought this character to life right in front of their eyes, a superhero complete with a sasa broom to be used as a magic wand to create a peaceful world.
Silencing children
Silence is a supernatural character that uses its powers to stop children from speaking up and taking action against violence in and around schools.
Children and young people aged 25 years and under have been invited to design their own comic superhero that will defeat Silence and help keep children safe in school.
UNICEF Pacific representative Sheldon Yett said: "From fighting and bullying to sexual harassment and corporal punishment, violence in and around schools can have devastating, long-term consequences for children."
The Silence superhero comic contest will encourage children and young people in
Fiji and around the world to be part of UNICEF's global campaign to shed light on and spark action to #ENDviolence in schools through the creative medium of comic design.
The top submissions in the contest will be chosen after the closing date on October 25 by a special panel of judges, including comic artist Gabriel Picolo and last year's comic contest winner Sathviga "Sona" Sridhar.
The public will then have the opportunity to vote online for their favourite comic hero between November 16 and 25.
The winner will be announced in December and will work with a professional team to turn their winning idea into a full-length comic book. Their comic will be presented to World Leaders at the High-level Political Forum on Sustainable Development at the United Nations in July 2019, as well as distributed to schools and children worldwide.

Article by AsiaPacificReport.nz
]]>