<![CDATA[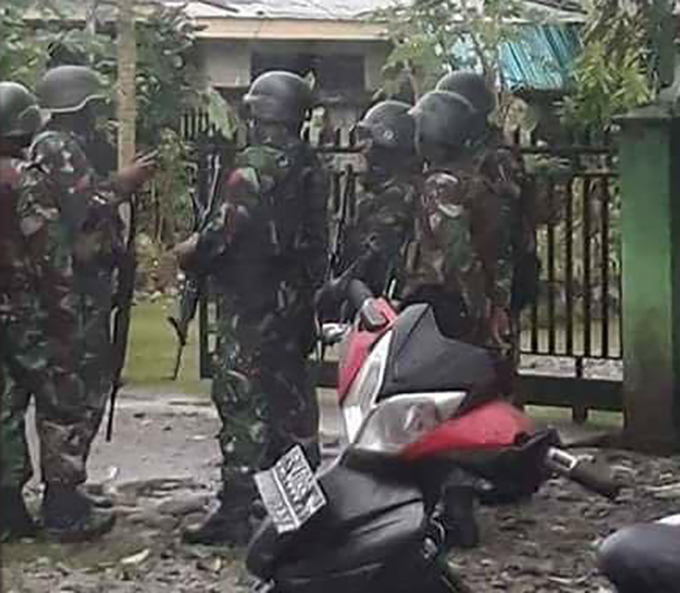 Indonesian police and military have reportedly attacked the West Papua Committee (KNPB) office in Timika and arrested seven people, including three teenagers. Image: Timika KNPB
By Budiarti Utami Putri in Jakarta
Human rights organisation Amnesty International Indonesia has demanded President Joko "Jokowi" Widodo fulfil his promises to resolve the alleged human rights violations in Papua.
Amnesty International Indonesia executive director Usman Hamid said Jokowi had earlier pledged to settle the shooting incidents involving civilians in Paniai, Papua.
"We underline one promise, one commitment delivered by President Joko Widodo following the Paniai incident that the President wants the case to be settled to prevent further incident in the future," said Usman in a plenary meeting with the House of Representative (DPR)'s Legal Commission in the Parliament Complex, Senayan, Jakarta, last week.
READ MORE: Indonesia's unresolved police killings in Papua
Usman said that there was an alleged excessive mobilisation of power and weapons from the security apparatus in Papua.
Between January 2010 and February 2018, Amnesty International Indonesia had recorded 69 cases of alleged extrajudicial killings in Papua.
The most dominant perpetrator was the National Police (Polri) officers (34 cases), followed by the Indonesia Armed Forces (TNI) (23 cases), joint officers of TNI and Polri (11 cases) and Public Order Agency (Satpol PP) in one case.
Custom resolution
Usman said a total of 25 cases were not investigated, 26 cases were studied without a conclusive result, and 8 cases were dealh with through custom.
"Usually, it is about certain compensations for the victim's family," Usman said.
Usman said this was proof that the government lacked independent, effective, and impartial mechanisms to cope with civilians' complaints concerning human rights violation performed by the security personnel.
The former coordinator of the Commission for Missing Persons and Victims of Violence (Kontras) urged the government to create measures to resolve the human rights violation in Papua and demanded the government admit the incident and draft procedures for security officers in a bid to prevent violence in the region.
"President Jokowi expects Papua to be a peaceful land," Usman said.
Meanwhile, the House's Legal Commission deputy speaker Trimedya Panjaitan pledged to follow up the findings issued by Amnesty International Indonesia to the National Police Chief Tito Karnavian in the upcoming session next week.
"We will ask the police chief in the next meeting on September 24," Trimedya said.
Timika attack, arrests
Meanwhile, Indonesian police and military attacked the West Papua Committee (KNPB) office in Timika at the weekend and arrested seven people, including three teenagers, alleged an unverified social media posting.
The arrested people were named as:
Jack Yakonias Womsiwor (39)
Nus Asso (46)
Urbanus Kossay (18)
Herich Mandobar (18)
Pais Nasia (23)
Vincent Gobay (19)
Titus Yelemaken (46)

This Tempo article is shared through the Asia-Pacific Solidarity Network (APSN).

Article by AsiaPacificReport.nz
]]>