<![CDATA[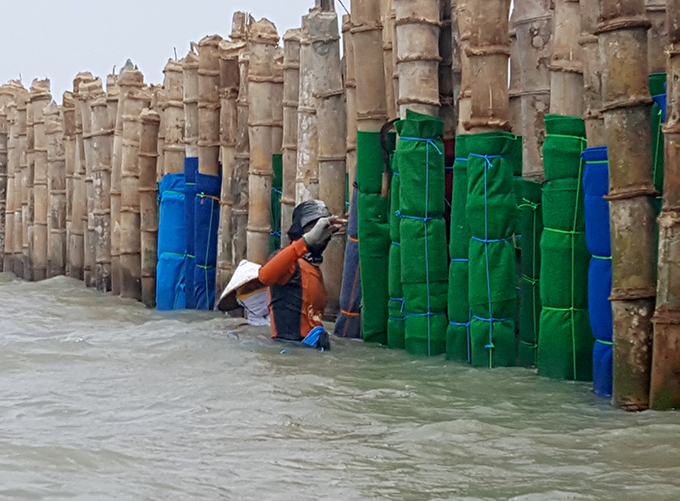 A "natural" seawall constructed out of giant bamboo poles built at the Semarang village of Demak Timbulsloko in an attempt to reduce "rob" flooding damage. Image: Del Abcede/PJR
Pacific Media Centre Newsdesk
"Rob" flooding in the Indonesian city of Semarang, Cyclone Winston's devastation and social media in Fiji and "backpack journalism" in Typhoon Haiyan in the Philippines are among many issues featured in the latest Pacific Journalism Review.
This is the second edition of the New Zealand-based media research journal focused on climate change and global warming.
The first, published year, featured the Fiji and Pacific leadership at COP23 with a series of research papers.
READ MORE: Pacific Journalism Review online at AUT's Tuwhera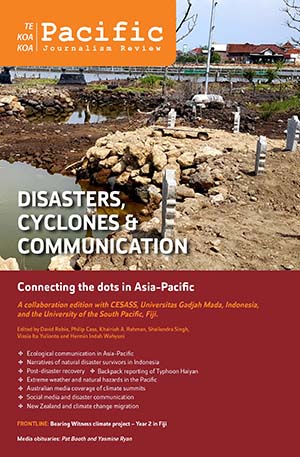 Pacific Journalism Review 24(1)
This latest edition, published next week, is timely as the Pacific faces increasingly extreme and more frequent weather onslaughts.
Indonesian academics Dr Hermin Indah Wahyuni, Andi Awaluddin Fitrah and Fitri Handayani along with the Pacific Media Centre's director, Professor David Robie, offer a comparative study on social adaptation to maritime disaster between Java and Fiji in a collaboration with the Centre for Southeast Asian Social Studies (CESASS) at the Universitas Gadjah Mada, Yogyakarta.
Another CESASS colleague, Dr Budi Irawanto, presents a paper on narratives of natural disaster survivors in Indonesian media.
The edition is also a collaboration with the University of the South Pacific whose Dr Shailendra Singh and Professor Vijay Naidu analyse the coverage of extreme weather in Pacific nations.
Post-disaster recovery
Dr Amanda Gearing of the Queensland University of Technology argues the case for a state-sponsored post-disaster recovery scheme and Monash journalism academic Dr Johan Lidberg offers a comparative study of Australian media coverage of COPs 15 and 21.
USP's Glen Finau and colleagues analyse social media and disaster communication, Auckland University's Norman Zafra analyses convergent technologies in disaster journalism while Unitec's Dr Philip Cass assesses "a plan nobody hopes they will need" – what New Zealand needs to do about climate change migration and the future.
Dr Robie provides a case study of Bearing Witness 2017, the second year of a Pacific climate change storytelling project in Fiji that has produced dynamic and inspiring results.
Among unthemed articles, Dr Catherine Strong of Massey presents findings from a NZ women newspaper editors study and Steve Ellmers of Unitec offers a "tale of two statues" in Baghdad.
Two obituaries of two remarkable New Zealand journalists, investigative reporter and editor Pat Booth (profiled by A Moral Truth author Dr James Hollings) and Yasmine Ryan (penned by Evening Report editor Selwyn Manning) are also featured by PJR.
The journal has a strong review section including The General's Goose on coup-struck Fiji, A Region in Transition, Grappling With The Bomb, "And there'll be NO dancing" and After Charlie Hebdo.
This edition has been co-edited by Professor David Robie and Khairiah A. Rahman (AUT), Dr Hermin Indah Wahyuni and Dr Vissia Ita Yulianto (CESASS-UGM), Dr Philip Cass (Unitec) and Dr Shailendra Singh (USP).
Papers from the edition are available online at AUT's Tuwhera platform.

Article by AsiaPacificReport.nz
]]>