<![CDATA[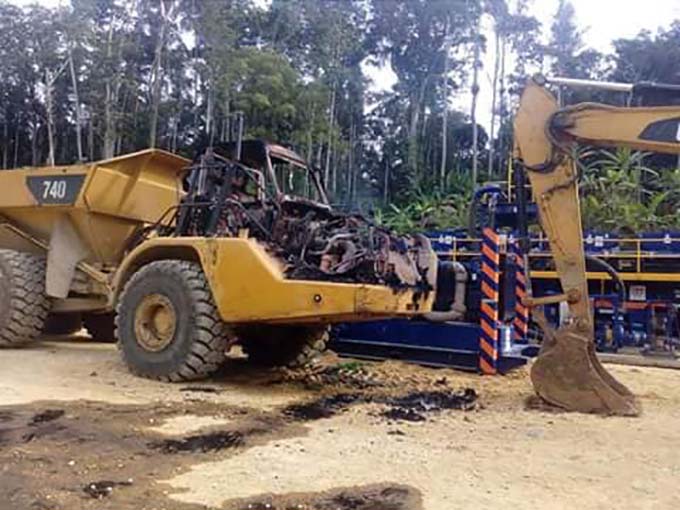 Charred machinery at the PD8 LPG development site in Hela province, PNG Highlands. Image: Michael Passingan/PNG News
Pacific Media Centre Newsdesk
In a show of frustration over the nonpayment of a business development grant, Angore landowners in Hela province have set fire to the massive Hides development LNG machinery on PDL 8 site as unrest continues in Papua New Guinea's rugged Highlands region.
The destruction includes an excavator and a drilling machine while sections of a highway leading to PDL 8 have been dug up, reports the PNG Post-Courier.
In other developments:
Prime Minister Peter O'Neill and Members of Parliament, including ministers, will travel to Mendi tomorrow to reinforce the work of the state of emergency team.
Local community leaders involved in the failed election petition which triggered the unrest travelled to Mendi today.
Police have 15 names to kickstart their investigations into last week's Mendi rioting, says
Assistant Commissioner of Police (ACP) Operations David Manning.
O'Neill condemned calls for his resignation, saying the country needed strong leadership.
READ MORE: 'Pushing for civil war' – fears riots could turn into widespread conflict in PNG
According to the Post-Courier's Kevin Teme, local sources revealed that the Angore landowners – particularly from the PDL 8 site – are angry over their outstanding business development grant (BDG) which is kept in the trust and is not being released.
While the government has recently released K35 million as project security fees to Hides landowners of PDL 1 and PDL 4, the Angore landowners are frustrated over how Exxon Mobil and the state has dealt with this issue.
'Rubbish' claims
Spokesman Max Ekeya said various claims on social media about asking the Prime Minister to step down and others were rubbish as this was not the true information that caused the riot and burning down of the machinery at the PDL 8 site.
"The Angore landowners are showing their frustration because they have not got their BDG while other landowners from Hides PDL 1 and 4 just got K35 million as project security fees in which K20 million went to PDL 1 and K15million to PDL 4," Ekeya said.
"The landowners are not asking the Prime Minister to step down, but are asking the government to release their business development grants," Ekeya said.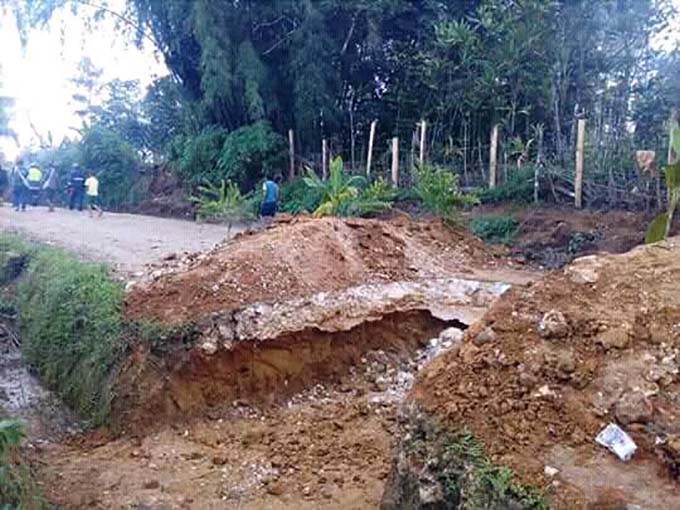 Part of the excavated road in the Angore area. Image: Michael Passingan/PNG News
In a telephone interview with Tom Homake, a civil engineer with Hides Gas Development Company, he confirmed that all machines, including an excavator at the PDL 8 site, were burnt early yesterday.
"Information on setting alight the Eneria pipeline is not true and that's just hear say. But I cannot confirm that," Homake said when asked if the pipelines had also been set on fire.
"Other Hides areas, including the PDL 1 and PDL 4 up to PDL 7 area, are okay as I speak. We are on site doing a road projects from Takali to Komo and I can confirm that on ground," Homake said.
Homake said this could change.
He said the Angore PDL 8 landowners were now asking the national government and Exxon Mobile to come and make their payment.
Plea for intervention
Meanwhile, spokesman Ekeya has called on the government to quickly intervene as he believes opportunists might take the law into their own hands and this may cause another destruction altogether.
Prime Minister O'Neill and MP plan to leave for Mendi tomorrow.
The Prime Minister expressed disappointment that the Southern Highlands provincial police commander had made statements outside his responsibility.
He urged police to carry out their duty in maintaining the rule of law and investigating offences without interference from politics.
"I am surprised that the PPC appears out of touch as reports are that he was not present in Mendi when the burning of state assets took place," the Prime Minister said.
Assistant Commissioner of Police (ACP) Operations David Manning told the Post-Courier that at least 15 suspects in the rioting had already been identified to police and would be the subject of further investigation.
Manning said all suspects would be investigated indiscriminately and prosecuted to the full extent of the law.
"In the course of our investigation, we will be looking at all angles, because we need to ensure that anyone who had even the remotest involvement in the incident is investigated," he said.

Article by AsiaPacificReport.nz
]]>