<![CDATA[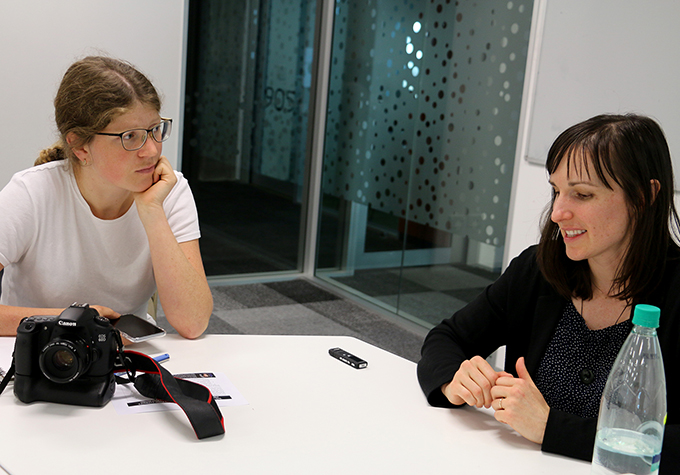 Jean Bell (left) interviews Otago University's nuclear food safety doctoral researcher Karly Burch on her first Pacific Media Watch assignment. Image: Del Abcede/PMC
Pacific Media Watch Newsdesk
Pacific Media Centre project students and interns announced for the year this week include two budding documentary makers and a seasoned journalist from Fiji with more than two decades of experience.
Jean Bell has been appointed the Pacific Media Watch contributing editor for 2018 and posted her first story this week about concerns over food safety and a politically "contained" debate seven years after the Fukushima Daiichi nuclear power plant disaster in Japan in March 2011.
She is a current student at Auckland University of Technology, studying towards a Postgraduate Diploma in Communication Studies, majoring in journalism.
Bell also graduated from the University of Auckland in 2016 with a Bachelor of Arts double major in politics and international relations.
In 2017, Bell worked as a legal secretary in a commercial law firm and spent her free time working on freelance journalism projects and writing news for Auckland radio station 95bFM.
She will also be hosting the Pacific Media Centre's weekly radio programme Southern Cross.
Bell admits she is no expert in Pacific journalism or politics, "but that's one reason why I wanted to apply.
"I see this as a chance to learn more and widen my skill base while also bringing the valuable skills I already have to help drive this project."
Highly experienced
Sri Krishnamurthi brings more than 20 years of experience as the PMC's 2018 NZ Institute for Pacific Research journalist.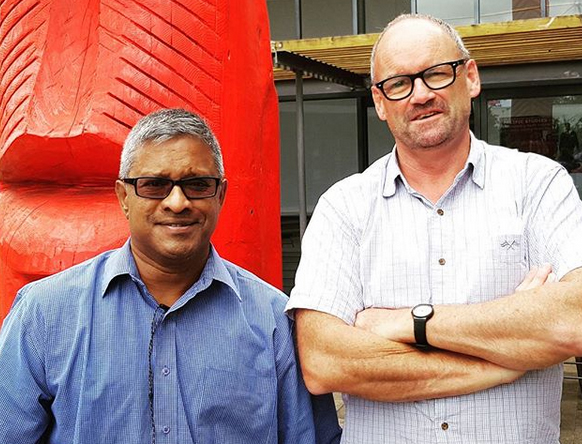 Sri Krishnamurthy (left) at the University of Auckland's Pacific Fale with NZIPR manager Dr Gerard Cotterell. Image: David Robie/PMC
Originally from Fiji, Krishnamurthi has always had a strong connection with – and a deep interest in – what is happening in the Pacific region.
He is currently a part-time student in the Postgraduate Diploma in Communications (Digital Media) course at AUT. He also has an MBA (Massey University).
Krishnamurthi worked for many years as a journalist with the now-defunct New Zealand Press Association newsagency and has held a variety of senior communications posts, including Northland Inc., an iwi (Ngatiwai) organisation, the Ministry of Pacific Island Affairs and as a minister's press secretary.
"The media landscape has changed with the advent of the digital age, but the fundamentals of working as a journalist, a public relations practitioner, or in communications, require the same inherent skills they always have – albeit with some enhancements," he says.
The two students going to Fiji this semester on the Bearing Witness climate change project are Hele Ikimotu and Blessen Tom, both on the Postgraduate Diploma in Communication Studies degree and keen to develop their screen production and writing skills.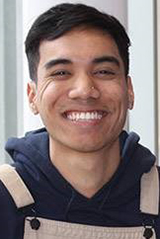 Hele Ikimotu … passionate about Pacific stories. Image: PMC
'Pacific passion'
Of Niuean and Banaban descent, Hele Ikimotu completed his Bachelor of Communication Studies degree majoring in journalism last year and worked as an intern on the NZ Institute for Pacific Research project.
Ikimotu is currently employed by the Office of Pacific Advancement at AUT, working for the the Oceanian Leadership Network, a new initiative at the university.
"I have a passion for Pacific stories, issues and people," he says. " I believe there needs to be more coverage on the Pacific community and positive representation of Pacific people."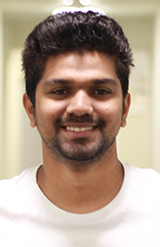 Blessen Tom … directed short films. Image: PMC
Blessen Tom, originally from India, completed his Bachelor and Masters in Literature and is now pursuing his studies in digital media.
He is passionate about visual storytelling and documentaries.
Tom directed two short films and a drama, and is currently working on a mini documentary series for YouTube.
Pacific Media Centre director Professor David Robie described the project-winners as a "talented team" and looked forward to working with them this year.
He also praised project partners the Pacific Centre for the Environment and Sustainable Development (PaCE-SD), University of the South Pacific Journalism Programme, NZ Institute for Pacific Research (NZIPR), AUT's Te Ara Motuhenga and Evening Report.

Article by AsiaPacificReport.nz
]]>