<![CDATA[
By Sylvester Gawi in Limu village, Hela, Papua New Guinea
Thousands of people have been displaced and are still waiting for relief assistance in disaster affected areas in Hela and Southern Highlands provinces a week after the 7.5 magnitude earthquake destroyed their homes and food gardens in Papua New Guinea.
Aftershocks below 5 magnitude have been experienced in the last 7 days with locals on high alert and awaiting relief supplies and assistance in evacuations to safer grounds.
Hela Provincial Hospital in Tari confirmed a total of 38 deaths and 8 unconfirmed deaths yesterday afternoon. A medical team was deployed into Limu and Homapawa villages in the Benere ward area where a a total of 21 deaths were confirmed.
Homapawa village confirmed 10 deaths and Timu 11. Of the 11 in Timu, 4 have been retrieved and given proper burial while another 7 (a family of six and another teenage girl) are still buried under the debris along with their house.
Efforts by locals to retrieve their bodies are slowly progressing at this stage.
Timu villagers who have lost all their houses and food gardens are now taking refuge at their local EBC Church building in the village.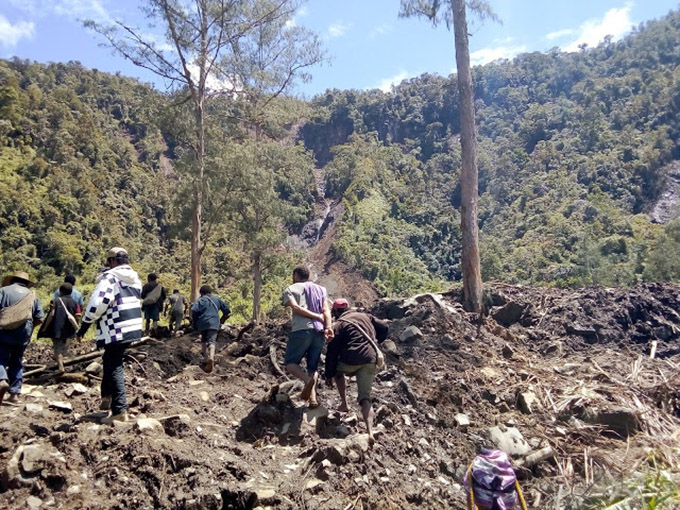 Another 12 confirmed deaths have been reported at the Mt Bosavi area in the Komo-Magarima district of Hela. Nearby Mananda village also reported 5 confirmed deaths and houses and food gardens destroyed by the disaster.
More deaths reported
Health officials are yet to verify uncomfirmed reports of some more deaths in Magarima and Pandoka.
So far Hela province has reported a total of 38 confirmed deaths while Southern Highlands has reported 37 deaths so far. This now brings the death toll to 75 as at yesterday afternoon.
Affected communities are facing severe food, clothing and fresh water shortages as relief efforts are slowly progressing at this stage. Most of these villages in Hela are situated along the pipelines areas of the oil and gas plants in Southern Highlands and Hela provinces.
Humanitarian relief agencies are also doing their best to get into affected communities which most communities are inaccessible by road or the road links cut off by the disaster.
Oil Search Limited has committed K6 million in cash and kind towards the disaster while EXXON Mobil has committed K3 million towards relief assistance.
Oil Search has already began distributing relief supplies to parts of Southern Highlands while relief supplies were also delivered by the Australian Defence Force Hercules aircraft to Moro in Hela.
The National Disaster Centre in a statement released yesterday said it was still waiting for accurate data to reach it so that it could act.
However, people from the affected communities have pleaded for the government to fast track relief assistance and also address resettlement issues as they were still in fear following aftershocks over the past week.
Journalist Sylvester Gari blogs at Graun Blong Mi-My Land where this article was first published.
Article by AsiaPacificReport.nz
]]>