<![CDATA[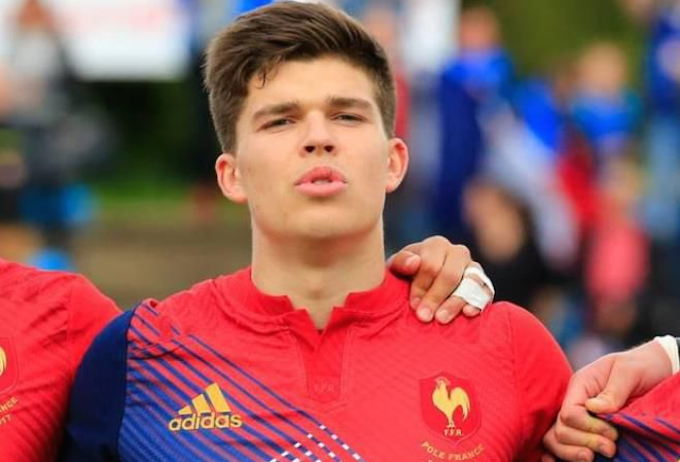 Just as they did in Frédéric Michalak in 2001, France have put faith in a teenager who can act as a shining light at a time when darkness surrounds Les Bleus – Matthieu Jalibert. Image: L'Equipe
By Jack De Menezes in Paris
French rugby is going through a difficult period. The national team lacks direction, the head coach has just departed and has been replaced by a man tasked with triggering a revolution, the team are being given little to no chance of winning the next Rugby World Cup and the hopes of a nation lie on a 19-year-old half-back.
No, this isn't the present. This is the start of the millennium, but the similarities to the 2018 Six Nations are remarkable.
For Bernard Laporte and Frédéric Michalak all those years ago, now read Jacques Brunel and Matthieu Jalibert.
But while there are a scary number of similarities, the big difference is that Laporte took over a side that had won a Six Nations Grand Slam double in 1997 and 1998, three years before he took the top job.
Brunel arrives with France having not won the title since 2010, and if they fail to cause the biggest of upsets this year, they will match their longest barren run since returning to the championship in 1951.
Despite the job appearing to be a poisoned chalice before his arrival, the vastly successful and experienced Guy Noves was sacked after just two years in the job following a string of "unacceptable" results.
To top things off, the French Rugby Union (FFR) are taking legal action against Noves for alleged "serious misconduct", and last week their head office was raided by French police investigating Laporte – now the FFR president – regarding an alleged conflict of interest arising from his relationship with Top 14 side Montpellier.
Shining light
To say that French rugby is in a state right now is putting it lightly.
But, as they did in Michalak all those years ago, France have a teenager who can act as a shining light at a time when darkness surrounds Les Bleus.
Since Michalak made his debut in November, 2001, France's roll call of fly-halves reads as follows: David Skrela, Francis Ntamack, Julien Peyrelongue, Alexandre Peclier, Francois Trinh-Duc, Lionel Beauxis, Thibault Lacroix, Jean-Marc Doussain, Camille Lopez, Remi Tales, Jules Plisson.
No pressure then, Matthieu.
Jalibert arrives on the international stage short on experience but big on potential.
This may be an exercise in blooding Jalibert for bigger challenges in the future given he has just 15 Top 14 appearances to his name, but then they don't come much bigger than facing the Ireland in Paris in the Six Nations.
France have only lost one of those since 2001, and an expectant Parisian crowd does not anticipate a second tomorrow regardless of the state of the national team.
"We are not favourites but we hope that these two weeks we will have constructed a spirit or state of mind which will permit us to compete well, Brunel said.
"I am very happy that people either think we are not very good, even dreadful or just rank bad, and regarded as the fifth country in the tournament. That suits me very well."
In other Six Nations games this weekend, Italy plays England in Rome and Wales faces Scotland.

Article by AsiaPacificReport.nz
]]>