<![CDATA[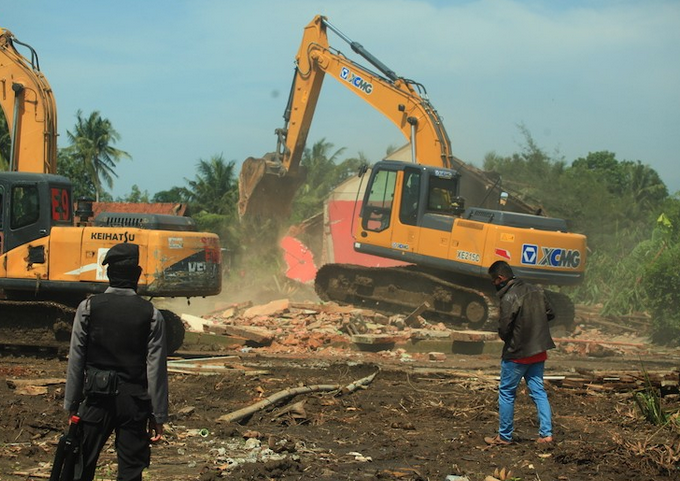 A police officer looks on as workers of state-owned airport operator PT Angkasa Pura I bulldoze a building in the vicinity of Glagah village to make room for the New Yogyakarta International Airport (NYIA) in Kulonprogro, Yogyakarta on Friday. Image: Bambang Muryanto/The Jakarta Post
By Bambang Muryanto in Yogyakarta
Indonesia's National Commission for Human Rights (Komnas HAM) has demanded that state-owned airport operator PT Angkasa Pura I consider human rights aspects while working on the construction of a new airport in Kulonprogo, Yogyakarta.
The project should be free from human rights breaches, in particular when it comes to land ownership, the organisation said.
"Please, do not steal the citizen's lands in the name of infrastructure development," said Komnas HAM commissioner Choirul Anam.
READ MORE: Students reject new Yogyakarta airport, condemn forced evictions
Choirul added that he had received reports from local activists claiming that people of Glagah village were being forced by the company and police to give up their land.
Thirty of some 2700 families living on the disputed land reportedly insist on staying in their homes. Choirul suggested the company engage in dialogue with the people to find a solution.
"This is not only about land ownership; the eviction also threatens the people's culture and social wellbeing," he said, noting that violence could create even more problems.
Meanwhile, PT Angkasa Pura, through the manager of the New Yogyakarta International Airport (NYIA) construction project, Sudjiastono, claimed it had done everything in line with the law on land procurement for public utilities construction.
According to the regulation, he added, the company was allowed to forcibly evict people who refused to give up their land in return for compensation through the court.
"We've respected the people's rights by giving them compensation, more than they deserve to get," he said.
Bambang Muryanto is Yogyakarta correspondent of The Jakarta Post.

Article by AsiaPacificReport.nz
]]>