<![CDATA[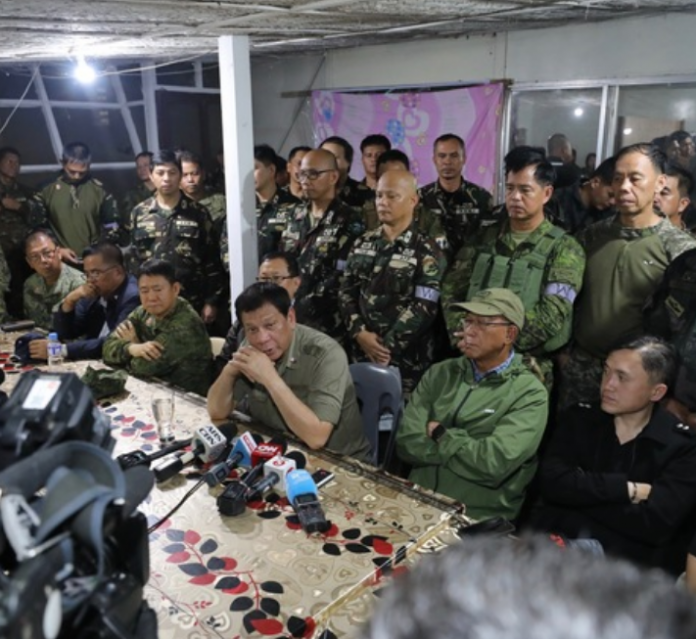 Martial law … "all options on the table", says President Rodrigo Duterte. Image: Malacañang file photo from Marawi City
By Pia Ranada in Manila
President Rodrigo Duterte says he will consider nationwide martial law if the New People's Army steps up attacks.
When asked if he would expand martial law coverage nationwide, President Duterte said "all options are on the table".
Speaking to reporters in Taguig City last week, the President said it would be the threat posed by the New People's Army (NPA) more likely to push him to expand martial law's geographic coverage.
READ MORE: Duterte thanks Congress for extending martial law in Mindanao
If the NPA – armed wing of the Communist Party of the Philippines (CPP) – intensifies its recruitment of new members and steps up attacks such as they are about to topple the government, Duterte said he would consider nationwide martial law.
"If the NPA say they are recruiting in mass numbers and they create trouble and they are armed and about to destroy government, the government will not wait until the dying days of its existence," said Duterte.
Ultimately, he said, any decision for him to proclaim martial law across the country is "up to the enemies of the state".
He stressed, however, that he would listen to the military and police.
"To what extent, what level of atrocities, attacks, it is not for me to say that. It is for the Armed Forces and the police," said the President.
During the joint session where Congress debated Duterte's request to extend martial law in Mindanao by one year, Senate Minority Leader Franklin Drilon warned that the President's recommendation sounds like a "prelude" to nationwide martial law.
Some lawmakers insist there is no legal basis for martial law extension, saying there is no state of rebellion or invasion of Mindanao.
Duterte, however, said frequent ambushes by the NPA and attacks by terrorists prove there is a state of rebellion in Mindanao.
"Count how many died there. Count how many died today all over Mindanao. My police are ambushed everyday, also my military. There is actually rebellion in Mindanao, it's ongoing," he said.
Congress voted overwhelmingly in favour of the martial law extension until December 31, 2018.
Pia Ranmada is a journalist for Rappler, the independent Indonesian and Philippines multimedia social action website.

Article by AsiaPacificReport.nz
]]>