<![CDATA[
By Kendall Hutt in Auckland
Being a journalist in the Philippines has become a lot tougher, riskier and traumatic in the face of  President Rodrigo Duterte's so-called "war on drugs" which has seen more than 7000 people killed in the Philippines in the last 18 months, says a leading media researcher and advocate.
In a narrative "singularly dominated by the police", says Malou Mangahas, executive director of the Philippine Center for Investigative Journalism (PCIJ), the face of journalism in the Philippines has begun to feel the impact.
Mangahas told the audience of the 'Journalism under duress in Asia-Pacific' panel during the Pacific Media Centre's 10th anniversary event one of the "freest" and "most rambunctious" media in Asia was facing serious challenges.
"The media in the Philippines right now is suffering from severe psychological trauma for seeing dead bodies, observing the terrible grief of family members of those who have been killed in the war on drugs by our president of only 16 months," she said.
Mangahas said journalists in the Philippines had become "first responders" in a war which had seen institutions falter and the rule of law challenged.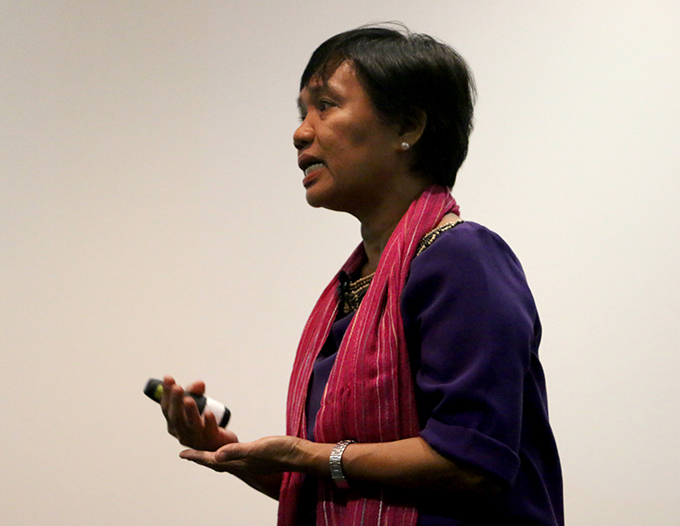 Journalists "first responders" in Duterte's drug war … PCIJ executive director Malou Mangahas. Image: Kendall Hutt/PMC
"The rule of law is weak in the Philippines. This happens, this aberration – Duterte, the war on drugs, the martial law on Marawi – because we have many broken institutions in the Philippines."
Although impunity was a problem in the drug war, Mangahas said accountability was a "twin problem" which the media had failed to uphold in a story "written and dramatic in numbers".
'Nobody owns up'
"People are getting killed but nobody owns up. Nobody gets jailed for what he has done. Cases are not even filed or pursued in court up to prosecution and conviction.
"I think we have gone wrong, we have not reported enough about our people," she said.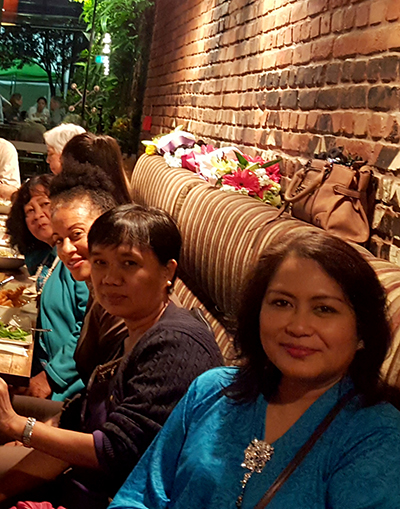 PCIJ's Malou Mangahas (second from right) with PMC advisory board member Khairiah Rahman in Auckland. Image: Venus Abcede/PMC
Mangahas said that reporting on justice and rule of law, a "very difficult thing for a journalist to do", had become harder under Duterte's drug war, as journalists had to retrace their steps.
PCIJ's executive director said that the drug war had called attention to the role of the journalist in the Philippines, which a "virulent social media community" had seized upon.
The war on drugs had seen "trolls" call out reputable media organisations such as Rappler and the Philippine Daily Inquirer as "fake news".
Mangahas said she did not like to see journalism diminished by the "loose term" and warned fake news was a form of misinformation, propaganda, spin and hate speech.
"People never think about what it includes, what it excludes.
'Open to opaqueness'
"News is never, ever fake," she said.
Mangahas said a general shift from "open to opaqueness" now characterised media freedom in the Asia-Pacific region.
"Historically in the last 20 years, nations of the Asia-Pacific region have moved from open to opaque.
"In many parts of the region what we're observing is a general push-back."
Johnny Blades, a senior journalist at Radio New Zealand International, spoke about the media and Melanesia, especially Indonesian-ruled West Papua.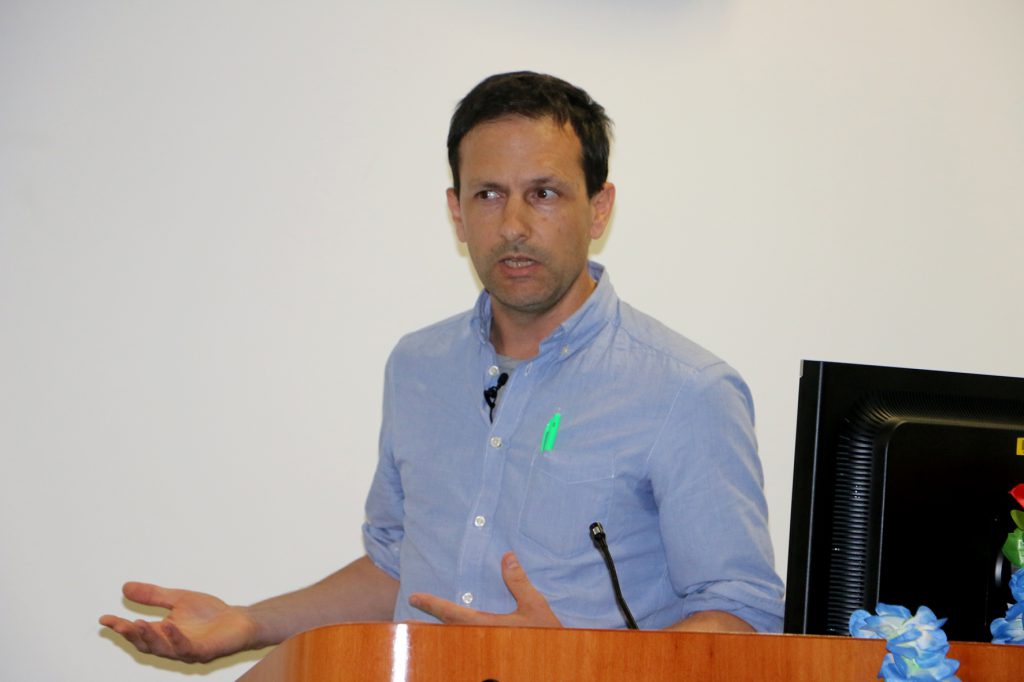 RNZI's Johnny Blades … Jokowi "not running the show" in West Papua. Image: Kendall Hutt/PMC
Among a handful of New Zealand journalists to travel to West Papua, Blades explained that despite President Joko "Jokowi" Widodo's best intentions of loosening media restrictions, there was a lack of cohesion about Widodo's "Papua policy" in various state agencies.
"Out there in Papua it's not Jokowi running the show, it's more likely to be the military and the police.
'Unlikely to quell discontent'
"His focus on development is unlikely to quell the discontent with Indonesian rule among Papuans and that, to a large degree, relates to their historic core grievance about what they see as an illegitimate self-determination process," Blades said.
Despite the "dominating" presence of security forces and an "uneasy reality" and "terrible tension", Blades said he was grateful for the chance to have gone there.
"I never thought I'd get to West Papua.
"I was really blown away by the beauty of West Papua. It's indigenous people are truly magnificent people," he said.
Introducing the panel, the chair, PMC director Professor David Robie, said how both the Philippine crisis and the Indonesian human rights violations in West Papua had been virtually ignored by the mainstream media in New Zealand.
He said the PMC's media products Pacific Media Watch freedom project and Asia Pacific Report had tried hard to balance these blind spots.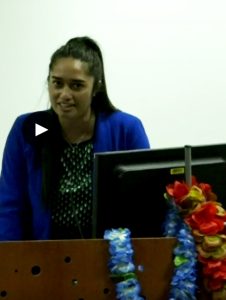 AUT honours graduate and Tagata Pasifika journalist as MC for the Pacific Media Centre event. Image: Screenshot/PMC livestreaming
A minute's silence was held to remember the victims of extrajudicial killings in the Philippines, while protesters held "Stop the killing" placards.
At the start of the panel, AUT graduate Sasya Wreksono introduced her special video to mark the anniversary, saying "I hope you get the feeling of the commitment, the drive and the passion that goes into the Pacific Media Centre".
Evening MC Alistar Kata, an honours graduate and former Pacific Media Watch editor, added: "I would imagine, Sasya, it wasn't easy to fit 10 years of stuff and content into two and half minutes!".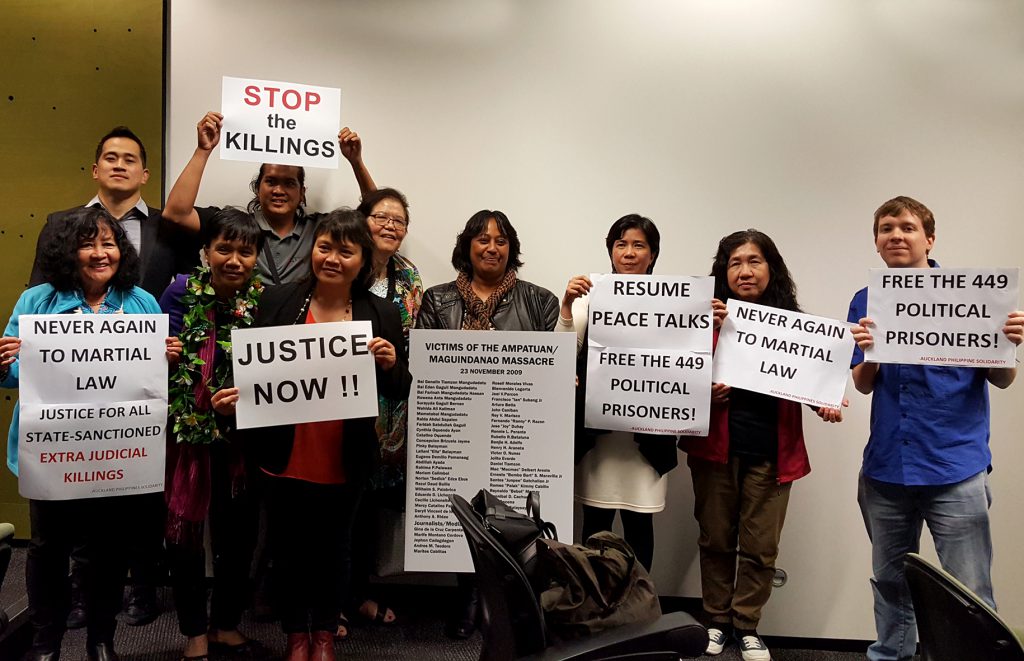 A vigil for the victims of the 2009 Ampatuan massacre and as a protest against the extrajudicial killings in the Philippines. Image: Venus Abcede/PMC

Article by AsiaPacificReport.nz
]]>