<![CDATA[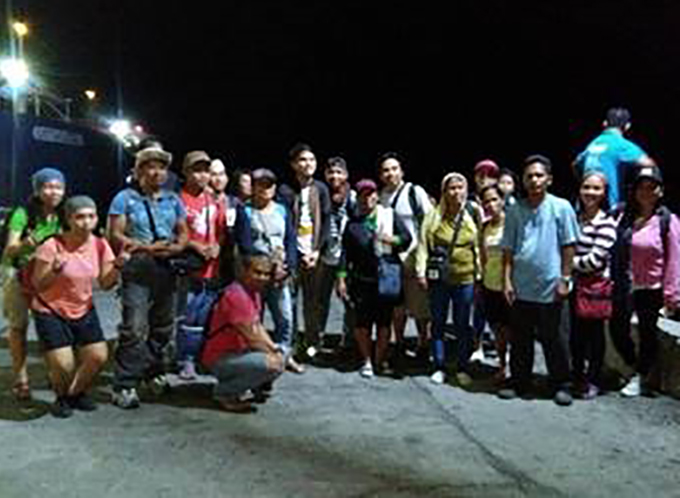 The Negros human rights violations fact-finding mission. Image: Karapatan
Pacific Media Watch Newsdesk
Three members of a Philippine fact-finding mission team have been shot by armed men in Negros Oriental, reports Karapatan.
The three were shot at 2.40pm yesterday at Barangay San Ramon, Bayawan, Negros Oriental.
Elisa Badayos of Karapatan Central Visayas and Elioterio Moises, a barangay tanod (community leader) and member of local peasant organisation Mantapi Ebwan Farmers Association, were pronounced dead on arrival at a hospital in Bayawan.
A 23-year-old female Kabataan party list member, who was also shot, remained in critical condition, said Karapatan (Alliance for the Advancement of People's Rights).
The 30-member fact-fining mission team were in the area to investigate and verify reported human rights violations due to intensified military operations in the area.
"The attack on human rights defenders are becoming more rampant, more brutal, more fearless. The perpetrators know they will be dealt with impunity, as human rights have lost force and meaning especially under this regime," said Karapatan secretary general Cristina Palabay.
"Fact-finding missions are a mechanism for human rights organisations to confirm reports of abuses, and this incident has only proven how fascism works to outrightly kill those who dare to question."
Rights defenders 'crippled'
Palabay added that "the space for human rights defenders is fast shrinking, as the Duterte regime is finding more and more ways to cripple defenders on the ground who voice out the real situation experienced by marginalised communities victimised by militarisation."
She cited the Negros Oriental Provincial Ordinance No. 5, s.2008, known as "An Ordinance Regulating Outreach Activities Through Medical and Fact-Finding Missions in the Countryside of Negros Oriental and for Other Purposes," wherein non-government organisations and other cause-based organisations are prohibited to conduct any humanitarian mission in Negros Oriental without seeking permission from the governor, municipal government and municipal police.
Violators are sanctioned with six months of imprisonment and a fine of P5000 on participants on the said mission.
The fact-finding team arrived in the mission area in San Ramon, Bayawan at 11am. They were blocked and harassed by elements of the mayor's private goons, Katapayan said.
Armed men asked about their whereabouts and the purpose of the mission. They were eventually allowed to pass.
About 2.30pm, Bayados, another member of the FFM team, and a member of a Cebu youth organisation decided to go to the police station to file a report regarding the earlier harassment incident.
Armed men open fire
They were accompanied by Moises. While on their way to the police station, they were shot at by unnamed gunmen, suspected of being the same armed men who earlier blocked their entrance to the mission site.
The shooting led to the death of Moises and Badayos.
The 23-year-old KPL member is being taken to a hospital in Dumaguete after sustaining gunshot wounds on her shoulder.
Elisa Badayos is the wife of former union leader Jimmy Badayos.
"We condemn in the strongest terms this recent attack on human rights workers. Even as human rights workers conducting factfinding missions in Batangas, Negros, Mindanao and elsewhere are being subjected to attacks by state forces, we will never relent in struggling alongside with the Filipino people in contending against this murderous Duterte regime," Palabay said.

Article by AsiaPacificReport.nz
]]>