<![CDATA[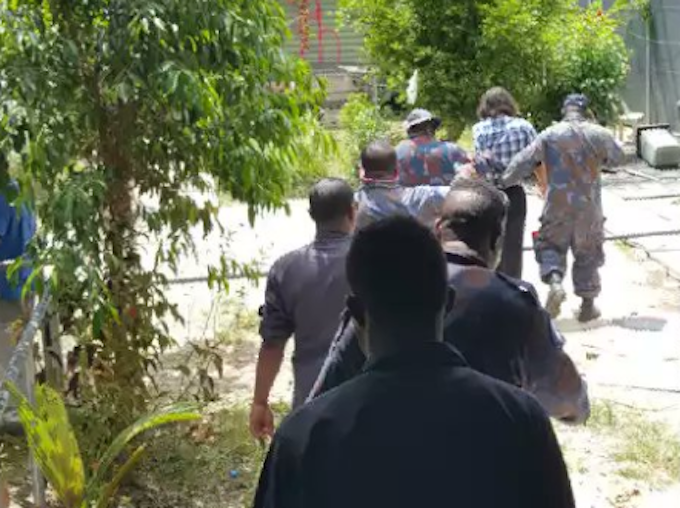 Two PNG police officers led away Behrouz Boochani in handcuffs on Manus Island earlier today. Image: Aziz58825713/Twitter
Pacific Media Watch Newsdesk
The International Federation of Journalists (IFJ) joins its affiliate Media, Entertainment and Arts Alliance (MEAA) in condemning the reported arrest of Iranian-Kurdish journalist Behrouz Boochani by Papua New Guinea police earlier today.
The IFJ and MEAA have deplored the arrest as a targeted attack on press freedom by Papua New Guinea's police.
A police operation was launched on Manus Island with PNG police and immigration officers entering the former Australian detention centre.
The centre was closed three weeks ago, but refugees have refused to leave, due to concerns over their safety.
Large numbers of officers, including the paramilitary police mobile squad unit entered the grounds and told the refugees they had an hour to leave. They tried to confiscate mobile phones and reportedly damaged personal belongings.
Behrouz Boochani, an Iranian-Kurdish journalist, was arrested during the raid, with reports that officers were specifically looking for him.
Silencing a critic
He was led away in handcuffs by two police officers.
Boochani has been in the detention centre on Manus Island since August 2013.
Boochani has been a main source of factual information about the conditions inside Manus Island detention centre, with his reports been published in Australia and internationally.
Earlier this year he was shortlisted in the journalism category for the 2017 Index on Censorship's Freedom of Expression Awards and just three weeks ago he was awarded the Amnesty International Australia Media Award for his journalism from Manus Island.
Earlier this year, MEAA and the IFJ launched a campaign with IFEX calling on the Australian government to resettle Boochani in Australia.
MEAA chief executive Paul Murphy said: "If, as the case appears to be, he has been targeted and arrested because of his profile and his role as a journalist in an attempt to silence him, this is an egregious attack on press freedom that cannot be let stand.
"We call on the Australian and PNG governments to release him from custody, assure his safety, and not to hinder him from continuing to perform his role as a journalist."
The IFJ said: "The arrest of Behrouz Boochani, if it is because of his work as journalist, is a blatant attack of press freedom and an attempt to silence a critical voice. We join MEAA in calling for the Australian and PNG governments to release him for custody immediately, and guarantee his safety.
"Journalists should never be stopped from doing their work."

Article by AsiaPacificReport.nz
]]>