<![CDATA[Article by AsiaPacificReport.nz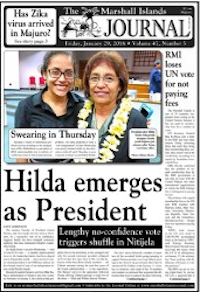 By Giff Johnson in Majuro
The ousting this week of President Casten Nemra, only two weeks into his term as president of the Republic of the Marshall Islands, by a successful vote of no confidence, suggests family ties have trumped customary authority that once dominated the Nitijela's leadership lineup.
Dr Hilda Heine's election on Wednesday — with 24 out of 30 votes — is another unprecedented twist in the leadership battles that have played out in Nitijela this month — she is the first woman elected president in the RMI.
Indeed, she is the first female head of state of an independent nation in the Pacific Islands.
She was sworn in on Thursday by District Court Judge Milton Zackios. Her husband, First Gentleman Tommy Kijiner Jr., was with her.
Despite Kwajalein Senator and Iroij Mike Kabua's orchestration of Nemra's one-vote victory as President on January 4, the coalition that propelled him to the presidency as the youngest and only the second commoner president collapsed in fewer than five days.
Key to this was the defection of the three Heine family members — all Cabinet ministers during the past four years of the Loeak administration — to the opposition.
The Heines' move to the opposition followed Nemra offering Cabinet postings to only two of the three — Hilda and Wilbur, but not Thomas.
Read more about this saga in the weekend edition of the Marshall Islands Journal.
Hilda Heine elected first female Pacific leader as president of the Marshall Islands

–]]>