Source: The Conversation (Au and NZ) – By Michelle Grattan, Professorial Fellow, University of Canberra
Australia's emissions need to decline "on a much steeper trajectory" if it is to meet its declared commitment of a 43% reduction by 2030 and net zero by 2050, the Organisation of Economic Co-operation and Development says.
In its report on Australia, released as part of its Going For Growth update on Tuesday, the OECD recommends Australia develop
a national, integrated long-term emissions reduction strategy with clear goals and corresponding policy settings to achieve climate targets.
The OECD also suggests broadening the scope of Australia's so-called Safeguard Mechanism, which at present regulates the emissions of Australia's 215 biggest polluting facilities.
It awards Australia a score on carbon pricing well below the OECD average and even further below that of the top OECD performers.
It says the share of renewables in Australia's energy supply averaged only 7.7% between 2019 and 2021, compared to an average of 22.1% for OECD members, and 55.5% for the top performers.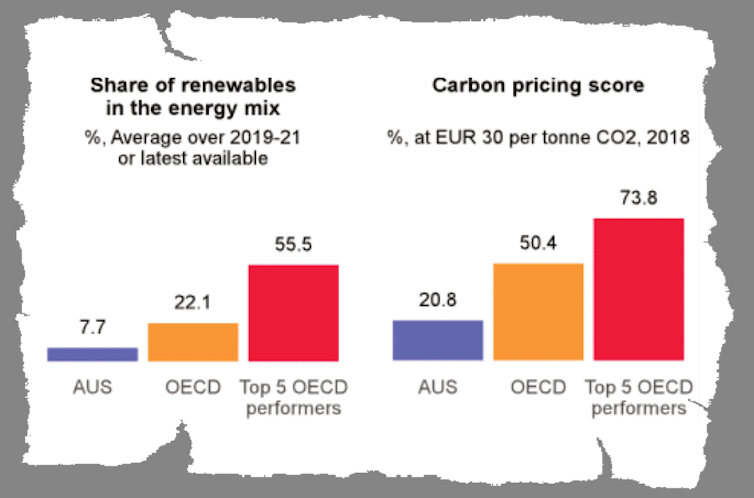 The OECD is a forum of 38 mainly high-income countries, including Australia, that describe themselves as committed to democracy and market economies.
The report is critical of Australia's performance on a number of other fronts, including income support for the unemployed, job market flexibility and the recognition of trade qualifications.
It says Australia's JobSeeker unemployment benefit remains among the lowest in the OECD and below the relative poverty line when compared to the wages available from work.
The Albanese government has increased the rate of JobSeeker in the May budget. The report recommends the government consider "further increasing" it.
Declining productivity, declining competitiveness
The OECD finds signs of "reduced competitive intensity" in product markets, as well as falling labour mobility. "Productivity growth has also slowed down." It says about one in five workers needs a licence to do their work, raising economic costs, and calls for automatic mutual recognition of licenses across states.
Access to fast broadband is low compared to other developed countries, and the take-up of digital technologies by businesses can be improved, the report says.
The OECD also draws attention the "large" gaps in economic and wellbeing measures between Indigenous and other Australians. It recommends the government "embed the Productivity Commission Indigenous Evaluation Strategy in the policy design and evaluation process of all Australian government agencies".
Workforce transformation needed for 2050 target
Meanwhile, a report prepared by Jobs and Skills Australia entitled The Clean Energy Generation: workforce needs for a net zero economy says the government's 2050 net-zero emissions target will require a transformation in the workforce that is "substantial but not unprecedented".
"Like the post-war industrial transformation and the digital transformation of the late twentieth century, a new generation of workers will be required, both from existing energy sectors and through new pathways into clean energy. New jobs, skills, qualifications, training pathways, technologies and industries will emerge over the next 30 years," the report says.
"Australia will need to consider the full range of levers across the education, training, migration, procurement, and workplace relations systems to ensure a sustainable and equitable path
towards net zero."
Treasurer's response to OECD
Treasurer Jim Chalmers said the Albanese government was acting on the areas identified in the OECD report.
Its policies were "focused on maximising the opportunities of the energy transformation, embracing digitalisation and new technology and investing in our people and their skills so that we can build a more productive, prosperous and dynamic economy".
"We're securing faster progress towards decarbonisation through our safeguard mechanism, over $40 billion of investment in the energy transformation, our sustainable finance strategy, and establishing a new Net Zero authority to train workers and prepare communities for new opportunities here," Chalmers said.

Michelle Grattan does not work for, consult, own shares in or receive funding from any company or organisation that would benefit from this article, and has disclosed no relevant affiliations beyond their academic appointment.
– ref. Australia's emissions must decline more steeply to reach climate commitment: OECD – https://theconversation.com/australias-emissions-must-decline-more-steeply-to-reach-climate-commitment-oecd-214851