Opposition National Party deputy leader Nicola Willis was among three political leaders who made a surprising commitment at a debate last night to build 1000 state houses in Auckland each year.
Labour Party leader and caretaker prime minister Chris Hipkins and Green Party co-leader Marama Davidson also agreed to do so, with resounding "yes" responses to the direct question from co-convenors Sister Margaret Martin of the Sisters of Mercy Wiri and Nik Naidu of the Whānau Community Centre and Hub.
All three political leaders also pledged to have quarterly consultations with a new community alliance formed to address Auckland's housing and homeless crisis and other social issues.
The "non-political partisan" public rally at the Lesieli Tonga Auditorium in Favona — which included more than 500 attendees representing 45 community and social issues groups — was hosted by the new alliance Te Ohu Whakawhanaunga.
Filipina lawyer and co-chair of the meeting Nina Santos, of the YWCA, declared: "If we don't have a seat at the table, it's because we're on the menu."
Later, in an interview with RNZ Morning Report today, Santos said: "It was so great to see [the launch of Te Ohu] after four years in the making".
'People power'
"It was so good to see our allies, our villages and our communities — our 45 organisations — show up last night to demonstrate people power
"Te Ohu Whakawhanaunga is a broad-based alliance, the first of its kind in Tāmaki Makauarau. The members include Māori groups, women's groups, unions and faith-based organisations.
"They have all came together to address issues that the city is facing — housing is a basic human right."
She chaired the evening with Father Henry Rogo from Fiji, of the Diocese of Polynesia in NZ.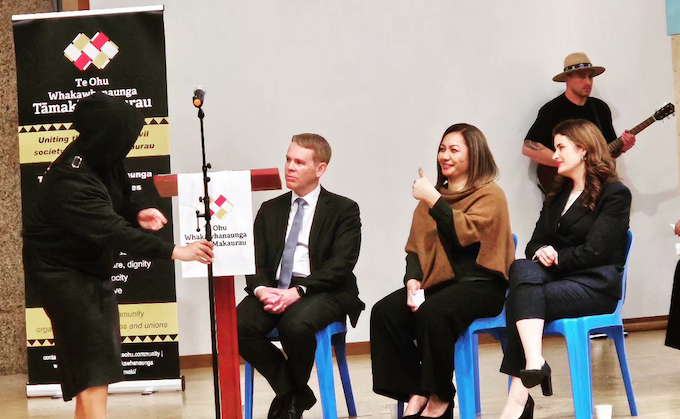 Speakers telling heart-rending stories included Dinah Timu, of E Tū union, about "decent work", and Tayyaba Khan, Darwit Arshak and Eugene Velasco, who relating their experiences as migrants, former refugees and asylum seekers.
The crowd was also treated to performances by Burundian drummers, Colombian dancers and Te Whānau O Pātiki Kapahaka at Te Kura O Pātiki Rosebank School, all members of the new Te Ohu collective.
Writing in The New Zealand Herald today, journalist Simon Wilson reported:
"Hipkins told the crowd of about 500 . . . that he grew up in a state house built by the Labour government in the 1950s. 'And I'm very proud that we are building more state houses today than at any time since the 1950s,' he said.
"'Labour has exceeded the 1000 commitment. We've built 12,000 social house units since 2017, and 7000 of them have been in Tāmaki Makaurau. But there is more work to be done.'
"He reminded the audience that the last National government had sold state houses, not built them.
"Davidson said that housing was 'a human right and a core public good'. The Greens' commitment was greater than that of the other parties: it wanted to build 35,000 more public houses in the next five years, and resource the construction sector and the government's state housing provider Kāinga Ora to get it done.
"'We will also put a cap on rent increases and introduce a minimum income guarantee, to lift people out of poverty.'
"Willis told the audience there were 2468 people on the state house waiting list in Auckland when Labour took office in 2017, and now there are 8175.
"'Here's the thing. If you don't like the result you're getting, you don't keep doing the same thing. We don't think social housing should just be provided by Kāinga Ora. We want the Salvation Army, and Habitat for Humanity and other community housing providers to be much more involved.'
"Members of that sector were at the meeting and one confirmed the community housing sector is already building a substantial proportion of new social housing."
Article by AsiaPacificReport.nz