Source: The Conversation (Au and NZ) – By Rico Merkert, Professor in Transport and Supply Chain Management and Deputy Director, Institute of Transport and Logistics Studies (ITLS), University of Sydney Business School, University of Sydney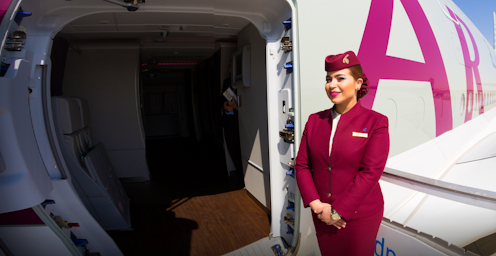 Shutterstock
The government's decision to deny Qatar Airways the right to fly an extra 21 flights per week into Australia's three biggest cities might just be returning Australia to the old days where we protected Australia's national carrier at the expense of Australians.
For more than 15 years I've had the privilege to research and teach airline strategy in the context of global aviation bilateral air service agreements.
These agreements are essentially trade deals between the 193 governments that are signatories to the 1944 Chicago Convention on Civil Aviation.
The agreements allow designated airlines in the two signatory countries to operate air services connecting them in accordance with the reciprocity principle used in trade agreements, which is broadly: "I'll let you in if you let me in".
Australia has traditionally tried to deregulate international aviation, to make air travel easier for both Australians and visitors.
But in July, in an initially announced decision, Transport Minister Catherine King rejected an application for Qatar to double its flights into Australia by providing what amounted to an extra flight a day into Brisbane, Melbourne and Sydney.
After being asked about the decision, the minister provided four different justifications, one of which was the "national interest".
---


Read more:
Grattan: Albanese's government has questions to answer on competition


---
Assistant Treasurer Stephen Jones this week expanded on this reasoning, saying he didn't want to drive ticket prices down to the point at which it was "unsustainable to run an airline" and that having Qantas occasionally make a profit was "actually a good news story".
On its face, this suggests the government is making decisions about landing rights in order to protect the profits of Qantas – a private company it hasn't owned since 1995. This would be a seismic shift in Australia's international aviation policy.
A case could be made that this is in breach of the Chicago convention. Regardless, it is damaging to Australia's international reputation and Australia's economy.
$1 billion per year in economic damage
By my conservative estimate, the decision will cost Australia's economy about $1 billion per year in lost income from tourism, business travel and freight.
By my conservative estimate, the decision will cost Australia's economy about $1 billion per year in lost income from tourism, VRF (visiting friends and relatives) as well as business travel and freight.
My calculations suggest capacity on the Kangaroo Route between Australia and Europe is only back to 70% of where it was before COVID, allowing current operators such as the Emirates-Qantas alliance to charge much more than they could before the pandemic.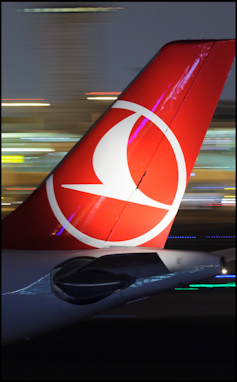 Qantas announced last week it would add 250,000 seats to its international network, but not a single one was on flights to Europe.
The extra Qatar Airways flights would have also gone on to New Zealand, adding further capacity to that route and cutting prices for flights across the Tasman.
And it's not only Qatar Airways. Turkish Airlines, through the Turkish government, has asked for permission to increase of the frequency of its Australian flights from four to 14 a week, providing daily services to Melbourne and Sydney.
Turkey hasn't yet received an answer.
Extra costs in reputational damage
The message Australia is sending is a dangerous one.
When COVID hit in 2020 and airlines including Qantas grounded their fleets, Qatar Airways temporarily became Australia's "de facto international airline", getting Australians home who might otherwise have been stranded. During the pandemic, some Qatar flights arrived in Australia with just 20 seats filled.
Qatar might have expected Australians to remember this and keep flying with them, and it has applied for enough flights to allow it to happen.
By denying Qatar this opportunity (and denying many Australians the opportunity to travel to Europe via Doha), Australia has shown it is prepared to be ungracious, and made it easier for other countries to treat it in the same fashion.
Australia's number two domestic airline Virgin Australia, is planning a share market float. By appearing to signal it is prepared to go out on a limb to support Qantas against competitors, Australia has perhaps unintentionally sent a powerful message to potential investors – that Virgin's opponent gets protection it does not.
The weak case for offering Qantas protection
There might be a case for offering Qantas protection if it was at risk of needing a taxpayer-funded bailout to stay afloat. But Qantas has returned to profit – a record A$2.5 billion profit in the year to June, after doubling its revenue.
There might also be a case (and King has made this case) that Qantas needs to be protected because it has just purchased new, quieter "better for the environment" planes on which it will need to see a return and will need to spend a further A$12 billion to A$20 billion on fleet renewal to reach its net-zero target.
But for years (including after last week's profit announcement) Qantas has been returning capital to its shareholders by share buy-backs instead of using it to buy planes. It thinks it can do both, and perhaps it is making so much profit that it can, but if it can't do both, it can ease off on returning capital to shareholders.
Another argument (also put by King) is that supporting Qantas will support "long-term, well-paid, secure jobs by Australians in the aviation sector."
But much of Qantas's international skilled work is already done offshore including on its premier QF1 flight to London which is maintained by crews from the United Kingdom.
Is there something we don't know about?
Unless there is some sort of hidden rationale, the decision to deny Qatar Airways extra flights seems inexplicable; and given Australia's history, unAustralian.
It is important to recognise that these are trade agreements of considerable magnitude and that decisions taken by Australia invite retaliation.
As I keep telling my students, these seemingly-boring bilateral air service agreements can have big consequences if mishandled.
Years of worth of research and international best practice indicate that an open approach to air rights delivers the best economic outcomes, especially for the country doing the opening.
More trade results in a more prosperous Australia which is good for Australian travellers, Australian businesses, and ultimately Australian airlines, too.
Australia used to tell the rest of the world that trade was good. It would need to have a very good reason for behaving differently when it came to air travel.

Rico Merkert receives funding from the ARC and various industry partners. He loves to work with and for airlines, including Qantas and Virgin Australia.
– ref. What will putting the interests of Qantas ahead of Qatar Airways cost? $1 billion per year and a new wave of protectionism of legacy carriers – https://theconversation.com/what-will-putting-the-interests-of-qantas-ahead-of-qatar-airways-cost-1-billion-per-year-and-a-new-wave-of-protectionism-of-legacy-carriers-212495