Source: The Conversation (Au and NZ) – By Edith Jennifer Hill, Associate Lecturer, Flinders University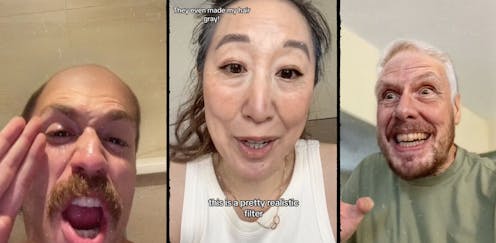 TikTok
TikTok can be a confusing place, with users going from extreme yassified glamour, to rotating through 20 eyebrow shapes, to turning into a crispy old man with a simple click. This is all thanks to the magic of filters.
Filters are an integral part of the TikTok experience – and they are coaxing life stories out of users. However, filters have a long history on social media platforms before TikTok. They are a massive part of social media culture and storytelling practices.
The history of filters
Photoshop, first released in 1990, enabled users to edit pictures. The first decade of the 2000s was filled with conversations about editing pictures in advertisements and commercials. Seemingly, people were shocked at the level of editing that professional photos went through.
The 2010s was the age of Facetune. Facetune is an app that allows users to retouch photos. Unlike Photoshop, which takes a certain level of skill to master, Facetune provided a quick, easy and cheap way for everyday people to edit their photos.
Instagram began adding face-altering filters in 2017. What began as bunny ears and exaggerated features (think Snapchat filters) quickly developed into filters that "perfected" facial features. These filters, often conforming to Western beauty standards, would slim the face, sharpen the jawline, enlarge the eyes and whiten teeth.
While early versions of these filters seemed unrealistic and "fake", recent filters have mastered undetectable face alterations.
Of course, not all filters aim to seamlessly perfect facial features. TikTok's massive range of filters not only include a wide variety of face alterations (everything from adding sun-kissed freckles to simulating lip injections), but can change anything imaginable: skin, eyes, hair, makeup and yes, even age.
Coaxed affordances
When you create a video on TikTok, you are prompted to an editing screen where you can add voice filters, sounds, visual filters and more. The presence of this editing screen encourages creators to make use of the platform's features.
These are called platform "affordances" and they are the fundamental things that influence how something can be used. Affordances allow, and often compel, users to share and interact in specific ways online.
On TikTok, affordances dictate how users interact with the platform and with each other. They are the "For You" page, the ability to like and comment, the ability to watch live videos and send creators gifts. They make the platform what it is.
---


Read more:
People are pretending to be 'NPCs' on TikTok and it's not just weird, it's also lucrative


---
Aimée Morrison, associate professor of language and literature at the University of Waterloo, says we need to consider the "prompts that coax and restrict user actions", as they shape life stories online just as much as the people who make them. When we watch a TikTok that utilises filters as part of the storytelling, the filter becomes an integral part of the video and is so much more than simply a storytelling device.
On TikTok, filters are coaxed affordances. Trending filters are suggested to users (along with trending audio) to use when they make videos. This is a prompting action from the platform itself that encourage users to create in specific kinds of ways.
Of course, these filters do not function in isolation, and trending formats and audios also play a large role in the types of stories that are created.
Filters as storytelling devices
Filters coax stories from creators, encourage them to talk about distinct topics, look a certain way or share specific stories.
For example, a filter will guess what someone's "girl dinner" will be, and creators will react and reuse the filter until it predicts only foods the creator likes. While this seems incredibly simple on the surface, this filter is coaxing a life story from the creator. We, the audience, now know more about the person we are watching.
Creators often use make-up and hair filters to differentiate between characters in a story (all played by the same person), or as devices to highlight themselves at different points in time. People can tell stories quickly by using filters, utilising different hair colours or make-up looks to make note of who is speaking.
Popular creator Kendra Matthies is a make-up artist who tells stories about doing make-up for weddings. Using different make-up filters, Kendra plays the bride, bridesmaids, the future mother-in-law and herself (interestingly enough, without a filter).
The filters change your appearance enough that the audience can clearly differentiate between characters in a story. This way, a creator can tell a story with a full cast of characters (and costumes) but only need themselves and their phone.
One trending filter is called "Aged". This filter shows what the creator would look like at a much older age. A popular dermatologist on the platform, Dr Joyce Dermatologist, or @teawithmd, made a video discussing how this filter was an accurate look into ageing. She breaks down the filter and talks about the process of skin ageing.
Many creators have jumped on this trend, with 20.9 million videos made using this filter. The filter has prompted countless stories to be told by users about their fears of ageing, usually will a comedic twist. TikTok creator @turquoiseprince, for instance, used the filter and spoke happily about how it made them look like their dad.
Like all things online, this filter has also been memed. Another popular filter, titled "old but crispy baby" shows a much less flattering look into ageing. Many creators are reacting to videos talking kindly about ageing by making their own videos using this different filter that presents an exaggerated, "creepy" look at ageing.
Filters and their applications are developing rapidly and are increasingly ingrained in social media culture. While some may decry the use of filters and unrealistic beauty standards, it is undeniable they have wonderful storytelling capabilities.

Edith Jennifer Hill does not work for, consult, own shares in or receive funding from any company or organisation that would benefit from this article, and has disclosed no relevant affiliations beyond their academic appointment.
– ref. From old and crispy to bold glamour – TikTok filters are helping us tell stories online – https://theconversation.com/from-old-and-crispy-to-bold-glamour-tiktok-filters-are-helping-us-tell-stories-online-211908