Source: The Conversation (Au and NZ) – By Akshay Vij, Senior Research Fellow, University of South Australia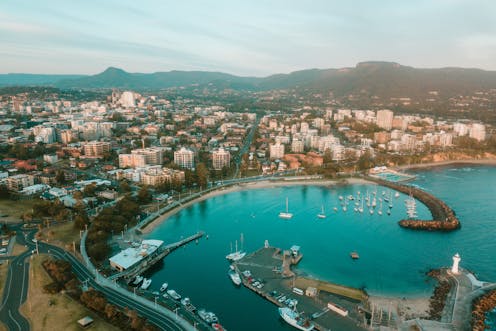 Shutterstock
The COVID-19 pandemic triggered population growth in regions at the expense of capital cities. Regional migration has since stabilised, but the pandemic has left its mark. Australians reassessed where they wanted to live and work.
Our research released today shows Australian cities and regions are continuing to change beyond the initial pandemic impacts. It's likely there will be a long-term effect on where we choose to live and work.
We found the pandemic has increased the attractiveness of regional cities that are large, coastal and close to a major capital city. Our research found most Australian households would prefer to live in such a regional city if they could find comparable work there. These preferences are likely to lead to two waves of decentralisation that drive growth in these cities.
We also predict the long-term impacts of the pandemic will be limited for regional cities that are either small, inland or far away from a capital city.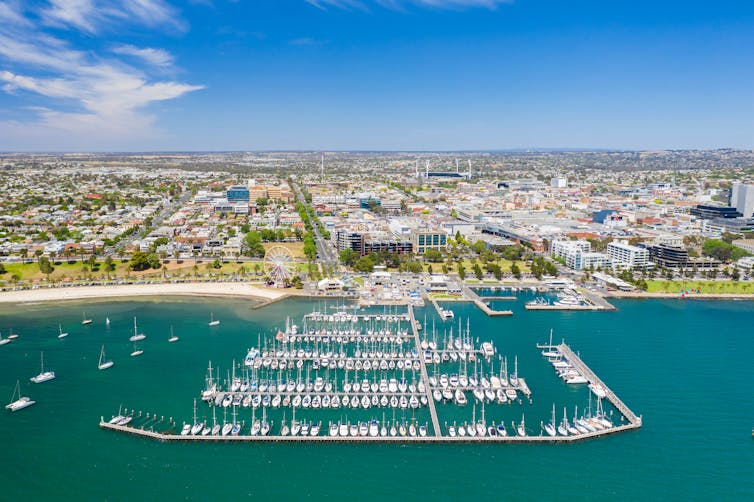 ---


Read more:
'Let's just do it': how do e-changers feel about having left the city now lockdowns are over?


---
Businesses still love the CBD
To discover the impacts of the pandemic on residential and business location choices, we surveyed over 2,900 households and 900 businesses Australia-wide in 2022 and 2023. We coupled this with extensive interviews and focus groups. We also examined multiple datasets.
We found businesses still want CBD locations in the largest capital cities. They believe regional centres lack access to the high-quality premises, labour and markets they need to succeed.
Businesses are willing to pay an extra $700 per square metre a year to be in a capital city CBD rather than a suburb in the same city. (This is significantly higher than current differentials in market rents).
The short-term impacts of the pandemic and lockdowns were especially harmful for businesses in capital city CBDs. Some 11% of these businesses reported downsizing, compared to 4% in regional cities.
However, we predict high levels of CBD vacancies that occurred through the pandemic won't last. We found the underlying demand for commercial real estate in CBDs is still strong.
While predictions that Melbourne and Sydney will remain our most populous cities are strong, we have evidence that the pandemic has eroded their relative attractiveness. Brisbane has emerged as the most attractive destination for businesses. Adelaide and Perth have held steady, compared to pre-pandemic trends, and Melbourne and Sydney are now less favoured than before.
---


Read more:
'We haven't built it, and they've come': the e-change pressures on Australia's lifestyle towns


---
I'm working from home. Where will I get my coffee?
In terms of where people prefer their homes to be, the pandemic has increased the relative long-term popularity of middle and outer suburbs, at the expense of inner-city neighbourhoods. Workers strongly prefer suburban locations roughly 10km from the CBD. People not in the workforce want much more distance between them and the CBD – they prefer around 20-35km.
Our research shows uptake of remote work has stabilised at 20-25%. This is much higher than the pre-pandemic levels of 2-8%.
With more people working from home, and more preferring suburban neighbourhoods and the quality of life they offer, our dependence on the retail shops and restaurants associated with inner-city life will be reduced. In the long term, this is likely to change the composition of CBDs and move some of these supporting services to the suburbs. In other words, the more time we spend at home, the more services we need nearby, including a range of local choices in barista coffee.
While Melbourne and Sydney remain our most populous cities, since the pandemic, Brisbane, Adelaide and Perth have become Australia's most popular capital city destinations for residents. With these cities being attractive to both residents and businesses, we are likely to see growth in Brisbane, Adelaide and Perth.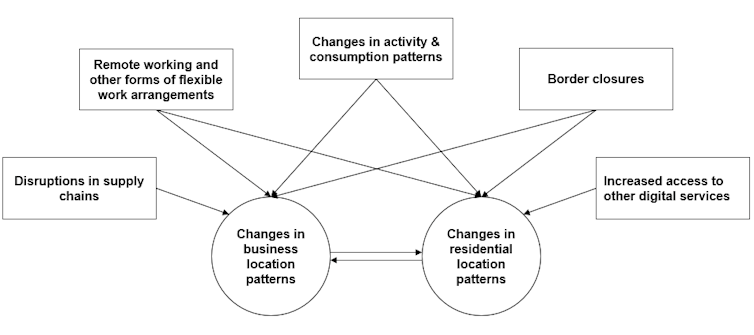 ---


Read more:
Regional Australia's time has come – planning for growth is now vital


---
Two waves of decentralisation
The combined effect of residential and business preferences means there are likely to be two waves of population decentralisation. Large coastal cities near the capitals are likely to benefit most from this.
In the short term, people not in the workforce and those with fully remote jobs will lead the first wave of population decentralisation. Without being tied to a work site, they are free to pursue the benefits of living in a regional location.
Then, as people move, jobs and businesses will follow. The result will be a second wave that includes a broad range of people, including those with jobs that cannot be done remotely.
These two waves of decentralisation will lead to population movement out of inner-city addresses, and growth in the suburbs. Large urban areas such as Sydney and Melbourne will continue to expand. Capital cities will swallow up surrounding smaller cities such as Wollongong and Newcastle.
And what about the wide verandas of our small, remote inland cities? Without industry diversification and government intervention, these places are unlikely to benefit from the predicted population and economic growth.
---


Read more:
Why do small rural communities often shun newcomers, even when they need them?


---

Akshay Vij receives funding from the Commonwealth of Australia as represented by the Department of
Infrastructure, Transport, Regional Development, Communications and the Arts (DITRDCA); and the
iMOVE Cooperative Research Centre (CRC)
Lynette Washington does not work for, consult, own shares in or receive funding from any company or organisation that would benefit from this article, and has disclosed no relevant affiliations beyond their academic appointment.
– ref. Wide verandas, picket fences or the CBD? How coastal cities near the capitals could ride post-COVID waves of growth – https://theconversation.com/wide-verandas-picket-fences-or-the-cbd-how-coastal-cities-near-the-capitals-could-ride-post-covid-waves-of-growth-210716