Source: The Conversation (Au and NZ) – By Michelle Grattan, Professorial Fellow, University of Canberra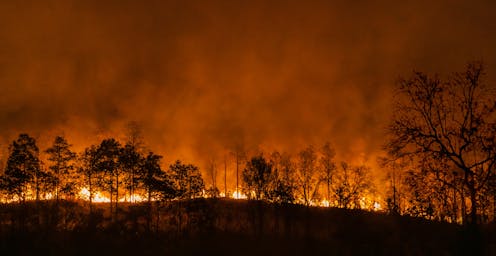 Shutterstock
Global warning threatens to have major impacts on Australia's labour productivity, agriculture and tourism over coming decades, according to the Intergenerational Report, which makes climate change a major focus of its projections for the early 2060s.
Climate change and the international energy transition will also have extensive implications for Australia's resources sector, with demand for thermal coal falling dramatically and that for critical minerals increasing substantially.
The report, which projects four decade ahead, stresses the need for effective mitigation of further temperature increases and targeted investment in adaptation.
Under the Paris Agreement, countries have committed to hold the increase in the global average temperature to well below 2°C above preindustrial levels and pursue efforts to limit the increase to 1.5°C.
The report, to be released by Treasurer Jim Chalmers on Thursday, says over the next 40 years, under a scenario where global temperatures increase by up to 3°C by 2100, Australia's average temperature is projected to rise by 1.7°C. But there would be regional variations.
The average temperature in parts of central and northern Western Australia is projected to rise by 1.8°C, but only a 1.3°C increase is projected for Tasmania.
"This suggests Western Australia could be more directly affected by the labour productivity impacts of higher temperatures than some other Australian states and territories," the report says.
"Similarly, some regional and remote communities, including Aboriginal and Torres Strait Islander communities, are expected to be particularly exposed to higher temperatures."
---


Read more:
The intergenerational report will set the scene for 2063 – but what is it?


---
If global temperatures were to increase by up to 3°C or more than 4°C, without changes to present ways of working, Australia's aggregate labour productivity levels could decrease by 0.2%-0.8% by 2063.
This would reduce economic output over this period by $135 billion – $423 billion (in today's dollars), through the direct impacts of higher temperatures on labour productivity.
In contrast, if global action limits temperature increases to 2°C, Australia could benefit from up to an extra $155 billion in GDP, compared with a scenario where temperatures increase up to 3°C. This is equal to 26 to 41 million more hours of work in 2063, the report says.
It notes that investing in measures to limit worker heat exposure, such as tree planting or altering building designs to enhance passive cooling, can also mitigate to some extent the impacts on labour productivity of higher temperatures.
If global action limits temperature increases to 1.5°C, reduced demand for thermal coal could cut Australia's exports of it to less than 1% of present levels by 2063.
But if temperature increases are limited to 2°C this century, Australia's thermal coal exports are estimated to fall by 50% by 2063.
The fall in international demand for Australia's thermal coal would be slower if global action fails to deliver on the Paris Agreement, resulting in warming above 2°C this century, the report says.
---


Read more:
Intergenerational report to warn of slow growth, pressure on revenue


---
Without adaptation measures Australian crop yields could be up to 4% lower by 2063 if global action fails to keep temperature rises below 3°C this century. These reductions could be largely avoided if global temperatures rise less than 2°C.
The report says some impacts on crop yields could be mitigated by measures such as changing the crops planted in particular areas and improving water efficiency.
It says other countries in our region might be even more affected than Australia by climate change, which could result in more demand for Australian agricultural exports.
---


Read more:
The intergenerational report will try to scare us about ageing. It's an old fear, and wrong


---
Australia's services sector will also be affected by rising temperatures, with tourists adjusting where and when they decide to travel.
"Australia has a large number of natural attractions at risk of environmental degradation which may attract fewer tourists in a world of higher global temperatures. At least 50% of Australia's sandy coastline, a major drawcard for tourism, is under threat of erosion due to climate change.
"Many of Australia's top attractions are also in regions likely to be increasingly susceptible to natural disasters, risking travel disruption and reputational harm. For example, in the immediate aftermath of the 2019–20 bushfires, an estimated 80,000 tourists cancelled or postponed activities," the report says.

Michelle Grattan does not work for, consult, own shares in or receive funding from any company or organisation that would benefit from this article, and has disclosed no relevant affiliations beyond their academic appointment.
– ref. Intergenerational report highlights the threat of a hotter, less productive Australia due to global warming – https://theconversation.com/intergenerational-report-highlights-the-threat-of-a-hotter-less-productive-australia-due-to-global-warming-212121