Source: The Conversation (Au and NZ) – By Adam Simpson, Senior Lecturer, International Studies, University of South Australia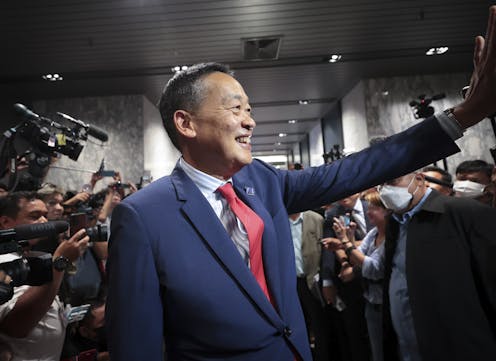 Wason Wanichakorn/AP
More than three months after Thailand's national elections – and many anti-democratic manoeuvres in parliament – the country finally has a new prime minister, Srettha Thavisin. But, given the chaotic nature of Thai politics, this was perhaps not even the biggest news of the week.
Hours before the partially military-appointed Thai parliament elected Srettha to the post, one of the country's most prominent political figures, former Prime Minister Thaksin Shinawatra, returned from his self-imposed exile of more than 15 years and surrendered to authorities over longstanding corruption charges.
There are now many questions about what this blockbuster day for Thai politics means for the country's future – and what it means for democracy.
---


Read more:
Explainer: why was the winner of Thailand's election blocked from becoming prime minister?


---
Who is Thaksin and why is he important?
Thaksin became prime minister in 2001 after a thumping election win and remained the country's most popular politician, even through his long years of exile.
Pheu Thai is the latest incarnation of various Thaksin-aligned parties, which have won the most seats in parliament in every competitive national election since 2001 – until this year when it finished second to the reformist Move Forward party.
Thaksin's extraordinary popularity as prime minister challenged the primacy of the monarchy and the military in the country. This led to a decade of protests and conflict between, essentially, the so-called "red shirts" in Thai society who supported Thaksin and the "yellow shirts" who supported the monarchy and military elites.
The conflict resulted in two military coups, in 2006 and 2014. The first removed Thaksin from power, prompting him to go into exile to avoid prosecution. The second, led by General Prayuth Chan-ocha, deposed Thaksin's sister, Yingluck Shinawatra, as prime minister. (She was later convicted of criminal negligence in Thailand's pliant courts and sentenced in absentia to five years in prison. She remains in exile.)
Prayuth was then elected prime minister by the parliament in 2019 under the country's anti-democratic, military-authored constitution following a compromised national poll. He remained in power until this week.
After Thaksin touched down at Bangkok's airport this week, he was taken to the Supreme Court for a hearing and transferred to prison. The Supreme Court announced he would serve eight years.
How did Srettha become PM?
Having consistently opposed the military, Pheu Thai made a commitment before this year's election not to form a coalition with the military-aligned parties.
Following the election, Pheu Thai initially supported Move Forward in its attempt to form a government, but after its leader, Pita Limjaroenrat, was blocked by the military-appointed Senate from becoming prime minister, Pheu Thai changed its tune.
The party nominated its own prime ministerial candidate, Srettha, a wealthy property developer and political newcomer, and formed a new coalition with two military-aligned parties, the Palang Pracharath Party and Ruam Thai Sang Chart Party, and a range of others. This gave Srettha the support he needed from the military-appointed senators to win the prime ministership.
Both Move Forward and Pheu Thai had been vocal critics of the former military-led government.
However, the two parties had different stances on one main issue: Thailand's strict lèse-majesté law, which punishes anyone who criticises the king or other senior royals with up to 15 years in prison. Move Forward pledged to reform it, while Pheu Thai committed not to change it.
This difference was likely a key determinant in Move Forward's electoral victory, but also the reason why military and conservative parties have now been willing to support Pheu Thai.
The only significant party to vote against Srettha in the parliament election was Move Forward and its 149 MPs.
The secretary-general of Move Forward said the party opposed the new coalition because it refused to be complicit in returning military-aligned parties to government, even one led by Pheu Thai. He argued this would perpetuate the notion that Thailand's "ultimate power" belonged in the unelected Senate rather than in the hands of the people.
What happens now?
It is no coincidence that Thaksin arrived on the day his party returned to power, and the foundations are already being set for his early release.
After a medical check-up, the Department of Corrections said Thaksin had five medical conditions, including an ischemic heart muscle, chronic pulmonary inflammation, high blood pressure, degenerated spine and abnormal posture.
There are numerous routes for Thaksin to be released from prison, but the most obvious one, due to his age of 74 and these reported health conditions, is on medical grounds.
Despite Thaksin's protestations over almost two decades that he didn't want to return to politics, there is little doubt he will be the key figure operating behind the scenes in the Pheu Thai party, and therefore the government.
As such, we may see a tussle between Srettha and Thaksin for influence in the party. Srettha may very well attempt to project the image that he is his own man and not beholden to anyone.
---


Read more:
Thailand is on the verge of a new democratic spring, but significant obstacles could stand in the way


---
Despite being years away, the next election could also be fraught for Pheu Thai. The party has not only betrayed Move Forward voters with its actions this week, it has also betrayed its own supporters who believed its commitment to keep the military-aligned parties out of power.
If Pheu Thai can hold the unwieldy 11-party coalition together for the next four years, however, it has plenty of time to convince voters to stick with it at the next election. It may also deliver enough sweeteners to remain in power.
Nevertheless, Move Forward's supporters are angry. In a potentially ominous sign for Pheu Thai, within hours of Srettha's election to prime minister, #NotMyPM was trending on Thailand's social media.
Once again, the anti-democratic forces within Thailand's elites have stifled the will of the people and we may be entering another volatile era in Thai politics.

Adam Simpson does not work for, consult, own shares in or receive funding from any company or organisation that would benefit from this article, and has disclosed no relevant affiliations beyond their academic appointment.
– ref. In one chaotic day, Thailand sees one PM elected, one ex-PM sent to jail. Where does the country go from here? – https://theconversation.com/in-one-chaotic-day-thailand-sees-one-pm-elected-one-ex-pm-sent-to-jail-where-does-the-country-go-from-here-212092