Source: The Conversation (Au and NZ) – By Vivienne Lewis, Assistant professor – Psychology, University of Canberra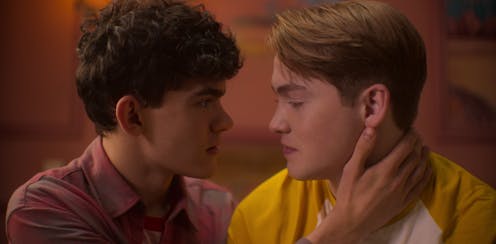 Season two of the series Heartstopper on Netflix brings out an issue that is often hidden – male eating disorders. Centred on two teenage boys in love, the show helps bust the common perception that eating disorders are only seen in girls and women.
In one episode of the series, based on a series of graphic novels, Nick asks Charlie about his eating because he is becoming worried about him. Charlie responds, saying
Some days I'm fine and other days I control it. I used to do it a lot last year when everything at school was really bad. Sometimes it feels like the only thing I can control in my life.
Although under represented in research, statistics indicate one third of people with an eating disorder are male and body image in boys is a major concern. Eating disorders affect mental and physical health. Shame and stigma are among the reasons people who identify as male don't seek help.
A range of disorders
Body dissatisfaction comes from not liking one's size, shape and weight and leads some boys and men down the dangerous path to an eating disorder.
An eating disorder is an unhealthy relationship with one's body and eating and includes such disorders as anorexia nervosa (fear of weight gain and deprivation of food), bulimia nervosa (which typically involves eating large amounts and then purging) and binge-eating disorder.
Binge-eating disorder is the most common of these for both males and females. It involves a preoccupation with eating, often rapidly, an amount of food much greater than someone would eat in a short amount of time, to the point of feeling uncomfortable. Disgust with oneself often follows in the aftermath.
What drives it
This obsession with one's body and its perceived faults comes from our society's obsession with appearance particularly around a person's weight, size and shape.
Male media images promote an idealised body that is often unattainable. Seeing one's own body as inferior in comparison can lead to attempts to change it.
Over half those diagnosed with an eating disorder also receive a diagnosis for at least one psychiatric disorder such as depression, anxiety disorders (including obsessive-compulsive disorder), post-traumatic stress disorder and personality disorders. This makes treatment even more complex.
Other factors involved in the development of an eating disorder can be parental or peer teasing about appearance, especially about weight. Poor self esteem, a need for control (as articulated by Heartstopper character Charlie), experiencing sexual trauma and identity disturbance are also drivers. Eating disorders are more common for LGBTIQ+ people.
---
---


Read more:
When I work with people with eating disorders, I see many rules around 'good' and 'bad' foods – but eating is never that simple


---
Dangerous methods
Boys and men may engage in dieting and other weight-loss methods to try and change or control their body. They may also exercise excessively. Some may even turn to drugs to try and alter their body.
They can become consumed by thoughts about their body to the detriment of their schooling, socialising, work, family life and physical health, not to mention the financial impact.
Eating disorders are detrimental to a person's physical health with increased risk of injury due to over exercising, rotting teeth due to purging, osteoporosis due to calcium loss and unstable hormones. They can be deadly, causing heart attack, malnourishment, liver and kidney issues, gastrointestinal disturbances, loss of fingers and toes due to poor circulation, as well as death by suicide.
Getting help early
Early intervention is the key to fostering a positive body image and self-esteem in young males. This involves recognition by parents, teachers and peers of unhealthy talk about and behaviour towards one's body and eating.
Warning signs might include skipping meals, excessive time spent on grooming, social avoidance, body consciousness and appearing sad and anxious. Education in schools about eating disorders helps young people understand what eating disorders are and normalises help-seeking.
As adults, we need to be aware our talk about dieting and comments about people's bodies is influential. So is modelling healthy eating and exercising behaviour.
---


Read more:
Some Ozempic users say it silences 'food noise'. But there are drug-free ways to stop thinking about food so much


---
Doctors and health professionals need to be better educated on warning signs and what to look out for in their male patients and clients. Teachers and parents can learn more and be on the look out for signs too.
Early intervention is backed by evidence but help often comes too late. People who get help early, particularly in their adolescent years when eating disorders often first start, have a good success rate with the right treating team. This usually consists of a doctor, psychologist, dietitian and psychiatrist.
Families and people with eating disorders can find treatments and support in both the public and private sectors. Enhanced cognitive behavioural therapy is usually used. It involves changing destructive behaviours and thoughts around the body, self and eating so a person can become healthier and happier. Family-based approaches for children and adolescents are also used to counter behaviour such as food refusal. Of course, as with many mental health conditions, more funding for more support services is needed.
If you or someone you know may be suffering from an eating disorder getting help fast is important before the eating disorder really takes hold. If you are worried about a friend, talk to an adult, such as a teacher or school counsellor. Starting a conversation with someone to ask them if they're OK, how they are feeling and showing a non-judgmental attitude is also key. The character of Nick models this well on Heartstopper.
Education about and becoming more aware of this issue and knowing how to get help is critical. As is reducing the stigma often associated with male eating disorders.
If this article has raised issues for you, consider contacting the Butterfly Foundation on 1800 33 4673 or Lifeline on 13 11 14.

Vivienne Lewis is a Clinical Psychologist working with people of both genders with eating disorders. She has recently written a book to assist health professionals and trainees working in this field called Eating Disorders – A practitioner's guide to psychological care.
– ref. A male character on Heartstopper has an eating disorder. That's more common than you might think – https://theconversation.com/a-male-character-on-heartstopper-has-an-eating-disorder-thats-more-common-than-you-might-think-211912