Source: The Conversation (Au and NZ) – By Kasey Symons, Postdoctoral research fellow, Swinburne University of Technology
With the Matlidas progressing to the quarter finals of the 2023 FIFA Women's World Cup, Australia's sports media is focussed on this global mega event and the potential it has to change the women's game.
Broadcast numbers are setting records, stadiums are packed, Matildas jerseys are flying off the shelves and the media is paying attention.
But why aren't Australia's netballers afforded the same media focus? On August 6, the Australian Diamonds won the Netball World Cup for the 12th time with a 61–45 victory over England in Cape Town.
While some Australians celebrated this moment in the early hours of Monday morning, many sports fans would have been unaware the final was even happening among the level of coverage the football is currently receiving.
One contributing factor was time zones. The recent netball world cup was held in South Africa, and Australian audiences suffered from an unpalatable time difference.
However the specific challenges traditional women's sports encounter within the greater complexities of the women's sports world cannot be ignored.
Barriers for traditional women's sports
Australian netball has seen recent growth in broadcast and ticket sales. The 2023 final of Australia's professional netball league was the most watched Super Netball match ever on Foxtel. And yet the media attention afforded to netball pales in comparison to women's sporting codes aligned with traditional men's sports.
At the FIFA world cup, the sports media is showcasing the thriving and inclusive fan culture, the history of women's football and stories from grassroots and community football.
These stories offer a point of difference to men's football and highlight obstacles overcome compared to the men's code.
The narratives of progress for women's football demonstrate a "dream finally being realised" and a bridging of historical gaps.
For netball, there are no comparative narratives to tell. While there is men's netball and a national men's netball team in Australia, the history of netball as a sport designed for women provides a perception it does not experience the same challenges as other women's sports playing "catch up".
Netball is taken for granted and is largely out of mind for sports media.
---


Read more:
'Gorgeous goal getters': 1970s media coverage of 'soccerettes' was filled with patronising sleaze


---
Netball and Australian sport culture
Netball was historically designed for women and girls based on the original rules of basketball adapted to suit the "ideal qualities" placed on women in the late 19th century.
The sport removed dribbling to limit physical exertion and maintain appropriate dress standards, ensured no contact, restricted movement on the court and, at certain periods, enforced silence on participants.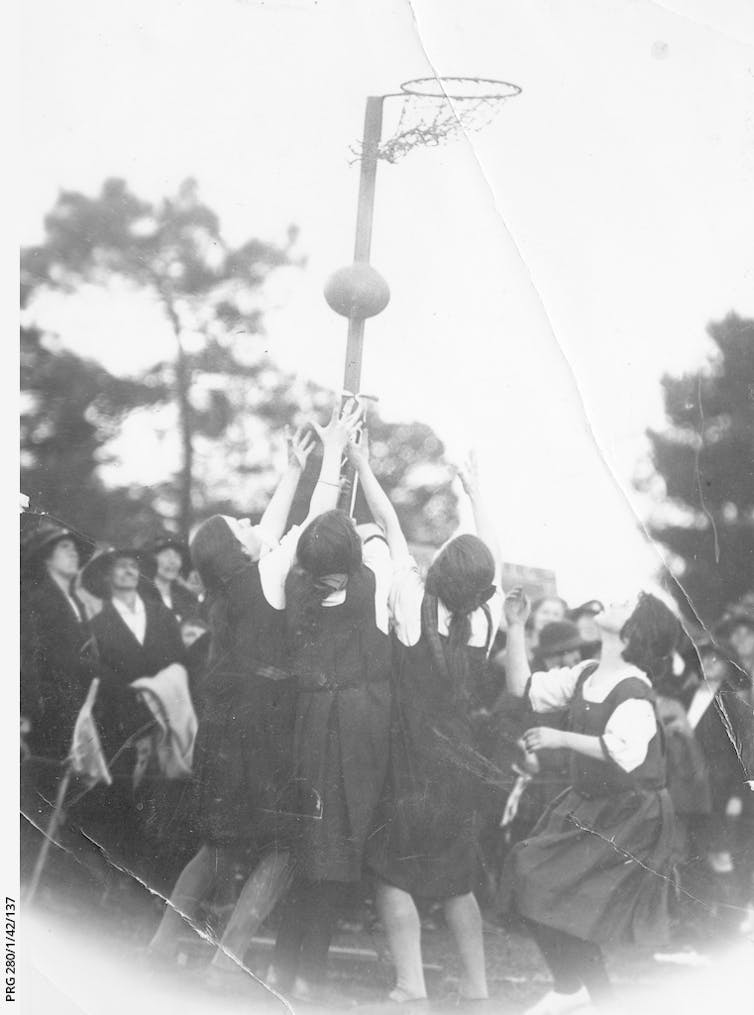 Unlike the global game of football, netball remains popular only in a handful of Commonwealth countries.
Netball has the highest participation rate of any team sport for women and girls in is Australia. Most Australian women are directed to and encouraged to play netball at some point in their lives.
Despite this prevalence, there has been little research on netball, the game's origins and cultural significance in Australian sporting culture.
---


Read more:
From 'good temper and pluck' to fierce international rivalry: the story of netball


---
Women's sports media coverage
Coverage for women in sport consistently makes up less than 10% of the overall sports media coverage in Australia.
Even with no live sport during the height of the COVID pandemic, men's sport stories still dominated.
Despite netball's popularity and high participation rates, a study of nine Australian newspapers' coverage of the 2017 Super Netball season revealed only 4.58% of total sports media coverage was dedicated to the sport.
The most coverage the game generates is when it is in crisis: the 2020 controversy surrounding the competition's only Indigenous player at the time, Jemma Mi Mi, not given court time in the league's Indigenous round, despite featuring in the marketing; Netball Australia's financial position and subsequent proposed sponsorship with Hancock Prospecting; and the folding of the Collingwood Super Netball Team.
The Australian domestic netball competition is arguably the best in the world and attracts the world's best netballers. But if not for independent women's sport and dedicated netball media platforms, passionate freelancers and champions driving netball coverage at their mainstream media mastheads, it's sobering to think where that 4.6% of coverage would sit.
While more Matildas become household names, few could name the Diamonds co-captains, Steph Wood and Liz Watson, and know Wood has just retired from international competition .
Few are discussing the fact World Netball does not offer prize money, and what the current uncertainty of the Commonwealth Games means for athletes who do not have their sport included in the Olympics.
As we reflect on the exciting gains this global mega event can offer women's football, and the stories which are being told about the barriers these players have faced in a traditionally male sport, we must also reflect on what barriers exist in other women's sports.
Netball plays an incredibly powerful role in connecting many women to sport in Australia. Media coverage is important to continue to celebrate the athletes at both a grassroots and a professional level. But it also has an important role to play in calling attention to the challenges and change netball needs to continue to drive the code forward alongside other developing professional women's sports.
---


Read more:
Women's World Cup: five issues holding back the female game


---

Kasey Symons consults to and conducts research for a number of organisations across Australia. Her research has received funding from organisations including the Victorian Government, and national and state sport governing bodies including the Australian Football League and its clubs and the National Rugby League. Dr Symons is also one of the co-founders of Siren: A Women in Sport Collective.
Bess Schnioffsky does not work for, consult, own shares in or receive funding from any company or organization that would benefit from this article, and has disclosed no relevant affiliations beyond their academic appointment.
– ref. Australia just won the netball world cup. Why isn't there room for multiple women's world cups in our sports media? – https://theconversation.com/australia-just-won-the-netball-world-cup-why-isnt-there-room-for-multiple-womens-world-cups-in-our-sports-media-211413