Source: The Conversation (Au and NZ) – By Shannon Sandford, Lecturer, Griffith University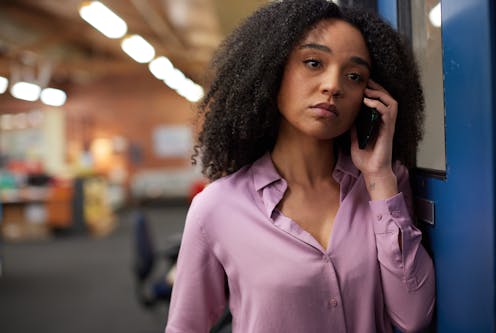 SBS
Phoebe Rook (Aisha Dee) is a 20-something starting work as communications specialist for the Family Violence Legal Service, a state-wide community centre providing free legal assistance for people escaping domestic and family violence in Victoria.
Tasked with raising the centre's profile amid rumours of funding cuts, Phoebe is quickly confronted with her own assumptions of the policies and services used to protect victim-survivors.
While shadowing prickly lawyer Jenny (Mabel Li) at the magistrate's court on her first day, Phoebe reads through a list of intervention orders.
"These people should be in jail!" she exclaims.
"Because jail has always worked so well at stopping violent behaviour," Jenny drily responds.
The centre's work in advocating on behalf of vulnerable people caught in cycles of abuse is urgent and vital. But as Phoebe settles into this new role, she is haunted by her complex past.
As Phoebe's complicated relationships threaten to challenge her ethics, a series of gripping events attest to the ways violence is insidious and ingrained in systemic structures of power.
Safe Home, a new television series from SBS, is compelling, at times devastating, but always powerful in its commitment to articulating difficult truths around domestic and family violence with nuance, integrity and care.
Domestic and family violence in Australia
Safe Home offers an important critique of the assumptions and expectations that influence public understanding of domestic and family violence.
These abuses persist on endemic levels in Australia. On average, a woman is killed by an intimate partner every ten days. The Australian Bureau of Statistics estimates one in three women have experienced physical violence since they turned 15. These rates are even higher for Aboriginal and Torres Strait Islander women and women from marginalised groups.
While the Australian government has recently launched a National Plan to End Violence Against Women and Children, experts have emphasised the significant, long term funding needed to meet its goal to end violence against women "in one generation".
---


Read more:
A new national plan aims to end violence against women and children 'in one generation'. Can it succeed?


---
Telling stories of crisis
Safe Home makes a timely contribution to a growing body of television that addresses socio-political crises through unflinchingly honest storytelling.
The BBC's adaptation of NHS doctor Adam Kay's bestselling memoir This is Going to Hurt engages with the experiences of junior doctors who endure high levels of fatigue and mental health related issues amid a lack of resources and compensation for the difficult and necessary work they do.
Based on Stephanie Land's memoir, Netflix's limited series Maid centres on a young mother fleeing an abusive relationship who takes up work cleaning houses and critiques the class and economic structures that enforce social exclusion and poverty.
Safe Home was inspired by creator Anna Barnes' experience working at community legal centres in Melbourne. The show depicts domestic and family violence with sensitivity and awareness. It is particularly authentic in its portrayal of victim-survivors who must navigate an exceedingly complex and overloaded system.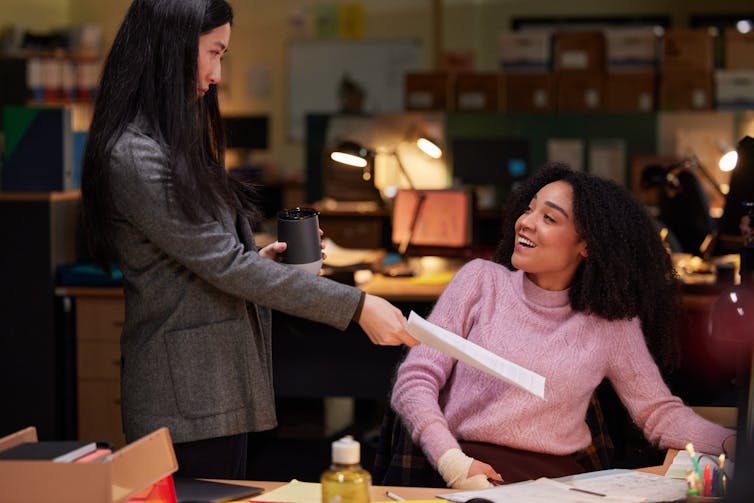 As Jenny explains to Phoebe, looming federal funding cuts threaten to eliminate a fifth of the Family Violence Legal Service's budget – the equivalent of four lawyers. This would force the centre to decline walk-ins and limit their ability to manage the volume of cases they receive.
Against the backdrop of these precarious conditions, Safe Home deftly weaves stories of victim-survivors to highlight the blind spots, inequities and failures of the sector in providing adequate and urgent intervention.
Diana (Janet Andrewartha) struggles to leave her controlling husband Jon (Mark Mitchinson), a retired teacher well-regarded in their small town.
Ry (Tegan Stimson) falls into an unstable intimate relationship after escaping her mother's verbal and physical abuse at home.
In perhaps the most heartbreaking story, Cherry (Katlyn Wong) risks losing her children after reporting her husband's life-threatening violence to authorities because of a language barrier.
---


Read more:
New data shows 1 in 3 women have experienced physical violence and sexual violence remains stubbornly persistent


---
The personal becomes political
In these stories, the cultural, linguistic and economic diversity of victim-survivors who seek help is powerfully depicted.
We encounter the spectre of strategies used against victim-survivors: physical abuse, economic abuse, verbal threats and put-downs, control and coercion, love bombing and revenge porn.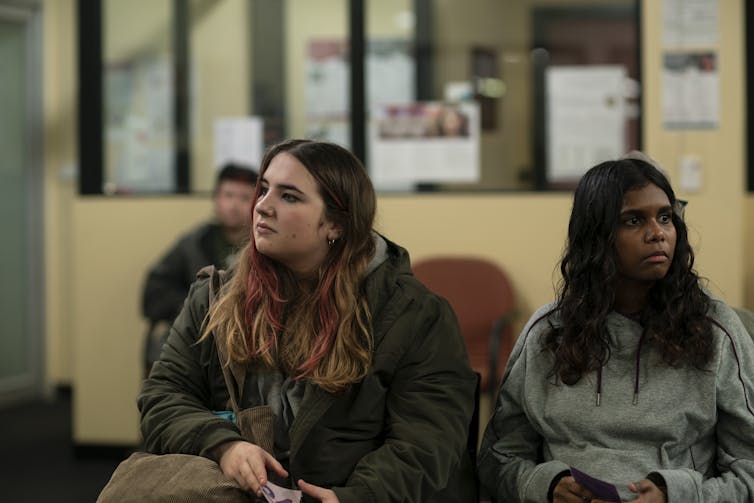 We are confronted with perpetrators who evade common stereotypes to appear, on the surface, likeable, friendly, charming and sympathetic.
The situations faced by victim-survivors intersect with – and are exacerbated by – current crises surrounding housing, homelessness and the cost of living. These circumstances can force them to return or remain in dangerous situations.
Contrary to the show's title, home is not safe for people experiencing domestic and family violence. But for many, it is preferable to being homeless, to losing access to their children, to becoming susceptible to other kinds of violence.
Telling stories is critical to humanise, to engender empathy, to bring awareness to issues often shrouded in silence. As Phoebe puts it, "We tell stories to change minds, to change legislation, and most importantly, to change behaviour".
In Safe Home, the personal becomes political. The stories behind the case numbers sit in dialogue with the current crisis of domestic and family violence.
These are stories victim-survivors and those who advocate on their behalf know well, but the Australian public still struggles to understand.
Safe Home is on SBS and SBS On Demand from today.
If this article has raised issues for you, or if you're concerned about someone you know, call 1800RESPECT on 1800 737 732. In immediate danger, call 000.

Shannon Sandford does not work for, consult, own shares in or receive funding from any company or organisation that would benefit from this article, and has disclosed no relevant affiliations beyond their academic appointment.
– ref. At times devastating, always powerful: new SBS drama Safe Home looks at domestic violence with nuance, integrity and care – https://theconversation.com/at-times-devastating-always-powerful-new-sbs-drama-safe-home-looks-at-domestic-violence-with-nuance-integrity-and-care-204910