Source: The Conversation (Au and NZ) – By Michael Green, Host + Producer, The Conversation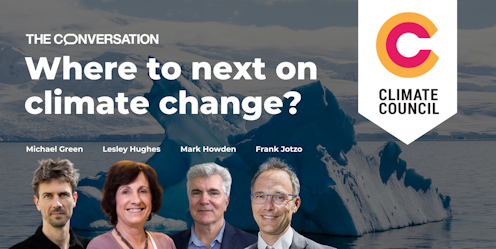 "I'm often asked if I feel hopeful for the future," says Lesley Hughes, climate scientist and former Intergovernmental Panel on Climate Change (IPCC) author.
"For me, hope is a strategy, rather than an emotion. Because if we don't have hope and optimism, then we all give up, and if we all give up, then we are truly lost."
In this live bonus episode of Fear & Wonder, The Conversation's climate podcast, recorded on May 1, host Michael Green spoke with Hughes, alongside current IPCC authors Mark Howden and Frank Jotzo.
All three guests have been at the forefront of climate science in Australia for decades. They trace how climate science went from a relatively peripheral topic to one of central importance to scientists and governments around the world.
They reflect on their respective journeys, the key takeaways from the IPCC's most recent Synthesis Report, and the imminent challenges and opportunities for Australia and the world.
To listen and subscribe, click here, or click the icon for your favourite podcast app in the graphic above.
---
Fear and Wonder is sponsored by the Climate Council, an independent, evidence-based organisation working on climate science, impacts and solutions.

Michael Green does not work for, consult, own shares in or receive funding from any company or organisation that would benefit from this article, and has disclosed no relevant affiliations beyond their academic appointment.
– ref. Fear and Wonder podcast: where to next on climate change? – Live bonus episode – https://theconversation.com/fear-and-wonder-podcast-where-to-next-on-climate-change-live-bonus-episode-204908