Source: The Conversation (Au and NZ) – By Alexander Gillespie, Professor of Law, University of Waikato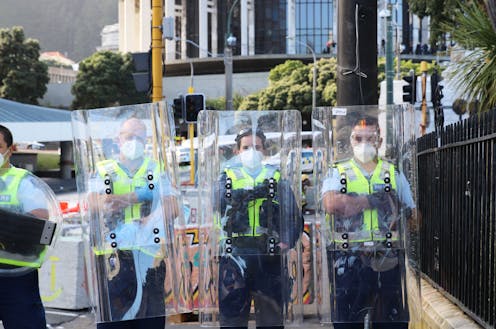 Getty Images
As the recent report of the Independent Police Conduct Authority made clear, the 2022 occupation of parliament grounds was very different from earlier protests in New Zealand. That doesn't mean something similar can't happen again.
Given the role of disinformation, eroding social cohesion, anger and opaque funding in fuelling that protest, it would be prudent for police in particular be better prepared in future.
At the occupation's peak, there were approximately 3,000 protesters, 2,000 vehicles in surrounding streets, and 300 structures illegally erected in and around parliament. The protest lasted 24 days, with more than 300 arrested.
What happened in Wellington was far from the largest or longest protest Aotearoa has seen, nor the only one to turn violent. The anti-Springbok tour protest in 1981, for example, lasted 56 days, involving more than 150,000 people in more than 200 demonstrations in 28 centres.
Some 1,944 protesters were charged with various crimes. The use of violence by police confronting determined crowds was at times excessive, indiscriminate and largely unaccountable.
But what happened in 2022 was very different to 1981. The Wellington protest happened in the wake of the US Capitol insurrection, "freedom rallies" in Australia and a "freedom convoy" in Canada. New Zealand saw a combination of all three, including death threats against politicians and journalists.
---


Read more:
The extremism visible at the parliament protest has been growing in NZ for years – is enough being done?


---
Intelligence agencies warned that a small number of the protesters were "likely" to support an extremist ideology and could become violent. And the final day of the occupation was one of fury and destruction.
While police didn't use tear gas as they had in 1981, they did employ tools that weren't available then, including sponge rounds and pepper spray with extended ranges. Nonetheless, the violence that followed was still extreme, with 154 injuries to police, 47 requiring medical attention.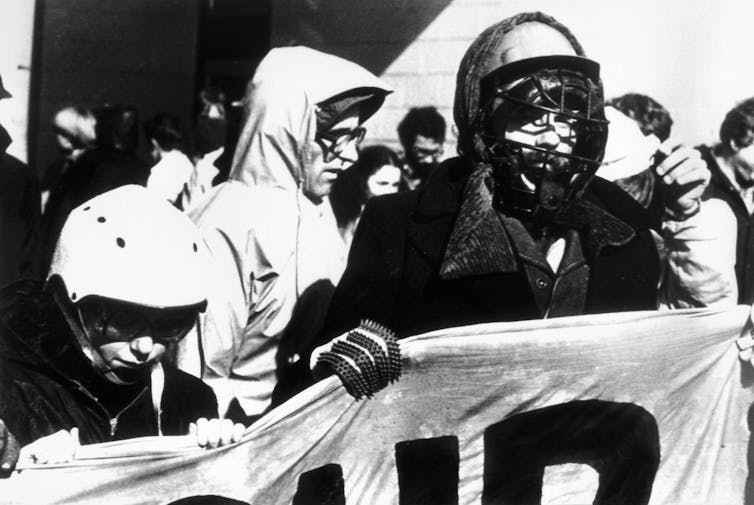 Rebuilding trust
The reputational damage to the police from the 1981 protests was terrible. The police had been used as a political chess piece, without independent external oversight. Later cases of disgraceful conduct ate away at police prestige even more.
Reversing that trend and rebuilding public trust required decades of work, a new Policing Act, and the establishment of the Independent Police Complaints Authority in 1989 (later to become the Independent Police Conduct Authority, or IPCA).
A considerable amount of that rebuilt trust and credibility was put on the line during the parliament protest. Perhaps remarkably, no one died. And while we recently saw New Zealand's first conviction for sabotage over anti-COVID mandate actions, there were no acts of terrorism during the Wellington protests.
Parliament was not stormed, unlike the US Capitol, and no emergency laws were used, as they were in Canada. Out of 1,905 complaints received by the IPCA, police actions were found to be unjustified in only eight cases.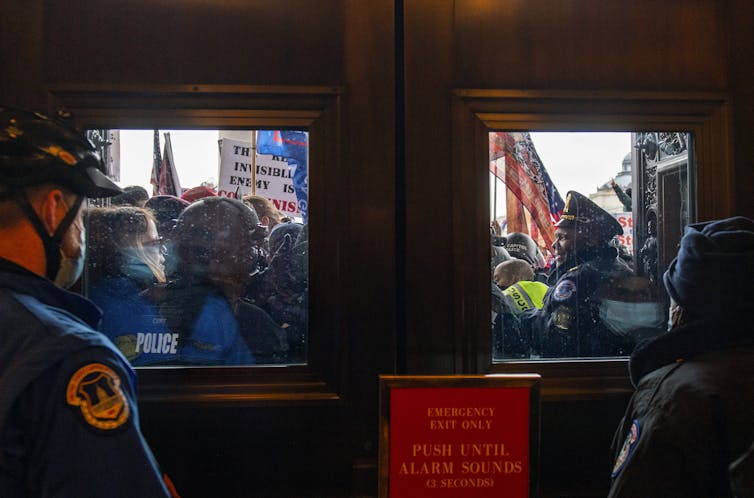 Improved practice and law
Despite this largely admirable outcome, it's clear improvements are still needed. In particular, police need to be better prepared. No officer should be put in a highly volatile situation without protective equipment fit for purpose.
While police were legally entitled to defend themselves and use proportionate force, the fact they had to improvise with fire extinguishers and fire hoses to keep violent protesters at bay heightened the risk of injury on both sides.
---


Read more:
Recent COVID-19 court cases show New Zealand's Bill of Rights Act is not as strong as some might wish


---
The obvious next step would be to introduce water cannons. These are used overseas to disperse rioters, while providing better protection to police. Given the risk of serious injury or death, however, their adoption and use would need to follow best practice in a society that upholds the right to peaceful protest.
The law also needs to be updated. While protest and dissent must be welcomed within the parliamentary precinct, it must be orderly, non-violent and not involve occupation. That means parliamentary trespass laws must be updated to manage large events, rather than relying on repeated warnings to specific individuals.
Police powers to seize vehicles being used to blockade the precinct also need revisiting. It should not be possible for someone whose vehicle has been removed to simply retrieve it and return to the same location.
---


Read more:
The parliament occupation is over – now New Zealand needs new laws to protect the 'epicentre of its democracy'


---
And while police must have robust arrest protocols and conform with the Bill of Rights Act, the current arrest laws were not fit for purpose in the kind of mass public disorder witnessed at parliament.
Although about 300 protesters were arrested, 170 had the charges withdrawn for several main reasons: an inability to identify the arresting officer and link the arresting officer to the arrested person; insufficient documentation about what an arrested person had done; and insufficient evidence to prove the charges.
The lesson for future similar events is that greater numbers of officers must be available for deployment, with improved processing and evidence collection systems.
---


Read more:
Protesting during a pandemic: New Zealand's balancing act between a long tradition of protests and COVID rules


---
Police independence
For police to retain their integrity and public support, they must act independently and impartially. The police commissioner must remain independent of the police minister in maintaining public order, enforcing the law and pursuing prosecutions.
This independence is a core constitutional principle in New Zealand.
This is crucial, given some police felt aspects of the parliament operation resulted from political pressure. That concern was not upheld by the IPCA, which determined certain "uncomfortable conversations" and "high levels of frustration" expressed by some in authority did not cross the line.
While positive, it should also serve as a warning. Police autonomy in operational matters, subject to independent external review not undue influence by politicians, must never be compromised.

The authors do not work for, consult, own shares in or receive funding from any company or organization that would benefit from this article, and have disclosed no relevant affiliations beyond their academic appointment.
– ref. Parliament protest report shows NZ police have come a long way since 1981 – but practice and law must still improve – https://theconversation.com/parliament-protest-report-shows-nz-police-have-come-a-long-way-since-1981-but-practice-and-law-must-still-improve-204674