Source: The Conversation (Au and NZ) – By Jared Mondschein, Director of Research, US Studies Centre, University of Sydney
America's first octogenarian president has finally announced he is going to seek more time in office amid lacklustre public enthusiasm.
At first glance, the challenges facing US President Joe Biden's re-election appear daunting. Following Donald Trump's failed campaign in 2020, this will be the second time in four years that a sitting US president whom the majority of Americans wished would not run again has announced his re-election.
Yet, while many of his supporters are anxious, Biden has it made clear he likes his chances.
The age-old question
As the oldest-ever sitting US president, Biden's age and ability to be in touch with younger generations remain a central criticism of his viability as a candidate for a second term.
Concerns about the 80-year-old Biden's physical fitness only highlight the fact that the energy and exorbitant demands required to run a presidential campaign have overwhelmed far younger presidential candidates.
Furthermore, after running much of his 2020 presidential campaign from home due to the pandemic, Biden will now have to spend a considerable amount of time over the next 18 months travelling and fundraising around the country, in addition to maintaining his day job as president.
Biden has repeatedly acknowledged and rebutted such concerns with statements like, "The only thing I can say is, 'watch me'". But, in an effort to avoid giving a microphone to the gaffe-prone president, the Biden administration has severely limited the public's ability to do that by granting the smallest number of media interviews for a sitting president since the Reagan administration.
Potentially lagging economic indicators
Beyond Biden's age and ability to relate to the approximately 96% of Americans who are younger than him, there is also the challenge of not knowing how the US economy will be faring on election day in November 2024.
When Trump announced his re-election campaign on June 19, 2019, the US economy faced few headwinds and had record-low rates of unemployment, both nationally and across several major demographics. Yet, on election day 16 months later, the country was still emerging from a pandemic-fuelled economic downturn that saw the highest unemployment rate since 1941 and 5.4 million Americans lose their health insurance.
---


Read more:
Could Joe Biden be the most consequential American president of our times?


---
American presidents are generally favoured to win re-election. But in each of the four re-election losses that have occurred in the last century — Herbert Hoover in 1932, Jimmy Carter in 1980, George H.W. Bush in 1992 and Trump in 2020 — the US economy was either recently recessionary, fully recessionary or in a depression.
Today, the US has even lower levels of unemployment than when Trump announced his re-election bid in 2019 — in fact, the lowest since 1969. At the same time, a central criticism of the Biden administration — the highest levels of inflation in decades — appears to be slowly ameliorating.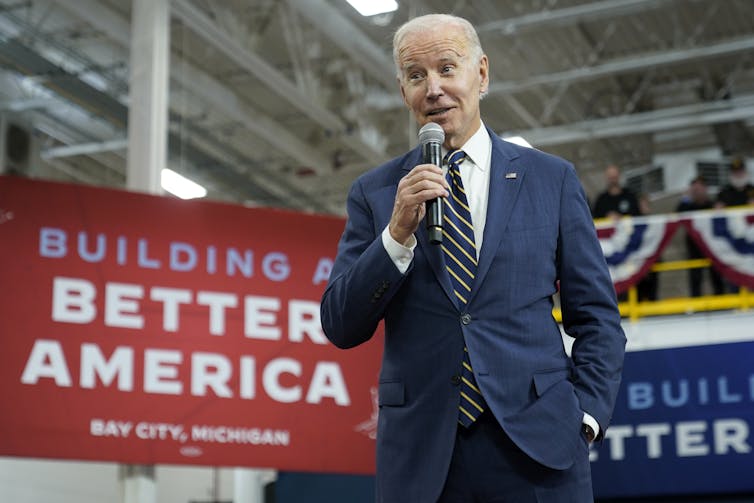 With that said, the US Federal Reserve's continued interest rate hikes have put pressure on both banks and homeowners. The Federal Reserve also has an undeniably mixed record on decreasing inflation without causing a recession.
A lot can happen before election day, but last month's Bloomberg survey of economists found the probability of a US recession occurring in the next 12 months to be at 65%.
Once again, time and conventional wisdom may not be in Biden's favour.
Lacklustre public enthusiasm
Politicians often perceive decisive election victories with significant margins to be mandates from voters for their policy agenda. Biden won by a slim margin in the "swing states" that determined the presidency in 2020 – by no means giving him a clear mandate.
Two and a half years later, Biden's approval ratings do not appear to have markedly improved. Due to a combination of factors – the chaotic exit of the US military from Afghanistan, record levels of migrant border crossings, high levels of public concern about crime, and persistent economic anxiety related to inflation – Biden currently has just a 43% national approval rating. It should come as no surprise that two-thirds of Americans think the country is on the wrong track.
Although three-quarters of Democrats approve of the job Biden is doing, the majority still do not want him to run for re-election.
Ultimately, only three presidents in the last half century — Carter, Ronald Reagan and Trump — have announced their re-election campaign with similarly negative approval ratings. Only Reagan ended up winning a second term.
---


Read more:
80 is different in 2023 than in 1776 – but even back then, a grizzled Franklin led alongside a young Hamilton


---
Comparing him to "the alternative"
Perhaps no Biden quote better reflects his confidence in winning in 2024 than, "Don't compare me to the Almighty, compare me to the alternative."
A recent poll of registered US voters found Biden losing to a generic Republican presidential candidate in 2024, 47% to 41%. While many campaigns would initially be concerned about such a statistic, few commentators have highlighted it because Biden is obviously not going to be facing off against a generic Republican candidate.
Trump is the front-runner for the Republican nomination, according to most polls.
And following his involvement in the raid on the US Capitol on January 6, 2021, and the prospect of a series of unprecedented indictments, the general public's dislike of Biden seems to be eclipsed by a more passionate distaste for Trump.
While Trump's hold over grassroots Republicans appears strong, the three national elections since his win in 2016 — the Republican loss of dozens of House seats in the 2018 midterm elections, Trump's defeat in the presidential election of 2020 and the lacklustre performance of Trump-backed candidates in the 2022 midterm elections — have put a significant damper on his nationwide appeal.
Unsurprisingly, a recent poll found that in a general election match-up between Trump and Biden, the sitting president commands a four-point lead over Trump (46-42%).
Most Americans cite "exhaustion" as the most dominant feeling when thinking about a Biden-Trump match-up in 2024. Biden is banking on the notion they are slightly less exhausted by him than his rival.
Despite Biden's pride in his legislative achievements, his team appears largely content for the 2024 election to be (yet another) referendum on Trump and "extreme "Make America Great Again" Republicans" rather than a vote on Biden's term as president.
Instead of seeing his age and subdued public support as weaknesses to be overcome, the Biden team is hoping his relative stability arising from half a century of experience in Washington will remain a welcome relief for many Americans following such an exhausting period in American politics.

Jared Mondschein does not work for, consult, own shares in or receive funding from any company or organisation that would benefit from this article, and has disclosed no relevant affiliations beyond their academic appointment.
– ref. Yes, Joe Biden is old and has low approval ratings, but this is why he's still confident of re-election – https://theconversation.com/yes-joe-biden-is-old-and-has-low-approval-ratings-but-this-is-why-hes-still-confident-of-re-election-204529