Source: The Conversation (Au and NZ) – By Nicole Cook, Lecturer, School of Geography and Sustainable Communities, University of Wollongong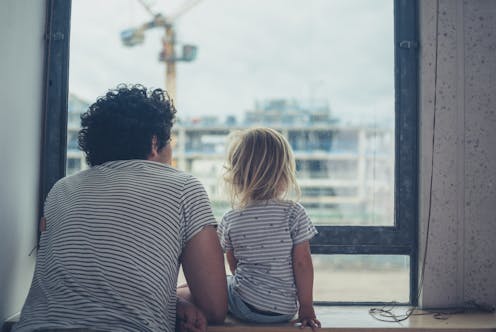 Shutterstock
The family-friendly apartment is an idea whose time has come. In the Liverpool CBD in Sydney, for example, half the apartments are occupied by families with children, our newly published study found. This is twice the average for metropolitan Sydney.
The high proportion of families living in apartments in town centres like Liverpool is often overlooked when situated within suburbs dominated by detached, lower-density dwellings.
The proportion of families living in apartments challenges many assumptions about high-rise living. Apartments are often seen as "stepping stones" for singles and couples on their way to detached houses, or a convenient lifestyle option for downsizers and empty-nesters.
The families in our study prioritise large, centrally located apartments over detached car-dependent dwellings. However, we found there's a lack of larger apartments designed to meet families' needs.
---


Read more:
Quality of life in high-density apartments varies. Here are 6 ways to improve it


---
Families see benefits in apartment living
The families we interviewed reported many benefits to apartment living. They valued being close to work, schools and leisure facilities, with easy walking access to diverse shops and services.
These preferences reflect the marketed benefits of compact living. And our research shows a range of households, including families with children, recognise these benefits. This points to a more fundamental shift in housing demand.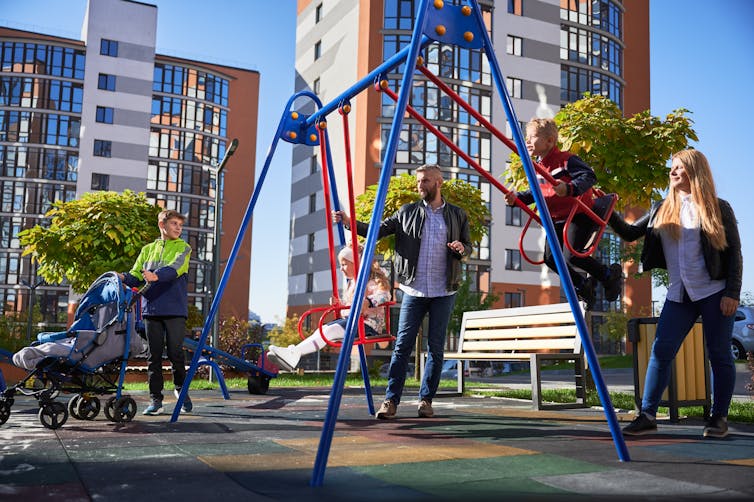 Among our study participants, the birth of a new child did not lead to a detached car-dependent home. Instead, it triggered a search for a larger apartment in the town centre.
These trends are only partly about choice. Participants acknowledged that a detached home would be more spacious but it would also mean they faced the added costs of buying and running a second car.
On balance, participants felt the CBD was the "best place" to live. Their priority was finding suitable high-rise homes within walking distance of schools, shops, public transport and community services – including libraries, health centres and parks.
---


Read more:
'I need nature, I need space': high-rise families rely on child-friendly neighbourhoods


---
Supply fails to meet family needs
However, when we compared Liverpool CBD families' preferences with housing supply, we found an overproduction of one- and two-bedroom apartments. These account for most of the increase in apartment numbers over the past decade, as the table below shows.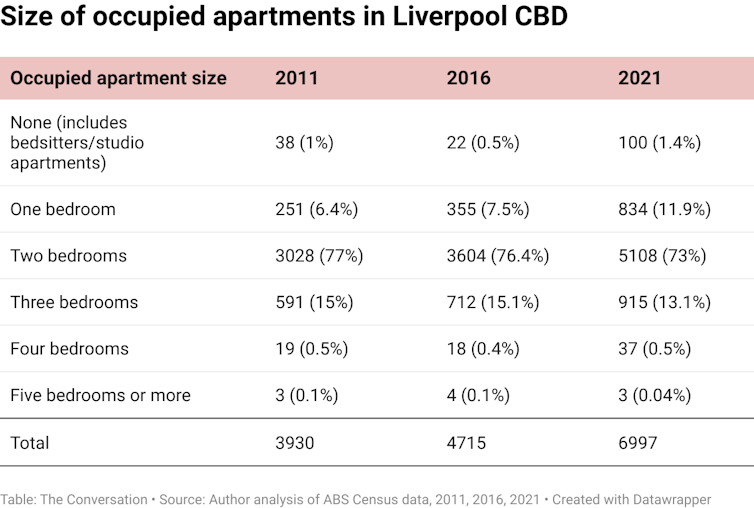 Despite half of all apartment occupiers having children, the proportion of family-sized apartments hasn't increased. In recent years, it actually fell.
Just over 15% of the high-rise housing stock in the CBD comprised three bedrooms or more at the 2011 and 2016 censuses. By 2021, it had fallen below 14%.
Without planning controls, the supply of large, family-friendly apartments is unlikely to increase. Developers, juggling their own material and credit costs, will always seek to maximise the number of dwellings they can build on their lots.
The Development Control Plan for Liverpool CBD requires 10% of the stock to be three-bedroom apartments. This is on par with the rest of Sydney. An exception is the Hills Shire Council, which has experimented with 20% in development corridors. Increased supply without design and quality controls can nonetheless exacerbate the tensions of raising a family in an apartment.
Good design matters, as does building quality
Real estate advertising for apartments emphasises skyline views, open-plan layouts and private balconies. But it is less glamorous aspects – insulation, space and storage – that can be crucial for families to live well in a high-rise home.
Good family-friendly design includes space for children to sleep, play and study, and adequate storage for prams and the belongings of larger households. Adequate soundproofing is also needed to reduce tensions over children's noise.
All these features are critical for higher-density dwellings to cater properly for this growing demographic.
---


Read more:
With apartment living on the rise, how do families and their noisy children fit in?


---
Construction quality is also important. A recent analysis of federal and New South Wales parliamentary inquiries reveals the impacts of public policies of deregulation, self-certification and performance-based construction. The effect has been to shield cost-cutting by developers and construction companies while transferring risks to consumers.
While state governments experiment with new modes of regulation, consumers bear the life-time impacts, both financial and emotional, of cut-price construction.
---


Read more:
Water leaks, cracks and flawed fire safety systems: Sydney's apartments are riddled with building defects


---
High-rise homes: more than an investment
Societies in which a shift to higher-density living is part of family life must strike a reasonable balance between quality, affordability and apartment size. Yet these goals seem to be at odds with the reconfiguration of housing in Australia as an investment vehicle.
The protection of owned homes from capital gains tax and lavish subsidies for property investors have led to gains in the value of housing assets exceeding income earned from work. This sets the scene for finance and construction industries to capitalise on investor-driven demand rather than diverse families' needs.
---


Read more:
Remaking our suburbs' 1960s apartment blocks: a subtle and greener way to increase housing density


---
Reforms on three fronts are needed
Meeting demand for high-rise housing in town centres requires a triple-barrelled approach. Construction quality, planning control and reconfigured financial incentives are all needed to encourage family-friendly products.
There is little doubt high-rise needs a more central place at the national urban policy table. And, at a more local level, there are steps councils can take. These include introducing minimum requirements for three-bedroom apartments in development control plans and negotiating density bonuses for developers that deliver such apartments.

Nicole Cook receives funding from the Global Challenges Program- University of Wollongong.
Shanaka Herath has received funding from the Global Challenges Program – University of Wollongong, Landcom NSW, the Australian Housing and Urban Research Institute (AHURI), NSW Department of Family and Community Services and City of Sydney Council.
Sophie-May Kerr does not work for, consult, own shares in or receive funding from any company or organization that would benefit from this article, and has disclosed no relevant affiliations beyond their academic appointment.
– ref. Wanted: family-friendly apartments. But what do families want from apartments? – https://theconversation.com/wanted-family-friendly-apartments-but-what-do-families-want-from-apartments-203921