Source: The Conversation (Au and NZ) – By Melissa Conley Tyler, Honorary Fellow, Asia Institute, The University of Melbourne
Over the past two days there's been controversy over whether Prime Minister Anthony Albanese should accept an invitation to attend the NATO summit in Lithuania in July, with reports suggesting he will not.
Albanese's office is yet to confirm whether the prime minister, who is currently on leave, will attend the meeting.
But the debate is a reminder that politicians and the public must recognise the value of such opportunities.
Why is the NATO summit a big deal?
NATO – the North Atlantic Treaty Organization – is a 31-nation collective defence pact that includes most members of the European Union as well as the United States, United Kingdom, Canada and Turkey.
Under treaty, an invasion of any NATO member
is treated as an invasion of all
. This is of great comfort,
especially for smaller countries
with a threatening neighbour. In the wake of Russia's invasion of Ukraine,
Finland has become a member
and
Sweden has applied
to join.
---


Read more:
Finland, NATO and the evolving new world order – what small nations know


---
Why has Albanese been invited?
While Australia isn't a member of NATO, it has a good relationship with the organisation. Australia is one of NATO's "partners across the globe", with permanent observer status.
Australia was a key partner during the long Afghanistan mission, with Australia seen as important in helping NATO meet its goals. Prime ministers Rudd and Gillard both attended NATO summits during this period.
There are currently two factors that make Australia a higher priority for NATO.
First, Australia is viewed as making a significant contribution to efforts to support Ukraine against Russia's invasion. When I introduced myself to Ukraine's youngest member of parliament, the first thing he said was thanks for Australia's contribution of Bushmaster armoured vehicles. Australia is also working with France to manufacture ammunition.
Second, there is greater NATO focus on Indo-Pacific security issues. The 2022 NATO Strategic Concept mentioned issues around the threat from China for the first time. Australia is an obvious partner to NATO in Indo-Pacific security.
Griffith University's Susan Harris Rimmer saw the invitation for Australia to attend the NATO summit in 2022 as a significant step reflecting NATO's intent to focus on China and Indo-Pacific security.
NATO Secretary-General Jens Stoltenberg speaks about NATO's Indo-Pacific partners, including Australia, in very positive terms:
We may be oceans apart. But our security is closely connected. And we share the same values, interests and concerns. This includes supporting Ukraine.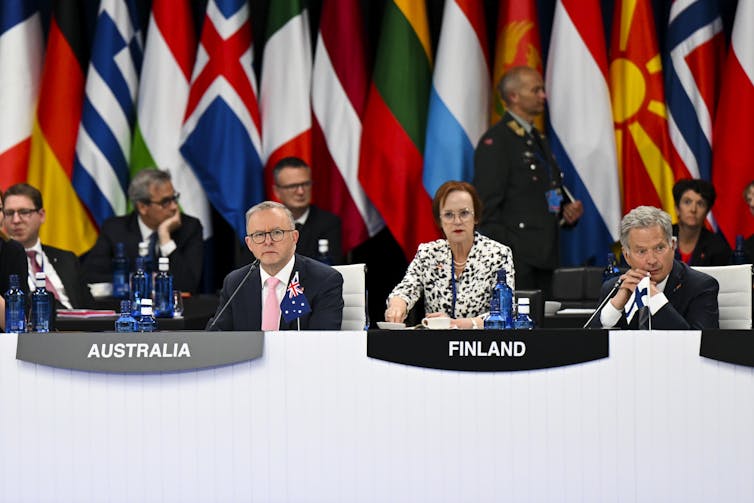 The case for attending
All this means there is a strong case for attending if possible. NATO is an important gathering of world leaders. As ANU's John Blaxland puts it, the chance to "press the flesh" with world leaders is part of the "process of building relationships with key heads of states of important partner nations".
For Australia to be taken seriously, it needs to show up. And given Australia's location, the reality is that Australians are usually the ones who have to do the travelling. If we were to wait for all the NATO leaders to visit Australia, it would literally take decades.
It is clear Albanese recognises this. He attended last year's NATO summit in Madrid not long after the election, saying "it was important that Australia be represented".
The danger of negativity
Shadow Minister for Foreign Affairs Simon Birmingham has urged Albanese to attend this year's summit, which he said would "demonstrate Australia's 100% commitment to the rules-based order, our democratic partners and the defence of Ukraine".
But it's worth noting that last year, others had a different response. After Albanese went to the Madrid summit, his travel schedule was criticised by Shadow Treasurer Angus Taylor, Shadow Immigration Minister Dan Tehan and National Party Leader David Littleproud. He faced negative commentary and news outlets keeping track of how many days he had been out of the country.
As he returned from the NATO summit and visiting Ukraine, Albanese was forced to defend his travel. He described criticism comparing this to his predecessor Scott Morrison's trip to Hawaii during the 2019-20 bushfires as "beyond contempt".
Supporting our leaders to have international impact
At this point it is not clear whether Albanese will attend the NATO summit. He is currently on leave, and acting prime minister Penny Wong said she would not announce Albanese's schedule.
If media reports he will not attend turn out to be true, I hope the only reason would be a simple scheduling conflict. Albanese has a range of upcoming travel commitments, including the coronation of Charles III in the UK and the G7 meeting in Japan, both in May. He will host leaders of the "Quad" nations in Australia, and there is speculation about trips to India, the US and China.
For the national interest, it is important that both the public and political opponents support our leaders in engaging internationally as a key part of their role to promote Australia's interests and represent us on the world stage.
As Albanese said in response to criticism of his travel in 2022, "we can't separate international events from the impact on Australia and Australians". This connection needs to be widely understood.

Melissa Conley Tyler is Executive Director of the Asia-Pacific Development, Diplomacy & Defence Dialogue (AP4D) which receives funding from the Australian Civil-Military Centre and the Department of Foreign Affairs and Trade.
– ref. Anthony Albanese should attend the NATO summit if he can. Here's why – https://theconversation.com/anthony-albanese-should-attend-the-nato-summit-if-he-can-heres-why-203675