Source: The Conversation (Au and NZ) – By Anna Dunn, PhD candidate, Anangu Futures ARC Linkage , The University of Melbourne
This article contains quotes from First Nations community members, which the author has obtained permission to share and publish. Images have also been used with their permission
This article was co-written with Papunya community leader and Luritja-Pintupi man Terence Abbott Tjapanangka.
---
In Papunya, a remote Luritja and Pintupi community, the red earth football field is the centre of social activity every weeknight from March to September. Against the backdrop of Ulumbaru, the Northern Territory's second-highest mountain, men and young people train into the night.
Alice Springs Town Council's decision in March to withdraw its support for Central Australia's remote football competition leaves the rhythms of life for community football players in the lurch this year, as coaches scramble to put together a league of their own.
The controversial "pause" on remote communities' access to Alice Springs ovals was implemented as a
response
to the Alice Springs "crime crisis". The move has raised the possibility of devising "On Country" leagues to be played in communities.
Recent federal government attention to the "crime crisis" in Alice Springs presents an opportunity to support surrounding communities in tangible, self-determined ways.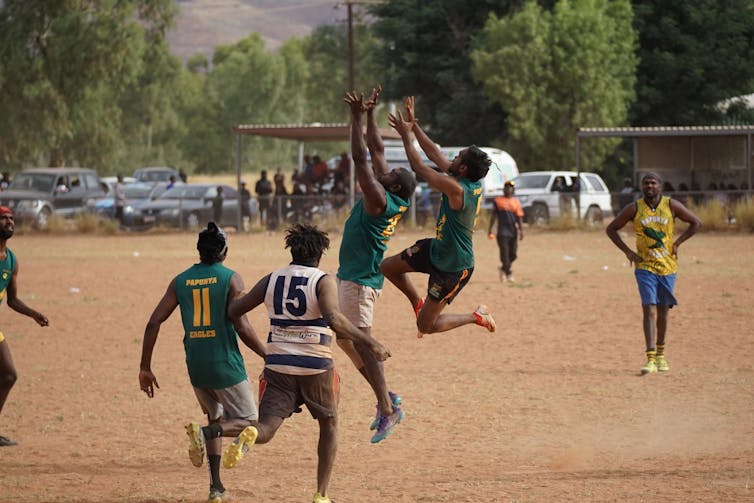 Sports in Papunya facilitate community-level leadership, governance and decision-making that align with Luritja cultural practices and understandings. Funding sporting infrastructure in communities could also increase community wellbeing, unity, and economic self-sufficiency.
While studies are limited, football in Aboriginal communities has been shown to support health, wellbeing and social needs, and helps people stay on Country.
Football can bring community and cultural connection
Training is gruelling for the Papunya Eagles, a championship team of men aged 18-30. Attendance is required four nights a week, with matches on Sunday in Alice Springs against other remote communities. Football captain and Luritja man Aben Sandy Tjapaltjarri says, "That training can help people from drinking and all the other stuff. It makes them come back to community."
Barry Judd and Tim Butcher's ongoing research on football in Papunya found intergenerational cultural knowledge transfer through On Country football is crucial. It provides a strong, resilient forum that helps develop future leaders, and gives these young men a chance to spend valuable time with Elders.
Young football player and Luritja man Kamahl Bush Tjapaltjarri says, "Footy is the thing we love most: the fellas all enjoying and being happy and busy, making us proud. Sometimes we learn something new from the old fellas."
The league structures the yearly schedule for some players who move to Papunya for the footy season. But Sandy says, "They won't come back if footy is not on… It's good having those men around… When you have people in community it's safe."
Football is also increasingly important to women and young people. Luritja Elder Karen McDonald Nangala says, "the women used to be only spectators but now the young women are interested and keen to play footy". The women's team brought pride to Papunya last year by winning at the Ampilatwatja Sports Carnival.
---


Read more:
Here's some context missing from the Mparntwe Alice Springs 'crime wave' reporting


---
Bush leagues
The withdrawal of the council's support for the league turns attention back to the long-held aim to hold a bush league played in community.
However, just days out from the beginning of training for the season, Papunya's oval is littered with bushes, the microphone in the commentator's box is broken, and there is no water or shade for players and spectators. The lack of funding for basic infrastructure makes the prospect of On Country leagues a challenge.
In 2011, the Wilurarra Tjutaku Football League was established independently of the Central Australian Football League, to be played On Country between remote Aboriginal communities rather than in Alice Springs. This league emerged as a form of community resistance and self-determination in response to government interventions in the lives of Aboriginal people in the NT, particularly the Northern Territory Emergency Response Act 2007.
However, the Wilurarra Tjutaku Football League has been confronted by several issues, including a lack of institutional support from the Central Australian Football League, Australian Football League Northern Territory AFLNT, and the NT government.
In 2021, AFLNT chairman Sean Bowden explored the return of the league to communities, but concluded that inadequate infrastructure in the bush made it infeasible.
Sporting infrastructure lacking in remote communities
Possibilities to revitalise On Country leagues turns the spotlight on a larger issue with basic infrastructure in remote communities.
Papunya Eagles football coach and Luritja-Pintupi man Dalton McDonald Tjapaltjarri says:
that's what the federal government should be looking at, I reckon… We need the grass, water, proper medical staff, ambulance, good umpires.
Papunya Elders believe home games in Papunya could bring economic benefits to the community, encouraging people to spend money at local stores. Luritja Elder Karen McDonald says On Country football would benefit spectators too: "More people would also be able to come and cheer, watch, be happy and make them proud."
The Future of Bush Football
While significant infrastructure investment could improve community health and wellbeing, Coach McDonald is concerned about the timeline of infrastructure upgrades. He says, "it doesn't happen that quick you know. We have to wait a couple of months or years. So we have to find something else."
For the meantime, remote communities are scrambling for an alternative, he says.
"It's really sad for the young talented players. They'll be missing out. I feel sorry not just for my community but everybody. Every team has talented players. I don't know what's going to happen."

Anna Dunn does not work for, consult, own shares in or receive funding from any company or organization that would benefit from this article, and has disclosed no relevant affiliations beyond their academic appointment.
– ref. 'On Country' football league an opportunity to bring communities together – but we need more government funding – https://theconversation.com/on-country-football-league-an-opportunity-to-bring-communities-together-but-we-need-more-government-funding-202617