Source: The Conversation (Au and NZ) – By Cristyn Davies, Research Fellow in Child and Adolescent Health, Faculty of Medicine and Health, University of Sydney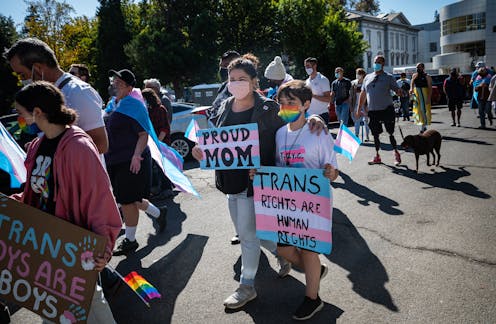 In her address to the National Press Club of Australia today, actress, writer and advocate Georgie Stone OAM is sharing her experience as a young trans person growing up in Australia.
Georgie's story highlights her courage and determination to overcome barriers that prevent young trans people from accessing gender affirming health care and support. At just 22, Georgie has been recognised for her tireless work to reduce discrimination and remove systemic barriers for young trans people, who were subjected to attacks at recent protests in Melbourne, Sydney and Canberra.
In the face of this negativity, Georgie's story emphasises how we can better support the trans community and calls particular attention to the pivotal role families play in supporting trans children and adolescents to thrive and reach their full potential.
The positive impact of family support for young trans people
Although many young trans people experience anxiety and depression as a result of stigma and discrimination, family support acts as a protective buffer for their health and wellbeing.
Research with trans adults shows family support is most strongly linked with mental health and resilience compared to support from friends or connectedness to the trans community.
Similarly, for young trans people, parental support is significantly associated with higher life satisfaction and fewer depressive symptoms, as well as reducing reported suicide attempts from 57% to 4%.
When family support is missing, trans people experience more homelessness. Many who do not have parental support end up in out-of-home care.
In a recent study, young trans people in the United States were asked about family support and identified numerous ways parents can help. Some – such as expressions of love and affection, open communication, and the provision of advice, encouragement and financial support – were not directly related to the young person's gender diversity. Others were directly related, including emotional support at the time of coming out, willingness to listen to the young person's experience of gender, use of chosen names and pronouns, and support for social, legal and/or medical gender affirmation.
Notably, some young trans people said their parents weren't comfortable, or didn't have knowledge and understanding about gender diversity. So, how can we help parents better support their trans children?
3 things that help build family support for young trans people
Surveys of families of young trans people have identified ways parental support can be facilitated.
1. Learning as much as possible
First, parents of young trans people say becoming educated on trans-related issues and accessing relevant information is really important.
Such information includes knowledge about gender diversity, its impact on families, trans affirming parenting practices, and gender affirming health care.
While many parents can obtain this information online, family-based peer support groups and health professionals with expertise in this area (including general practitioners and community-based and school psychologists) are often critical sources of additional and reliable knowledge.
---


Read more:
5 books for kids and teens that positively portray trans and gender-diverse lives


---
2. Families supporting families
Secondly, as Georgie's story illustrates, families of young trans people can play a powerful role through the provision of peer support. Support groups for parents of trans young people provide a space to share stories and obtain support from people in similar situations. This helps parents feel less alone and to navigate the challenges facing their children, including in schools and health institutions.
Family-based support groups can provide connections to the broader trans community. This can help foster a sense of pride in gender diversity but also give young trans people role models that show trans people enjoying positive, fulfilled lives. Family-based peer support groups are essential and should be funded to meet the growing demand of parents requiring assistance.
---


Read more:
Trans people aren't new, and neither is their oppression: a history of gender crossing in 19th-century Australia


---
3. Accessing multidisciplinary care
Many parents seek access to gender-affirming healthcare for their trans children. Multidisciplinary gender clinics (that could involve mental health, endocrinology, adolescent medicine and nursing specialists) and other health care professionals have an important role in providing parents with the support they need. This needs to be done in an inclusive, respectful manner and incorporate best practices, such as addressing parental concerns from a risk/benefit perspective, understanding the parent journey, and adopting a shared decision-making approach to a young person's care.
More broadly, research identifies the need for integrated service provision that is comprehensive, efficient, and provides continuity of care across all the health professionals involved, whether they be general practitioners, mental health clinicians or paediatricians. This applies not only to the health system but also welfare, education and legal sectors too. For example, a social worker may assist a trans young person and their family with referral pathways to available support services in their local area. They can also work with the young person's school to ensure an inclusive school environment.
---


Read more:
Supporting trans people: 3 simple things teachers and researchers can do


---
Protecting young people
Families serve a critical protective role for young trans people, helping to minimise poor mental health and to promote wellbeing.
Listening to trans young people and their parents and carers, is vital to help families provide effective support and nurturing. Engaging families in partnerships to reconfigure health and support services that are culturally safe and meet their needs is essential.

Cristyn Davies reports voluntarily being co-chair of the Human Rights Council of Australia; co-chair of the Child and Youth Special Interest Group for the Public Health Association of Australia; a board director of the Australian Association of Adolescent Health; an ambassador to Twenty10 Incorporating the Gay and Lesbian Counselling Service of New South Wales; and co-chair of the research committee for the Australian Professional Association for Trans Health.
Cris Townley is a member of the advocacy network Parents for Trans Youth Equity (P-TYE).
Ken Pang is a paediatrician at the Royal Children's Hospital in Melbourne. He receives research funding from the Australian National Health and Medical Research Council, the Royal Children's Hospital Foundation, and the Hugh D T Williamson Foundation. He is a member of the Australian Professional Association for Trans Health (and its research committee), as well as the World Professional Association for Transgender Health
Rachel Skinner is an paediatrician in Adolescent Medicine at Sydney Children's Hospitals Network and Senior Clinical Advisor in Youth and Wellbeing at the NSW Ministry of Health. She holds research funding from the Australian National Health and Medical Research Council, the Medical Research Future Fund and Cooperative Research Centre project scheme. She is a member of Royal Australasian College of Physicians, Australian Association for Adolescent Health; Australian Professional Association for Trans Health, Society for Adolescent Health and Medicine and World Professional Association for Transgender Health
Kerry H. Robinson does not work for, consult, own shares in or receive funding from any company or organisation that would benefit from this article, and has disclosed no relevant affiliations beyond their academic appointment.
– ref. Family support protects trans young people – but their families need support too – https://theconversation.com/family-support-protects-trans-young-people-but-their-families-need-support-too-202743