Source: The Conversation (Au and NZ) – By Amy Maguire, Associate Professor in Human Rights and International Law, University of Newcastle
Malka Leifer, former principal of the Orthodox Jewish Adass Israel school in Melbourne, has been found guilty of sexually abusing two former students.
A jury in the County Court of Victoria found Leifer guilty of 18 rape and sexual assault charges relating to sisters Elly Sapper and Dassi Erlich. The jury cleared Leifer of nine charges, including all relating to a third sister, Nicole Meyer, and some relating to Erlich.
Leifer's trial was a long-term goal for Victorian and Australian authorities. Allegations of sexual assault were initially made against Leifer in late 2007 or early 2008. She fled to Israel in March 2008 and was finally extradited to Australia in January 2021.
What were the charges?
Leifer was charged with 29 offences. During the trial, she was acquitted on two charges of indecent act with a 16- or 17-year-old because the alleged offending occurred before the relevant law came into effect.
The jury was then tasked to consider
27 offences
, including ten charges of rape, ten of indecent assault, three of penetration of a 16- or 17-year-old child, and one charge each of compelled rape and indecent act with a 16- or 17-year-old.
Meyer, Erlich and Sapper alleged that Leifer sexually abused them between 2003 and 2007. The abuse was said to have been perpetrated at school, on school camps and at Leifer's home. The sisters were vulnerable to abuse by an authority figure, as their ultra-orthodox upbringing had left them ignorant of sexual matters.
The ABC's Australian Story program profiled the sisters in 2018. It revealed the insular nature of the Adass Israel community and the extreme social and behavioural constraints placed on the sisters as children. Their home life was said to be controlled and terrifying.
Manny Waks, an advocate for the sisters and chief executive of Voice against Child Sexual Abuse, said today:
We thank the sisters for sharing their very personal and difficult story so publicly, which has contributed to educating the public regarding the complexities of pursuing justice in the context of child sexual abuse, in particular within the ultra-Orthodox Jewish community.
---


Read more:
Explainer: what is extradition between countries and how does it work?


---
A high profile trial
It is striking that Leifer was convicted by a jury that had not been fully informed of her efforts to evade justice.
When the allegations emerged against Leifer in 2008, she fled to Israel with her family. The Adass Israel school funded her travel. Leifer lived in the community for several years.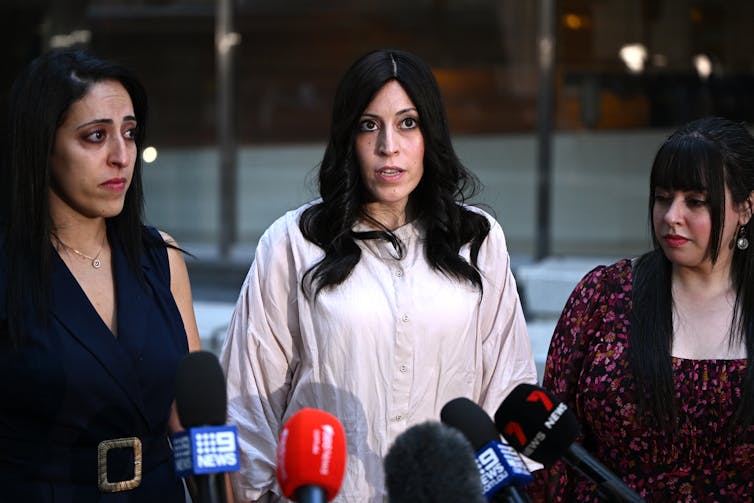 Australia lodged an extradition request with Israel in 2013. She was arrested by Israeli police in 2014, but was later bailed. Over several years, Leifer claimed to be too unwell to attend court hearings and she was assessed by more than 30 psychiatrists.
In 2018, she was again taken into custody when it became known she had been living normally in an orthodox Israeli settlement. In October 2019, she was bailed into house arrest in her sister's home. It was September 2020 before Israel's Supreme Court ruled Leifer was fit to stand trial on charges in Victoria.
---


Read more:
The Israeli Supreme Court has cleared the way for Malka Leifer's extradition hearing. What happens now?


---
Leifer successfully stalled the justice process for an inordinate period of time. Between early 2008 and late 2020, more than 60 court hearings were taken up by efforts to avoid extradition and prosecution.
The first ruling on the merits of the extradition request was held in September 2020, when the Jerusalem District Court ruled Leifer should be extradited to Australia to face the charges against her.
It is not uncommon for extradition matters to be highly politicised. This case strained relations between Australia and Israel. The federal and Victorian governments will undoubtedly welcome today's verdict following their years of combined action to bring Leifer to trial.
One particularly controversial aspect of the saga culminated in the conviction in 2022 of former Israeli health minister Yaakov Litzman, for obstructing justice in Leifer's case. Litzman had pressured public officials to alter Leifer's psychiatric evaluations to support her claim that she was unfit to stand trial. He was subsequently sentenced for the lesser charge of breach of trust as part of a plea deal to avoid a custodial sentence.
What comes next?
Leifer maintained her innocence throughout the trial. She is due back in court on April 26 to fix a date for the plea. She will then be sentenced. It is possible the time Leifer spent in custody in Israel may be considered when setting a custodial sentence.
Once Leifer is sentenced by the judge, it is expected that sentencing remarks will be published by the court. It is possible Leifer may choose to appeal the jury's verdict. No such intention has been announced at this time.
Regardless, today's outcome is a hugely significant milestone. As Victorian Liberal MP David Southwick, who has advocated for Leifer's accusers, said:
These verdicts represent the culmination of over two decades of suffering and unstoppable activism by so many caring people who simply wanted to see justice done. Today's verdict finally brings closure for three brave women, after astonishing delays and setbacks that no victim of sexual abuse should ever have to endure.
Nicole Meyer, Elly Sapper and Dassi Erlich have consented to being identified in the media.
For support, please call the National Sexual Assault, Domestic and Family Violence Counselling Service on 1800RESPECT (1800 737 732).

Amy Maguire does not work for, consult, own shares in or receive funding from any company or organization that would benefit from this article, and has disclosed no relevant affiliations beyond their academic appointment.
– ref. Malka Leifer found guilty of sexual abuse of former students – https://theconversation.com/malka-leifer-found-guilty-of-sexual-abuse-of-former-students-199582