Source: The Conversation (Au and NZ) – By Adrian Beaumont, Election Analyst (Psephologist) at The Conversation; and Honorary Associate, School of Mathematics and Statistics, The University of Melbourne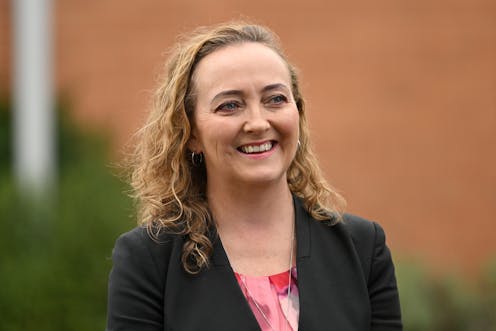 Morgan Hancock/AAP
With 44% of enrolled voters counted in today's Aston federal byelection, the ABC has Labor expected to win by 53.4-46.6 over the Liberals, a 6.3% swing to Labor from the 2022 general election. This includes ordinary election day votes only, no pre-polls or postals.
Labor is very likely to win Aston, but I will update this article tomorrow morning when the pre-polls and most postals have been counted. At the NSW election last week, Labor greatly underpeformed their election day votes on pre-polls.
If Labor gains Aston, it would be only the second time a government has gained a seat at a federal byelection – the first time was in 1920. Labor had performed badly in previous byelections during the early years of the Bob Hawke and Kevin Rudd governments.
---


Read more:
Liberals likely to win Aston byelection; Voice support increases in Essential poll


---
Labor is currently polling honeymoon levels of support, and this explains the strong Aston result. The next federal election is still about two years away, and by then Labor may not be polling so well. This byelection is not predictive of the next election result.
However, the byelection is a terrible result for the Liberals and their leader, Peter Dutton. It will put him under pressure to keep his job.
Labor won't win a NSW election majority
The New South Wales state election was held on March 31. The ABC is now calling 45 of the 93 lower house seats for Labor, 35 for the Coalition, three Greens and nine independents.
The large count of postals today confirmed that the Coalition would retain the three seats they looked likely to win as of Wednesday's article: Terrigal, Goulburn and Holsworthy. Only one seat remains in doubt: Ryde, where the Liberals took a small lead on today's postals, but Labor could regain the lead.
---


Read more:
NSW Labor unlikely to win majority after flopping on pre-poll votes


---
Even if Labor wins Ryde, they would finish with 46 of the 93 seats, one short of the 47 needed for a majority. As I wrote Wednesday, Labor will still form the next NSW government.
As the combined vote share for the major parties declines and the number of seats won by non-major party candidates increases, hung parliaments where one major party has at least a few more seats than the other, but is short of a majority, will become more common.
Postal votes from today's counting have not yet been added to the upper house count. These votes will assist the Coalition in their attempt to win seven upper house seats, but late counting of absents and new enrolment votes may bring Animal Justice back into contention for the final upper house seat.
NSW One Nation leader Mark Latham made a homophobic and sexually crass tweet on Thursday. At this election, One Nation were expected to at least match the two upper house seats they won in 2019, but have only won one seat after their vote dropped 1.2% from 2019.
Owing to half of the upper house being elected every four years for eight-year terms, One Nation will have three total upper house seats, but would have expected four.
Trump indicted, but Republican primary polls are swinging in his favour
Former US president Donald Trump was indicted on Thursday (Friday AEDT) over hush money payments made to a porn star before the 2016 election.
Republican primaries to select their nominee to contest the November 2024 general election start in early 2024. There is disagreement over the size of Trump's lead, with recent polls rated B+ or better by FiveThirtyEight giving Trump between a five-point and a 30-point lead over Florida Governor Ron DeSantis when other candidates are included.
It's very likely that either Trump or DeSantis will be the Republican nominee, as no other potential Republican candidate polls higher than mid single digits.
While the polls disagree on the current size of Trump's lead, they agree there's been a recent swing to Trump. A Fox News poll had Trump by 15 points in February, and it now gives Trump a 30-point lead. A Quinnipiac poll gave Trump an eight-point lead in February; now Trump leads by 14.
On the Democratic side, there has so far been no credible challenge to incumbent President Joe Biden.
If Trump is the Republican nominee, he has a good chance of defeating Biden. Biden's disapproval rating has been higher than 50% in the FiveThirtyEight aggregate since October 2021. He will be almost 82 by the November 2024 election, while Trump will be 78.

Adrian Beaumont does not work for, consult, own shares in or receive funding from any company or organisation that would benefit from this article, and has disclosed no relevant affiliations beyond their academic appointment.
– ref. Labor likely to win Aston byelection; NSW election and Trump polling updates – https://theconversation.com/labor-likely-to-win-aston-byelection-nsw-election-and-trump-polling-updates-202716