Source: The Conversation (Au and NZ) – By Paul Komesaroff, Professor of Medicine, Monash University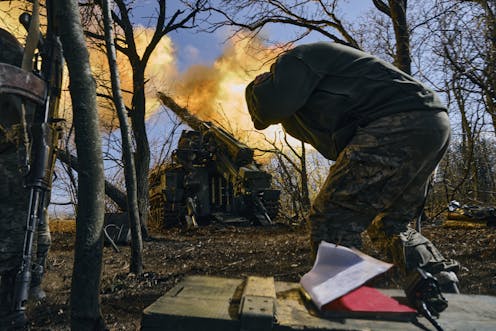 Libkos/AP/AAP
A year after Russia's invasion, Ukraine is in ruins. At least 8,000 civilians have died, with millions displaced. Generations of infrastructure have been destroyed. Large tracts of the environment and agricultural land have been devastated. A world food shortage has been created. The global economy is in crisis mode. The world has drawn closer to the unspeakable catastrophe of a nuclear war.
To paraphrase the classical Roman historian Tacitus, the war is producing a wasteland that will be called peace.
In this lose-lose situation, it would be reasonable to suppose that desperate efforts were being made on all sides to engage in productive dialogue and end the devastation. Incredibly, exactly the opposite is occurring.
In the West, apart from Germany, the media have settled into war-propaganda mode. Instead of calls for peace, demands for more weapons prevail, with any tempering of militant urgency treated as akin to appeasement of Russia.
NATO countries have already provided well over a hundred billion dollars in aid, a large proportion of which is for military purposes. They've also sent the message the flow will continue "for as long as it takes". It is impossible to guess the cost for the Ukrainian and Russian people, just as we never read of the numbers of deaths of Ukrainian or Russian soldiers.
Despite the critical need for negotiations, none of the protagonists is able to take even small steps. Where there should be careful analysis of differences and proposals for addressing them, there are mutual taunts, threats and insults. A peace proposal by China has been met – by some, at least – with derision, scorn and cynicism.
Why have peace negotiations stalled?
What has gone wrong? Any well-informed observer can trace how trust was eroded. It has given rise to diametrically opposite narratives to which the warring sides are committed.
From the Russian point of view, repeated warnings that the eastward expansion of NATO would be seen as an existential threat were ignored. The failure to honour the 2015 Minsk agreements and the refusal of the western powers to negotiate on Russia's strongly stated concerns exposed NATO's underlying objective to enforce military and economic dominance.
On the Western and Ukrainian sides, the Russian invasion is seen as the work of a cruel dictator who aspires to destroy democracy, disregard the sovereign rights of a neighbouring country and rebuild Russian imperial control of post-Soviet eastern Europe.
The protagonists are undoubtedly far apart, but why have the global institutions of peace been unable to bring them together?
The United Nations — which was founded precisely to prevent such disasters — has been paralysed. This is partly because the conflict directly involves Russia –and, by proxy, the US, France, Britain and even China, all permanent members of the Security Council – and partly because member states have conflicting interests and divided loyalties.
Sporadic attempts by countries such as France, Germany, Israel, Turkey and now China to encourage negotiations have failed. No country is prepared to respond to the global forces driving the conflict, which include competition between the great powers for economic and political hegemony. Diplomats – arguably those with the skills most finely honed to respond to such challenges – have been blocked by their primary obligations to advocate for their governments' interests.
As events have spun out of control, the expression in the media of dissenting points of view about the causes of the war and how to end it has been subdued in many countries, including the United States, Ukraine, Russia and Australia, to a remarkably similar degree.
Disastrous policies continue to be pursued by all sides even when the elements of a workable solution are readily apparent. As many external observers acknowledge, ultimately, there is a path toward ending the conflict if all parties can find agreement on a neutral and secure Ukraine, a degree of autonomy for the eastern Donbas region, and a process to heal the wounds and re-establish economic and cultural ties.
The inevitability of these outcomes notwithstanding, the runaway logic of the conflict for the moment appears to place them far out of reach.
---


Read more:
Peace in Ukraine doesn't ultimately depend on Putin or Zelensky – it's the Ukrainian people who must decide


---
How humanitarian diplomacy can help
How can the stalemate be broken? In principle, a government, such as Australia's, could call the warring parties together to initiate a process of reconciliation. Sadly, the chances of such an imaginative leap appear remote.
The alternative is an initiative from civil society itself. Since the formation of the Red Cross in 1863, the concept that non-state entities can help alleviate the effects of crises has been carefully refined.
Although focused almost entirely on protecting the victims of violence and disasters and delivering humanitarian assistance, hundreds of non-governmental organisations around the world — including the Red Cross, Médecins Sans Frontières, Save the Children and others — also engage in private and public dialogues to mitigate the impacts of conflicts.
The practitioners of such humanitarian diplomacy are skilled at facilitating ethical conversations and fashioning mutually beneficial compromises. Unlike the UN and formal diplomatic processes, humanitarian diplomats can engage with the full range of stakeholders, including religious, cultural, professional and other civil society organisations.
Now is the time for this resource to be mobilised to establish reconciliation dialogue in Ukraine. Humanitarian diplomacy, which views the safety and welfare of civilians as a high priority, is key to this effort.
The Ukraine conflict, like many others in the world today, has highlighted the need for a new mechanism led by trusted neutrals to come into effect. Let us hope we can move forward in this way.
---


Read more:
How can Russia's invasion of Ukraine end? Here's how peace negotiations have worked in past wars


---

Paul Komesaroff is Executive Director of Global Reconciliation, an international NGO that administers the Desmond Tutu Reconciliation Fellowship which is currently seeking nominations of people working to promote reconciliation in Ukraine.
Paul James is affiliated with Global Reconciliation, an organization that works in this area, and is currently seeking nominations for the Desmond Tutu Reconciliation Fellowship for creative activity in relation to ending the war in Ukraine.
Christopher Lamb does not work for, consult, own shares in or receive funding from any company or organisation that would benefit from this article, and has disclosed no relevant affiliations beyond their academic appointment.
– ref. Why peace negotiations haven't gained any traction in the Ukraine war – and how the stalemate could be broken – https://theconversation.com/why-peace-negotiations-havent-gained-any-traction-in-the-ukraine-war-and-how-the-stalemate-could-be-broken-200913