Source: The Conversation (Au and NZ) – By Emily Brayshaw, Honorary Research Fellow, University of Technology Sydney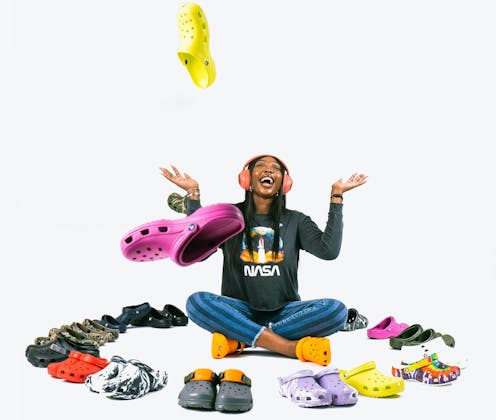 1MilliDollars/Unsplash
In 2017, Julia Hobbs of British Vogue declared Crocs "have an unrivalled ability to repel onlookers and induce sneers".
But over the two decades since the notoriously ugly shoes were released, the clogs seem to be going from strength to strength.
No longer just the comfortable, easy-to-wear boat shoes they were designed as, now they're being worn by celebrities like Ariana Grande, Justin Bieber, Whoopi Goldberg and Drew Barrymore, who has her own collection.
Bedazzled white Crocs are being worn with wedding dresses, #crocs has more than 7.3 billion views on TikTok, and diehard fans can buy mini Crocs to decorate their Crocs with.
Even supermodel Kendall Jenner admitted on the Tonight Show with Jimmy Fallon that she is not ashamed of her comfy Crocs.
But the most common place you're likely to see Crocs today is on the feet of Generation Z. They grew up with ugly fashion, and are now making it their own.
---


Read more:
Cluttercore: Gen Z's revolt against millennial minimalism is grounded in Victorian excess


---
A brief history
Crocs' ancestors are the clog: a cheap, comfortable, lightweight, practical wooden shoe popular in medieval Europe and Scandinavia.
Traditional wooden clogs were easy to clean, non-slip, protected the wearer's feet and kept them warm and dry.
The oldest surviving pair found in Holland date to 1230.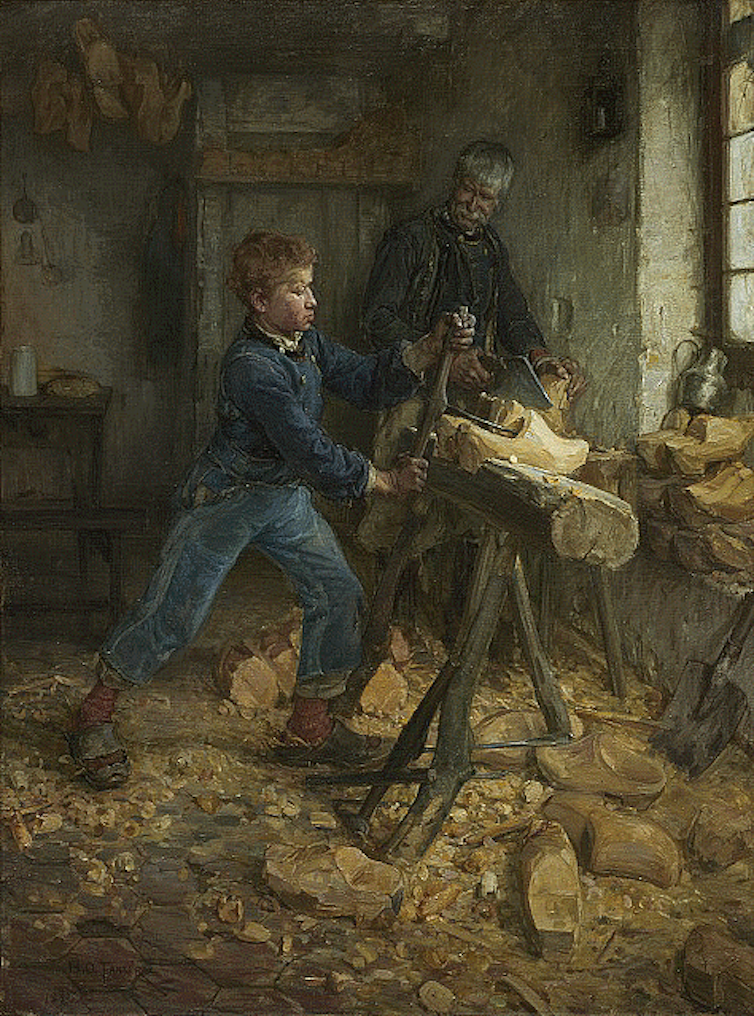 Crocs premiered their shoe at the Fort Lauderdale Boat Show in 2002. Made from a tough form of injection-moulded ethylene-vinyl acetate (EVA) foam, which moulds to the wearer's foot, all 200 pairs at the show sold out.
Crocs were easy to clean, non-slip, could easily be pulled on and off, and would not suffer from continued exposure to water.
But they weren't popular in all corners. Time magazine included Crocs in their 2010 list of the 50 worst inventions.
And from the outset, even Crocs' cofounders considered them ugly.
Ugly fashion
The 21st century's love of deliberately ugly fashion can be traced to 1996, with Miuccia Prada launching her "Bad Taste" collection.
The early 2000s gave us ugly comfort dressing in the form of the bright, velour Juicy Couture tracksuit. Britney Spears and Justin Timberlake's iconic matching double denim moment at the 2001 American Music Awards embodied the era's ugliness.
Generation Z grew up in this ugly fashion world. Many rocked their first brightly coloured pair of Crocs as toddlers.
This generation also learned to express themselves online, where Internet Ugly – a deliberately grotesque, anti-authoritarian and amateurish aesthetic – is a key look of memes.
Memes celebrate ugliness as a relatable, authentic foil against the slickly perfect images generated by filters, Hollywood and self-serious corporate design. Memes evolve, but the images, templates and looks of memes stays similar and the ugly aesthetic continues to spread and be enjoyed.
Crocs are, in a sense, wearable memes for Gen Z.
Like memes, Crocs have changed and returned through nostalgic affectation.
In the two decades since their launch, Crocs have constantly reinvented themselves. There have been new colours and collaborations with popular brands, including computer games and high fashion houses like Liberty of London.
Each generation rediscovers the objects of its youth and replicates these objects in new ways. The resulting objects – in this case, Crocs – are passed around and either made uglier or beautified in the eye of the beholder. Every pair of Crocs can be customised with "Jibbitz", a small ornament that fits into the holes throughout the shoe to beautify Crocs for their owner.
In the United Kingdom, Crocs paired with fast-fashion retailer Primark and high-street bakery Greggs to create ugly, fur-lined, black £9 Crocs with Greggs' logo.
At the other end of the budget, you can buy Balenciaga's lime green Crocs with a black sole and black stiletto heel.
---


Read more:
The history of shoes has been frivolous, ridiculous and extreme


---
Crocs and the pandemic
Ugliness lets viewers laugh and release tensions in situations where they are helpless to act.
Adrian Holloway, Crocs' general manager, told Vogue:
In times of stress and uncertainty, consumers seem to want comfort […] Everything was so heavy and scary, it felt good to treat yourself to something cheerful and inexpensive, but also practical and comfortable.
The COVID pandemic left Gen Z unable to participate in important social rites of passage like graduations, milestone birthdays, weddings and funerals.
Global lockdowns also left people feeling a strange blend of shock, boredom and irritation.
Like laughing at ugly memes, laughing at cute, ugly Crocs helped release feelings of powerlessness.
Here to stay
Popular predictions of post-pandemic fashions suggest there are two options: we will continue to dress for comfort, or we will embrace eye-catching colours and patterns and strange silhouettes.
The popularity of Crocs among Gen Z suggests a third option: a combination of the comfortable with the crazy.
Worn today, these shoes signal the wearer's capacity for casualness, irony, rebellion, and a desire to forge their own fashion rules in an Internet Ugly world.
Crocs are here to stay.
---


Read more:
What your shoes say about you (quite a lot, actually)


---

Emily Brayshaw does not work for, consult, own shares in or receive funding from any company or organisation that would benefit from this article, and has disclosed no relevant affiliations beyond their academic appointment.
– ref. Gen Z grew up in a world filled with ugly fashion – no wonder they love their Crocs – https://theconversation.com/gen-z-grew-up-in-a-world-filled-with-ugly-fashion-no-wonder-they-love-their-crocs-200718