Source: The Conversation (Au and NZ) – By Andreea Lachsz, PhD Candidate, University of Technology Sydney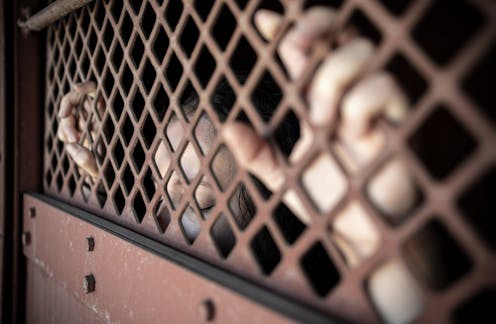 On this International Women's Day, let's not forget women in prison.
There are 3,088 women imprisoned in Australia on any given day, representing 7.5% of the prison population. Aboriginal and Torres Strait Islander women are over-represented in these numbers.
Australia spends $4.44 billion on prisons. Despite this, reproductive health care equivalent to that in the community is often not available where women are being detained.
This includes care related to menstruation, menopause, contraception, preventive health care such as cervical screening tests, and access to abortions.
Adequate health care during pregnancy, birth and after birth is often unavailable in these prisons.
---


Read more:
The UN committee against torture has found Australia still has work to do


---
Protecting women's dignity and health
Reproductive health care must be delivered in appropriate ways to those who require it. Aboriginal and Torres Strait Islander people require culturally safe health care, free from racism. There must also be inclusive care for non-binary and transgender people.
Failing to provide access to sanitary pads and tampons is a form of degrading treatment, according to the European Committee for the Prevention of Torture and Inhuman or Degrading Treatment or Punishment. It can leave women and people who menstruate vulnerable to exploitation. For example, limited access to sanitary pads can lead to them being traded for favours.
In addition to menstrual items, underwear also needs to be available for people in prison. A 2019 consultation by the Queensland Human Rights Commission reported one woman's experience of being detained in a Brisbane watch-house. The woman had to stick a menstrual pad to her tracksuit, because she was not given underwear. "There was blood everywhere," the woman's cellmate recalled. "They eventually gave her an incontinence nappy, and a clean pair of pants."
The ACT Inspector of Correctional Services conducted a review into the Alexander Maconochie Centre, a prison in Canberra. The review investigated the use of force during a strip search on an Aboriginal woman. The woman had become distressed after being advised she was not allowed to attend her grandmother's funeral and participate in Sorry Business. She was menstruating at the time, and was a victim-survivor of sexual assault.
The woman described her experience:
At this time I was menstruating heavily due to all the blood thinning medication I take on a daily basis. Here I ask you to remember that I am a rape victim. So you can only imagine the horror, the screams, the degrading feeling, the absolute fear and shame I was experiencing [during the strip search].
On another issue at the same prison, the ACT office recommended "condoms, water-based lubricants and dental dams be made freely available in the units so detainees can access them without having to make a request to staff".
In its prison review, the inspector had been told detained people in the Alexander Maconochie Centre wanting to practice safe sex were "making do" by "cutting open latex gloves".
---


Read more:
Here's some context missing from the Mparntwe Alice Springs 'crime wave' reporting


---
Access to terminations and care following miscarriages
The United Nations Special Rapporteur on Torture has stated "denial of legally available health services such as abortion and post-abortion care" amounts to "mistreatment of women seeking reproductive health services". Forcing people to continue their pregnancy is a form of sexual and gender-based violence.
The European Committee for the Prevention of Torture has affirmed that respect for a detained "woman's right to bodily integrity" requires they have the same access to the "morning after pill and/or other forms of abortion at later stages of a pregnancy" as "women who are free."
It is also crucial for people who miscarry to be provided with the appropriate mental health and physical care.
Increased transparency and oversight is needed to ascertain whether minimum standards for reproductive health care are being met in Australian prisons. However, accounts from women in prison have indicated access to even basic healthcare is often a challenge.
Birth and separation
In Australia, there have been instances of an Aboriginal woman giving birth alone in a locked prison cell while staff observed through the hatch. Another example featured attempts to remove a baby from their Aboriginal mother against medical advice due to insufficient capacity at the prison. And an Aboriginal woman was denied the right to bond with her newborn and breastfeed them.
Yet the UN Rules for the Treatment of Women Prisoners and Non-custodial Measures for Women Offenders state women "shall not be discouraged from breastfeeding their children, unless there are specific health reasons to do so".
We need more transparency in prisons, so we can fix these issues
Implementation of the UN Optional Protocol to the Convention against Torture and other Cruel, Inhuman or Degrading Treatment or Punishment could bring attention to what is happening in Australian prisons.
This protocol calls for regular visits to places of detention by independent bodies to prevent ill-treatment of detained people, including denial of reproductive health care.
But in January Australia missed its implementation deadline. Australia is currently at risk of being added to the UN list of non-compliant countries. Australian commonwealth, state and territory governments have some work to do before this tool can be effectively used to prevent mistreatment of incarcerated women.
And while shining a light in the dark corners of prisons is essential, there are concrete steps governments can take now to improve reproductive health care and provide community-equivalent care.
These include ending the privatisation of prison health care, having accessible health services provided by Aboriginal Community Controlled Health Organisations, and reducing the number of women who are incarcerated in the first place.

Andreea Lachsz is currently contracted to the ACT government as the ACT National Preventive Mechanism (NPM) Coordination Director. The opinions expressed herein are those of the author and do not necessarily reflect those of ACT government, ACT NPM or any extant policy.
– ref. Health care offered to women in prison should match community standards – and their rights – https://theconversation.com/health-care-offered-to-women-in-prison-should-match-community-standards-and-their-rights-200656