Source: The Conversation (Au and NZ) – By Alexander Howard, Senior Lecturer, Discipline of English, University of Sydney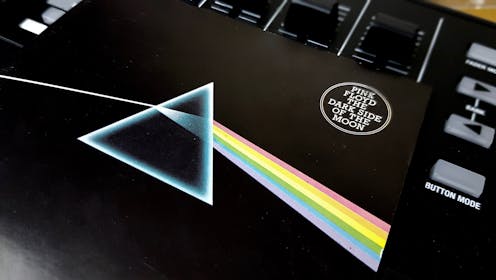 Shutterstock
Dixi et salvavi animam meam.
This Latin phrase – I have spoken and saved my soul – sits at the end of Karl Marx's Critique of the Gotha Programme.
Written in 1875, this text imagines a communist society that will come about "after the enslaving of the individual to the division of labour, and thereby also the antithesis between mental and physical labour has vanished".
Only then, Marx argues, "can the narrow horizon of bourgeois right be completely transcended and society inscribe on its banners: from each according to his abilities, to each according to his needs!"
Roger Waters – bassist, lyricist and conceptual mastermind behind Pink Floyd's 1973 album The Dark Side of the Moon, released 50 years ago today – knows Marx's Critique. Indeed, he quotes it when discussing the record with music journalist John Harris.
"Making The Dark Side of the Moon, we were all trying to do as much as we possibly could," Waters told Harris.
It was a very communal thing. What's that old Marxist maxim? 'From each according to his ability, to each according to his need.' That's sort of the way the band worked at that point.
Assertions about solidarity, cooperation and shared "unity of purpose" – as Waters says – situate Dark Side in the context of Pink Floyd's notoriously fractious recording career and helps us understand the album's enduring appeal.
Shine on you crazy diamond
Pink Floyd formed in London in 1965. Led by the charismatic songwriter, guitarist and lead vocalist Syd Barrett, the group established itself as a leader in the London underground music scene. They released their debut album The Piper at the Gates of Dawn in 1967.
Soft Machine member Kevin Ayers described The Piper at the Gates of Dawn as "something magical, but it was in Syd Barrett".
Not long after the record's release, Barrett suffered a catastrophic, LSD-induced breakdown. In response, the band recruited David Gilmour on guitar and recorded a second album, A Saucerful of Secrets, as a five-piece in 1968. Around this time, the increasingly unstable Barrett was unceremoniously ousted by the rest of the band.
After Barrett left, says Ayers, "Pink Floyd became something else totally".
There are different versions of Pink Floyd. The recordings released after Barrett left the band in 1968 bear little resemblance to the first.
Dark Side sounds nothing like the whimsical Piper. But it is obvious the record is in large part preoccupied with the loss of Barrett.
This preoccupation comes to the fore in the album's penultimate track.
Brain Damage, written and sung by Waters, references Barrett's adolescence ("Remembering games and daisy chains and laughs"), alludes to his illness ("And if the dam breaks open many years too soon"), and acknowledges his leaving the group ("And if the band you're in starts playing different tunes; I'll see you on the dark side of the Moon").
Drummer Nick Mason confirms the group didn't want to lose Barrett.
In his autobiography, he writes:
He was our songwriter, singer, guitarist, and – although you might not have known from our less than sympathetic treatment of him – he was our friend.
---


Read more:
'The Wall' cemented Pink Floyd's fame – but destroyed the band


---
If the dam breaks open many years too soon
What we hear on The Dark Side of the Moon is a band dealing with trauma.
In this sense, Dark Side represents the start of a reckoning with the past – a process that culminated with the band's next record, 1975's elegiac Wish You Were Here.
Culmination is a useful term when it comes to Dark Side more generally. On this record, all the avant-garde techniques and tendencies the band had toyed with in the post-Barrett period – musique concrète, sonic manipulation, extended improvisation, analogue tape manipulation – come together to spectacular effect.
Money – with its anti-capitalist lyrics penned by Waters ("Money, it's a crime; share it fairly, but don't take a slice of my pie"), odd time signature, and handmade tape-loops mimicking the sounds of cash tills, bags of coins being dropped from great height and bank notes being torn up – is one of the stranger hit singles in pop music history.
Be that as it may, Money and the album from which it is taken, of which more than 50 million copies have been sold, continue to resonate with listeners worldwide, five decades on from its initial release.
---


Read more:
Pink Floyd's $1.8m desk shows timeless appeal of analogue sound


---
The enormous risk of being truly banal
"I made a conscious effort when I was writing the lyrics for Dark Side of the Moon to take the enormous risk of being truly banal about a lot of it," Waters told John Harris, "in order that the ideas should be expressed as simply and plainly as possible."
On this point, if nothing else, David Gilmour agrees. He told Harris:
There was definitely a feeling that the words were going to be very clear and specific. That was a leap forward. Things would mean what they meant. That was a distinct step away from what we had done before.
Mortality, insanity, conflict, affluence, poverty and, in another nod to Marx, alienation are some of the themes presented on the record. The need – and this brings us full circle – for compassion, if not outright solidarity, is another.
This is an album about the importance of understanding, as Waters insists:
the potential that human beings have for recognising each other's humanity and responding to it, with empathy rather than antipathy.
Given the sorry state of the world in 2023, about which Roger Waters has many contentious and problematic things to say, I wager Pink Floyd's masterwork will continue to resonate with listeners for a while yet.
---


Read more:
How Stoicism influenced music from the French Renaissance to Pink Floyd


---

Alexander Howard does not work for, consult, own shares in or receive funding from any company or organisation that would benefit from this article, and has disclosed no relevant affiliations beyond their academic appointment.
– ref. The Dark Side of the Moon at 50: how Marx, trauma and compassion all influenced Pink Floyd's masterpiece – https://theconversation.com/the-dark-side-of-the-moon-at-50-how-marx-trauma-and-compassion-all-influenced-pink-floyds-masterpiece-198400